If I wanted an excuse not to run this race this year, I wouldn't have had to look very far to find one. On my best day, this is the hardest of the 20 half marathons I've done. On a day when my lung capacity is compromised compliments of the flu, my hip is jacked up from chasing a beach ball down a hill at the park the day before and temps are already in the 60's and climbing at 5am, I could easily have justified staying home. Surely a saner person would have. But this was my first half ever back in 2007. Despite it's unrelenting hills, no frills/no timing chips and spray-paint starting line, it has gotten in my blood. I knew I'd regret it if I didn't at least try to run, you know easy.
So I went, vacillating between grabbing my packet and going back home to bed and actually staying for the race. I chose the latter. It was a gorgeous, sun-filled day, far better than last year's gale force hail.
But was the combination of heat and hills really better? Still, I lined up way in the back and plodded along. The first mile went well. By mile 3 I began taking regular walk breaks, something I promised myself I would do so as not to stress my lungs more than they already were. I still hated doing it though. Did you know one is more susceptible to respiratory infections and pneumonia right after the flu? Yes, I should have stayed home.
By mile 5 (where the hills start to get really hairy) I was thinking about where I could cut over and head back in. I'd had enough of a workout for the day. I couldn't fathom going another 8+ miles. The sun was strong, trees still in winter mode offered no shade but I was grateful for a breeze. More than a couple of runners had the same idea and were walking back the way we came. Oh but not I.
As much as I wanted to stop, I just couldn't. Color me stubborn. I thought back to previous years when I spanked this course hard. I'd actually never walked a step of this race before. Were these hills always so giant?
I ran/walked along and appreciated the increased crowd support the nice weather brought. I contemplated what would be the lesser of the evils: DNF or a DFL? I wanted badly to look behind me to see if there was anyone left on the course. They'd probably have someone from the running club bring up the rear anyway.
In the last 5k I started feeling nauseous anytime I ran. So mostly I didn't. My fingers swelled up like sausages, which I know is either an electrolyte imbalance or hyponotremia. I was drinking Nuun and Accelerade…but I was sweating like a hog as well and had the sodium crust to prove it. I was thankful this wasn't a full marathon. Plus it could always be hotter…been there done that…and survived….and I will now too.
At last the agony was over. It was a tough day to say the least. A full 50 degrees warmer than last year. Madness for sure.
Finish time: 2:15. A new PW  and almost 25 minutes off of my course PR, but not a DNF and far from DFL. Oddly I'm not disappointed in my performance. I'm maybe even a little bit proud of not giving in and quitting because I badly wanted to. Running has definitely helped me develop pitbull-like tenacity that has carried over into other areas of my life. By far it wasn't my best day. But I still made the best of it.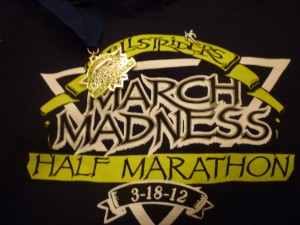 What doesn't kill us makes us stronger.
One more day to enter my giveaway!