On the stroke of 5, when I began my trek  to Kenosha, WI, the rain started. According to my weather stalking, rain was not in the forecast until later that afternoon. Oh well, I drove in the darkness, fog and driving rain most of the way up.
By 5:45 I arrived and found a nice parking spot. It continued to pour. I changed my tank and sleeves to a long sleeve option and waited. until 6:20–our agreed upon meeting time. I found an umbrella in the car, grabbed it and headed over to the starting area.
There was nobody I recognized at the meeting point. I suspected they were huddling under a nearby tent. I found Bobbi, we gear checked and headed to the corrals where we found Kim, pacing her BIL, who was running his first half.
Bobbi was gunning to shatter her old PR, shooting for 2:05. Sounded good to me, so I hung with her. I wore my brand-new Garmin. Being only the second time I'd ever used it, the owner's manual came with me in the car. Techno-genius I am not.
By some miracle, the rain subsided just before we went off. Almost immediately, I longed for my tank and sleeves.
The first few miles wound through the town. I was relaxed and the pace was easy. Garmin showed a 9:16 pace. Fine.
By mile 2-ish though, Garmin told me nothing more than the time. What? No pace? No distance? No bueno. I waited, thinking maybe the info. rotated or something….and….no. Garmin was keeping secrets. Geez.
I restarted it on the fly and got it working (small miracle) but now my numbers were jazzed. Oh well.
Around mile 5 we headed out on to a path along the lake. Pretty except it was dreary and overcast, and lets not forget about the wind. The wind on it's own was a nuisance. Wind + long incline = I wanted to walk. But I didn't. Plus Bobbi was running beautifully and on pace to shatter her old PR. Far be it from me to get in the way of that. So on we went. Having Bobbi there for some convo was totally fun.
We made the turnaround shortly after mile 8 and now the wind was at our backs. Nice! I heard someone call my name and it was Jess! She was running the full and looked amazing. We missed her at the morning meetup (thank you rain).
Soon after mile 10 Bobbi and I were both cramping a little. Not sure what that was about. I tried to stay on pace as much as possible. I was pleased at how good I felt this late in the game given the low mileage I've been running in training this year. We got back into the town and I came upon Jess again, who was OWNING her marathon. We ran together for a bit and I wished her well when I made the turnoff for the finish.
Mile 12 to the end though was hard into that nasty wind again. I felt like I wasn't even moving and a lady weaving in front of me made things even worse. But the crowds were great and the end was near.
I cruised in for a  2:05 finish.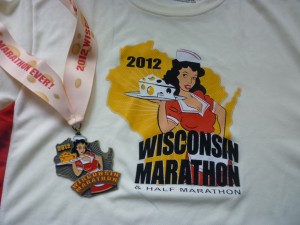 This was a fun, really well-done race. The shirt is good, the medal is great, crowd support was solid. Course volunteers were helpful and enthusiastic. I'm sure it helped that I was gabbing with Bobbi and missed many of the mile markers, but the course was interesting in that it changed from town to lakefront and back again. It rolled just enough to be interesting but wasn't terribly hard either. Thanks to Kim's hubby for taking the course pics and letting me snag some!
Did you race this weekend?