1 Unwelcome passenger. As I was stretching after my run yesterday I noticed something brown and nasty crawling on my black (non-lulu) capris. A TICK!! I was running on trails but not in any way wading through high grass, alas this nasty critter found it's way aboard. Thankfully it had not yet bitten me but yuck! Now I feel all creepy/crawly.
2 Nasty Race pics: How is it you get one pic at a race with decent weather and 15 when it's pouring?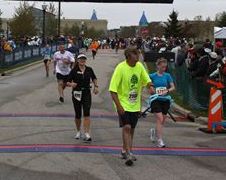 Doing the finish line shuffle at the Wisconsin Half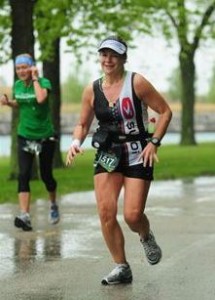 Slogging through the wind and rain a week later at the Chicago Spring Half. Mad props to the course photog for constructing a water and wind proof camera cave out of his poncho. If only I had one!  I'll spare you the other 14 miserable pics from this race.
3 Trop50 Winners!
Laura
Laurel
RuninBoise
I emailed all of you to hook you up with the juice! Thanks to all who entered and to Trop50 for sponsoring!