Last week a friend of mine asked about my Mother's Day plans and when she heard I had a race she said "Why would you want to run on Mother's Day weekend?" Personally, I think of races as treats: kind of a celebration of the work I've put in. Who wouldn't want a treat? When I asked her what I 'should' be doing instead of racing she answered "sleep in." To each his own I guess.
Here's how Mother's Day weekend shook out:
Saturday morning: Up and out bright, no make that rainy, and early for the Chicago Spring Half.
Saturday afternoon: Errands, playdates, and a nap.
Saturday night: Out for dinner with Caveman and the kids.
Sunday: Up and out for some recovery time on the bike. Gorgeous morning!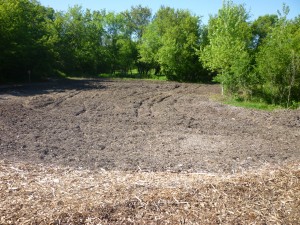 Then I recruited the kiddos to help me plant in our new community garden, which I am mega-excited about. As a former Master Gardener who has let her credentials lapse, I've longed to get back in the dirt, alas our land around the house is quite shady. The community garden will be perfect!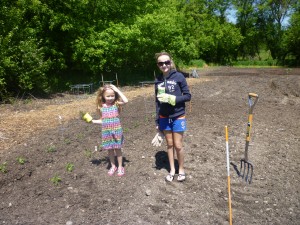 We planted a whole mess of stuff and the kids still want to add some raspberry bushes.
Later there was yet another dinner, this time with extended family. In case you were worried, any calories burned during my half marathon were replenished…and then some.
Overall it was just the right mix of activity and relaxation.
Red Alert: I still haven't gotten my mom anything. I'll see her this weekend so I have a few days to get my act together. She's impossible: no hobbies beyond indulging grandchildren. Does not enjoy movies, flowers, spas or eating out. Purses, wallets, photo albums, and food have all been done. She despises gift cards, yet I'll never hear the end of it if I fail to come up with something. I need help from the gift fairy!
Are you a good gift giver? Are you easy to buy for?