Where do I even start? This was an epic adventure, the likes of which I cannot adequately express. Under perfect conditions a relay is a test of  physical and mental strength. Under extreme conditions, it's nothing short of freakish.
I was delighted when I was invited to join this relay team, as it's something I've had on the bucket list for quite awhile. Other than meeting Rachel and Kim briefly at the Wisconsin Half, I'd never met the rest of the team.
After months of planning and prep, at last it was time  for the big event. Thursday afternoon  the Caveman and kids drove me up to Madison where I spent the night at Rachel's house. We picked up Amy from the train station and headed to a carb-load dinner at Linda's.
Race day dawned warm and sunny. After breakfast we headed to the starting line. Kim led off for The Panty Raiders.
There were team pics to take…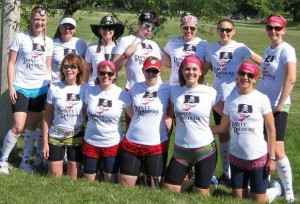 …vans to decorate…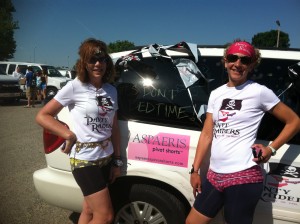 …oh yes and panties…plenty of those.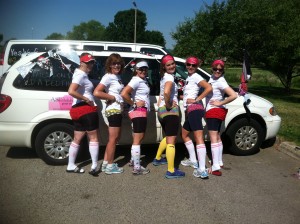 Promptly at 11am, Kim was off! Let the games begin!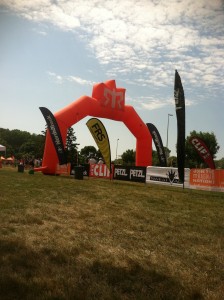 Van 1 rotated runners while Van 2 went in search of lunch. First casualties of the race: a couple pairs of panties, a pirate flag and a parrot, blown away on the interstate.
Fast forward to late afternoon, exchange 6. I led off for Van 2. Fresh as a daisy….not so much…but definitely ready to get started.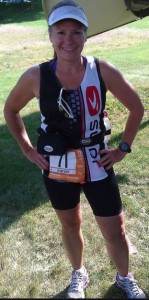 True to form, I ran my leg way too fast for the 88 degree heat and pretty much died and death marched the final mile. Will I ever learn?
The handoffs continued into the night. Headlamps, reflective vests, isolated pitch-black paths and swarms of mosquitos were all the rage.
Once we turned it back over to Van 1, Van 2 headed to a high school where showers, sleeping mats and food were available. Bless them. Alas sleep and showers were not in the cards for Van 2.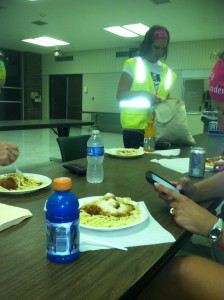 Nothing like a burger for 'dinner' at 2am.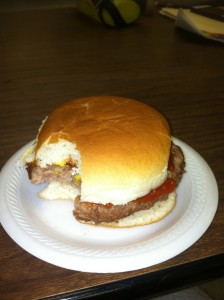 Deep in the wee hours, it was Van 2's turn once again. My 2nd leg went off around 5:30, which could not have been more perfect as it's my normal running time. It was a heavenly 68 degrees with sun just coming up. I did a progression run through Racine WI, passing the zoo and the yacht club. The whole thing gets foggy here…sleep deprivation and heat exhaustion will do that I guess.
My third leg started in North Chicago (finally in Illinois!). It was noonish, under a blazing hot, cloudless sky, well into the 90's now. At this point it was a matter of survival. You may know I'm no stranger to hot races. For reasons unknown to me, I seem to be a heat magnet. But heat has a way of bringing out the mofo in me. This time I was determined not to go out too fast. I needed to cross ridiculously busy streets and railroad tracks on this leg. I needed to wait at stop lights before finally making it onto a trial (same trail Fort2Base is done on!) I did some run/walk action and while I did not intend to be competitive by any means, I can say I was passed by nobody and the number of peeps I passed was in the double digits.
Another facet of Ragnar is that there aren't water stations conveniently located where you'd like them. Usually it's up to your team to find you on course and provide water. I was never so happy to find Van 2 mid-leg with a cold bottle of water. Heavenly!
I finished up in Lake Forest, feeling triumphant. My 3 legs were complete! Now for the final handoffs and then a beeline to the finish!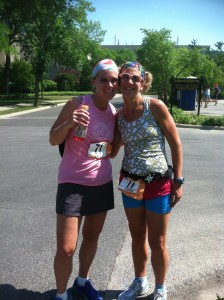 These rockstars ran the final leg of the relay and brought it home for The Panty Raiders.
Montrose Harbor was gridlock. We were all so depleted and sleep deprived. Van 1 was still stuck in traffic when our final runners finished so we held up and waited before crossing the finish line.
The finish was on the beach, up over a sand dune. Our bedraggled band of Raiders ran it in together. Not sure if anyone has any pics of it. This experience was a total blast and royal bitch all at the same time.
Probably the most grueling race I've ever done. I've still got a thing going on in my nose and throat: like I'd been eating fire or something. Yet another one of those times when you dig down, way deep and see what you're made of. I can't tell you how awesome it was to be a part of this team and the running community. We leaned on each other and helped each other and other teams. All runners we encountered were uber supportive. Definitely could not have done this without them.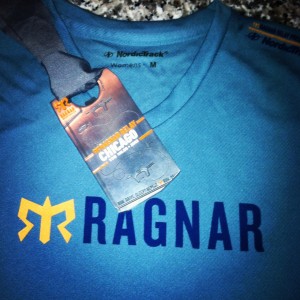 Under better conditions, this relay would have been tough. Under the extreme heat we had, it was a beast. We conquered the beast! If you've never done a relay, you definitely need to add it to your bucket list!
Special thanks to our sponsors! Aspaeris Pivot Shorts, MyRaceragz, Polar Bottle, Bondiband, Body Glide, GU, Blue Steel Sports, Knee Socks and Running Chics! You are all the bomb!