Bulu Box is an ever-changing assortment of health-related products that comes to you monthly.
According to Bulu Box:
Every month, you'll get a box filled with 4 to 5 nutritional supplements from top brands. Look forward to a new mix of products for both men and women, including vitamins, supplements, sports nutrition, meal replacement, diet, energy, protein, detox, digestion, sexual health, herbs, natural remedies, endurance and more. We'll make sure you get enough to decide if the product is right for you. No shipping or shady fees. Depending on your plan you can cancel anytime.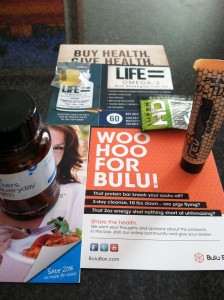 The Bulu Box I received contained:
Life Equals Omega-3  supplements
RevHoney
Pure Matters Vitamin D: Based on my history of Vitamin D deficiency, I am a fan
Nightfood (not pictured): I had to fight the kids for this one because it was cookies and cream flavor. It contains melatonin and is designed to help you sleep. I ate it before bed time and had a wonderful night of deep, dream filled sleep. Although I have to say this is pretty normal for me so I'm not sure I can attribute it to the bar.
Cellucor Super HD: A potent fat burner.
Bulu Box subscriptions are $10/month or $110/year.
Overall, brands I was not familiar with. Except for the Vitamin D and Omega-3, all products I did not know about.
Pros
I think this would make a unique and thoughtful gift for someone who is curious about new health products as well as for those that need a little nudging on the healthy living front. My impossible-to-buy-for mother comes to mind.
The value of the products well exceeds $10. The price of the Vitamin D alone is $12.95.
Cons
I'm not sure I can fully assess whether I truly like a product with just one sample of it. ie: the Omega-3, honey, Cellucor and Nightfood.
Win It! One lucky reader will receive a Bulu Box.
Note: I received this product free of charge, however my opinions are my own.
Fresh Wave Giveaway Winner!
Angie Bee please contact me with your shipping address and I'll get you set up! Thanks to all who entered! Thanks to Fresh Wave for sponsoring!