Like most of you, I am chomping at the bit here about the Olympics. Like Char, I was riveted to the summer, 1972 games in Munich. I think I can even one-up her here (in an old geezer way, go me) and say I remember the 1968 winter games in Grenoble. That's when I laid eyes on Peggy Fleming and knew that I had to skate. It seems like just about everyone is an Olympic sponsor of some kind these days. Coke, Adidas, P&G, Chobani and a multitude of others. I made a quick jaunt around the house to see if I had any "Olympic" products. Here's what I found: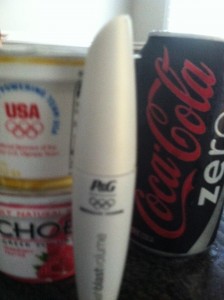 Yes folks,  official Olympic mascara. Rarified air, I know.You probably already knew I have enough Adidas running gear to sink a battle ship. I won't even show you.  But as I pawed through my workout gear drawers in search of Adidas, I found a unitard.  A. Unitard. Why am I even admitting to this? Not an Adidas one, but still…you know I had to try it on.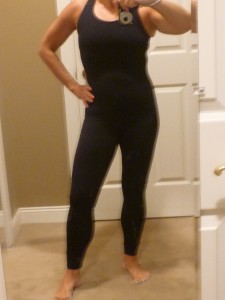 Add some feathers and metallic face paint and I'm ready for Cirque du Soleil no? Add this one to Camp "WhatwasIthinking?"
 What Olympic athlete(s) inspires you?
Do you have "official" Olympic products laying around like I do?