Chicago Marathon? If you're running this year and interested in a blogger meet up, let me know. Since I'm a home-town girl, I thought I'd take a stab at arranging a little something, most likely Saturday, 10/6.
Speaking of marathons, despite 2 pain-free, post-injury runs, I'm trying to block out how much time I have left to train for The Marine Corps Marathon (less than 2 months). Good thing my only goals are to enjoy the scenery and finish in an upright fashion.
View from the yoga den at 5:55 this morning.  It was actually darker out there than it looks. Apparently the mosquitoes were still asleep. That's a good thing.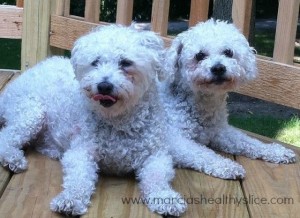 You've all heard of the RW running streak. Well our dogs are on a poop-in-the house streak that I'm not too crazy about. They've been quite successful with it. Don't let their innocent faces fool you. Maybe I'll make them a badge or something.
Speaking of poop. Oh wait, not poop, MUD. Chicago's first Pretty Muddy 5k is just over 2 weeks away. It'll be my maiden voyage through mud. Lots of my friends will be there. I'd love it if you were too! Register here and use code HealthySliceDisc to save $10!
Have you ever done a mud run? Should I plan on throwing my shoes away?