My over-dramatization of the impending Marine Corps Marathon is on the downswing.  It's been almost 24 hours now since the last (hopefully final, but no guarantee) crying jag.
I went to one final spin class yesterday and our previously demeaning instructor seems to have gotten the memo and was much more encouraging–she went so far as to say we looked great. Damn right we did.
Crab-ass hip is silent. I haven't run since Saturday so don't get too excited about this.
Ornery calf is almost painfree. See the no running part above.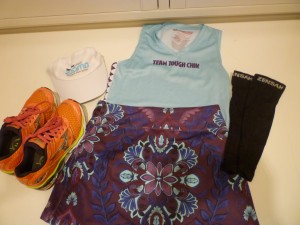 The marathon outfit is set. I swear the colors are more vibrant irl.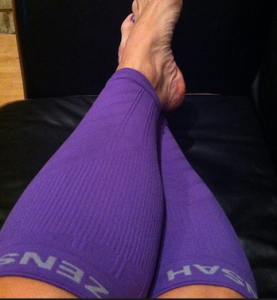 Calf sleeves have become a permanent fixture. Between these, my Tommy Coppers, and all the other voodoo, my calves have been well-attended to all week. I think they were jealous of all the attention crab-ass hip was getting.
I've also got coping strategies in my bag of tricks. You know, for when the going gets tough:
Pretend my training was adequate. Channel memories of marathons past when it was.

Think beyond the race

. We've got a whole lotta fun stuff planned: Tours, meetups. expo shopping junkets, Georgetown cupcakes, the list goes on.
Visualize: Running (or walking) strong, yummy Marines, beating that pesky bridge, yummy Marines, finishing in an upright fashion, not giving up, did I mention Marines?
I've got NO races planned after this. The pressure is OFF! I can heal and regroup and make small talk with Marines to my heart's content.
Replace negative self talk with positive affirmations–even if I don't believe it. Ex.: "I think my spleen may have burst, but of course I can do this! No doubt!"
Do you have any coping strategies for me?