Janelle over at Mile Twenty Eight's question of the week is about bling.  She asks:
"What has been your favorite race award?"
Other than the usual medals, trophies, plaques, gift certificates and even cash, I can't say I've ever gotten anything truly unique. I'm still holding out for a pint glass! And I want that damn Warrior Dash viking helmet!
The most beautiful medal I have, imo, is this one from Fort2Base 2011. It was run on 9/11/11 and goes 10 nautical miles from Fort Sheridan to the Great Lakes Naval Station. I loved this race and I think the medal rocks.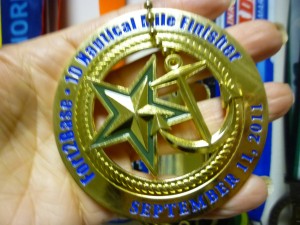 All looks aside, a very simple 10k AG award holds the most meaning for me.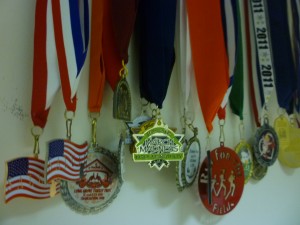 Most of these are AG awards. The medal with the most meaning is the very first flag one on the left.
I went into this 10k with a goal of 8:15 minute miles. I thought that was a stretch. Running under a parking garage in the first half mile threw my Garmin way off so it basically lied to me the rest of the race, saying I was going slower than I was. I was too new to running to know Garmins lie sometimes. According to Garmin, I surpassed my goal with an average pace of 8:13 miles. But the finish line clock read 47 something as I approached. I was positive the time clock was wrong because I was incapable of running sub-8 minute miles for a 10k. When they called my name for the AG award, I explained this. The race director laughed and assured me I indeed ran well sub-8 and won the age group. That's when I realized I was holding myself back in my head and I needed to just run. I also realized then that I was holding myself back in other areas of life as well.
What's your favorite race bling? Have you gotten anything unique?