I was delighted when I was invited to be an Ambassador for Zooma Great Lakes. The Chicago Running Bloggers did it up right and made this race a weekend bonanza. We all rented a house…a fabulous one I might add, in Fontana, WI for the festivities.
I picked up Kim and headed out of town on Friday afternoon. We got to the house, retrieved Kelsey and Erin from the train station, and headed to the expo and cocktail party.
Biggest Dork Ever award goes to me for squealing "SARAH BOWEN SHEA!" when I saw her at the Run Like a Mother table. I was glued to their Marathon Moms series in Runners World back in the days when I was running 2 or 3 miles at most. Following their adventure toward the Nike Women's Marathon inspired me to entertain the idea that maybe, just maybe a marathon was in the cards for me one day…
Let's get to the race. My goals:
Have fun. Enjoy the weekend and the company of like-minded women.
Test the ornery hip. Shut it down and re-evaluate if it hurt.
In a perfect world, read noninjured state, I'd have run the half at a conservative pace and probably walked the hills to conserve energy for Marine Corps a week later.
Since I've not run long on dry land since RnR Denver on 9/22 and my hip was still hurting as of 10/16, I reeled it in and opted for the 5k. I was terrified to test the hip. If it cooperated, I'd gain at least a shred of confidence going into Marine Corps, if not…we won't go there. To make matters worse (they can always be worse) in the middle of Tuesday's 2 miler, I felt like I'd taken a gunshot to the calf. I haven't mentioned it because I hoped ignoring it would make it vanish as fast as it came. No such luck.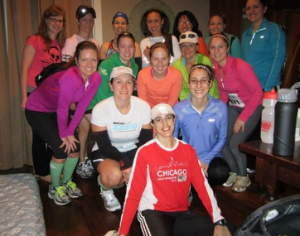 The party house crew before leaving for the race. Special thanks to Erin for her photographic stylings.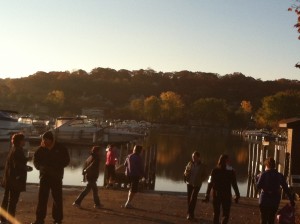 Race day dawned cold and clear. Those doing the half  were bussed out to the start of the point-to-point course while us 5k peeps started and finished harborside.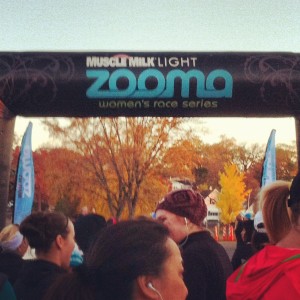 We were off and I felt great. The first half was pretty much a steep trudge. No complaints from the hip although my calf did not like the hills. At. All. So I walked up and chatted and cursed them with others around me. The foliage and scenery were stunning so it wasn't all bad.
We cheered on the leaders as they headed back down before it was time to make the turnaround ourselves and go screaming down. I was so grateful to have scaled back to the 5k. A half filled with hills like these would have been a deathwish in my current condition.
Despite running a 5k PW (hey I was walking, I'm good with it) I felt strong and like I could have run tons more after….not on 14 degree incline…but YKWIM. Miraculously my hip was painfree. However my calf was screaming and stiffened up immediately after I finished.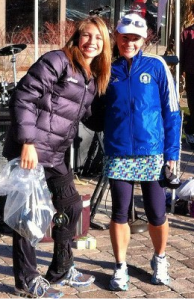 I was shocked to snag AG 3. Here I am receiving the award from Sara Hall. Sara was there cheering on her mom, who kicked ass on the half marathon. It was so sweet to see mom and daughter celebrating afterward and so inspiring.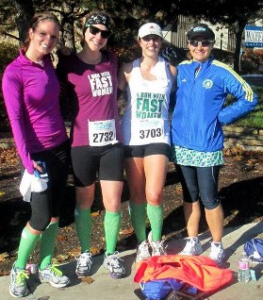 Apres race with Amy, Maggie and Erin.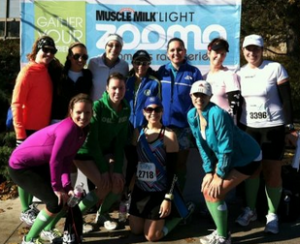 The Chicago contingent post race.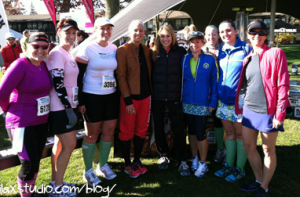 Post-race left to right: Jess, Bobbi, Kim, Skinny Runner, Sara Hall, me, Meghan, Kayla, Laima. Special thanks to Kim for allowing me to ripoff this pic.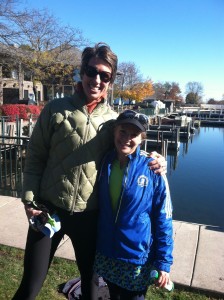 It's always a treat to see Dimity of Run Like a Mother fame.
After party: A fun, festive atmosphere with a band, good food (chicken or veggie wrap, pasta salad, apple), Muscle Milk,  and lets not forget plenty of bubbly to go around.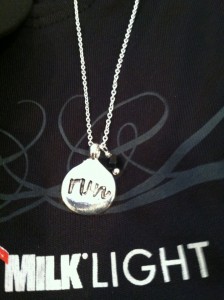 Swag: The race shirt is from Skirt Sports. Great quality, cute and cut nicely. There were necklaces instead of medals. Since I ran the 5k I was thrilled to get anything at all. But had I run that hard half marathon I think I'd want a more uniquely styled necklace than the one we got. I've worn the necklace since race day though and I have to say it is growing on me.
Course: Very scenic but HARD if hills aren't your bag. I would not want to be a first timer on this course.
Final Thoughts: I can't say enough about the relaxed, supportive vibe of this race.  It seemed to be perfectly aligned with my goal this year to enjoy more destination races in the company of friends new and old and to run for the sheer joy of it rather than chasing a PR (not that there's anything wrong with that).  Overall, this race is very well done and a really fun girlfriend's getaway. There are Zooma races all over the country. I'd definitely recommend checking out one or more! As an Ambassador I participated free of charge, however my opinions are my own. Special thanks to the Zooma staff for inviting me!
Congrats to everyone who raced over the weekend!