In my going-on 6 years as a distance runner, I've tried more than my share of earphones. Many fell out, some felt too big for my dainty ear, over-the-ear models would shift and fall off. I ruined some by dumping water on myself during a hot race, a sordid history for sure.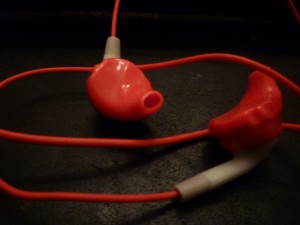 Recently I had the opportunity to try Yurbuds Inspire for Women. A quick summary of my findings:
Honestly the best tone quality of any earphones I've tried. Not tinny, good bass response, but allows enough ambient sound so I still feel aware of my surroundings.
They NEVER shift, slide or fall out.
Soft silicone goodness makes them super comfy, I forget they're even there.
Includes an extra, even smaller set of enhancers (red silicone part) for the daintiest of ears.
6 fun colors–admit it–this is important.
You can pick up your own pair for $29.99 at (my favorite store) Target, or if you're feeling extra lucky, one reader will win a pair of Yurbuds Inspire for Women right here! Make sure to visit the Yurbuds Facebook page as well!
Note: I was sent this product free of charge, however my opinions are my own.