Someone had to do it. Based on the amount of mail I get and the number of people who find this site by searching for Healthy Slutty Brownies, that someone is me.
Remember when I made these over-the-top vixens?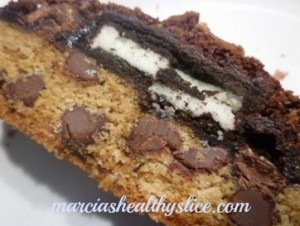 Well it's a new year and sluts are way over-rated.
Because I've got nagging chest congestion from that cold I won't admit to having, I took a self-imposed rest day and spent the morning tramping around the kitchen in hopes of bestowing some virtue on the slutty brownie we all hate to love.
Still three layers of goodness, but this time I scoured the interwebs for healthier versions of each.
Ladies and gentlemen, I give you the Reformed, "Healthified" Slutty Brownie: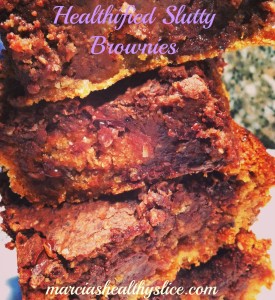 Like virtuous women, er I mean brownies, everywhere, these were by no means 'easy'.  Complex is a far better word. For the record, I did not attempt to create a healthy Oreo so you will not find one in this brownie, sad I know. Since yesterday was National Peanut Butter Day, I went with a peanut butter cookie instead. Beware: Because you're making three different recipes, this takes a marathon of prep time. Ready?
Chocolate Chip Bar Layer
adapted from Eating Well.
2/3C white whole wheat flour

1/2t baking soda

1/2t salt

2T butter

2 oz. reduced fat cream cheese

1/3C brown sugar

1/3C white sugar

1 egg

1-1/2t vanilla

1/2C chocolate chips
Combine butter and the next 5 ingredients in a mixer. Add in flour, baking soda and salt, mix then fold in chocolate chips. Spread in greased, 8×8″ pan.
Peanut Butter Cookie Layer
Adapted from Whole Grain Gourmet.
5/8C white whole wheat flour
3/4C slow oats
1/2t salt
1/2t baking soda
1C peanut butter
1/2C honey
1 egg
2t vanilla
Combine peanut butter and next 3 ingredients. Add in dry ingredients and mix. Drop teaspoonfuls on parchment-lined cookie sheet; press down with fork. Bake 10 mins. at 375F.
Brownie Layer
I used the Black Bean Brownie recipe from Chocolate Covered Katie.
Assembly:
1. First make the PB cookies. While they're baking, make the chocolate chip dough and spread it in an 8×8″ pan.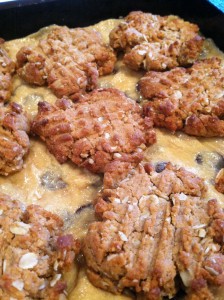 Place the baked peanut butter cookies on top of the raw chocolate chip dough. Have I lost you yet?
Then make the black bean brownies, this time in the food processor. PIA, I know.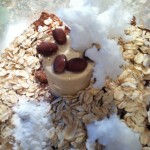 Once everything is ground up, it resembles black bean dip…just saying.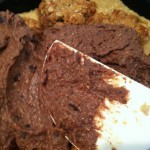 Spread the raw brownie dough on top of the PB cookies and bake the whole monstrosity at 350 F for 30 minutes.
Final thoughts: Each of these 'healthier' recipes is delicious in its own right. The final product resembles a fudgy brownie pie with a chocolate chip cookie 'crust' and some peanut butter deliciousness in the center. They are tasty without the intense richness and sugar rush of the slutty version. The million dollar question is are they worth all of the work? I'll let you be the judge.
Do you make healthier versions of recipes?
Are you in on my Injinji giveaway?