If you hang around here you know that running and I have had our ups and downs. Vitamin D deficiency, injury, thyroid, weight gain, aging, I've pointed the finger all different ways.
Lately though, running has been going well. Why?
I decided finally to listen to my heart.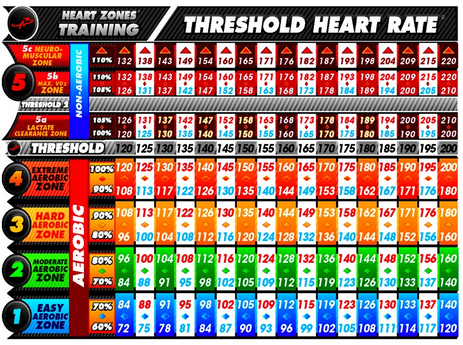 I pay attention to this sucker when I spin and stay in specified zones.
Although I've owned a HRM for years, I never bothered to use it the right way. Until now:
Tempo runs are done at 70-80% of WHR*

Speed/AT work is done at 85-95% of WHR

Long runs are done at 60-70% of WHR
*Working heart rate = maximum HR -resting HR
This is so not the way I trained before. I used to calculate paces based on a recent race and that worked just fine…except now I haven't really pushed in a race in over a year. For tempo I'd run sustainably hard. On long days I'd just run. Almost always faster than I knew I 'should'.
I'm finally letting go of the old numbers from times gone by that live in my head. Of chasing paces I think I 'should' be capable of. Maybe I will see those paces again, who knows? But I need to train like the runner I am now.
I'm letting my heart lead the way.
My warmup is longer. Slower.
My long runs feel sloooww. But I finish feeling strong. Joyful.
My intervals feel hard. But not so hard I cannot complete them. I come away with the same endorphin surge I used to when I ran faster paces. According to my heart, these are right for me now.
I'm making peace with my pace. Isn't that what this is all about?
Do you use heart rate training?
I'm heading to Montreal for a fun couple of days so here's the weigh-in a day early:
Weight: -2.8 lbs. total
Week 1: -1.1
Week 2: -0.1
Week 3: -1.6
Body Fat: -2.6% total
Week 1: -2%
Week 2: +0.8%
Week 3: -1.4%
After a slow start, things finally got moving in a positive direction this week. I'll take it! Plus I've got a wedding coming up and a dress to fit into. That'll light the fire.