First things first. My knee is a jerk. Thanks to frozen, then mushy then frozen, uneven trails, I think I've got a case of runner's knee coming on. It's been coming and going over the past week but my weekend 8 miler was fine. Yesterday not so much. I was on a mushy trail again and it flared to the point of making me walk. I think rest is in order. Figures I've got a 5k Saturday…and an egg hunt. Pray I won't be gimping.
Onto better jerks…I mean jerky. I was the lucky recipient of some Simply Snackin jerky recently. I won't lie, eyebrows were raised when I saw these contained fruit and other delicious ingredients like cheese, beans, and shallots. Turns out, Native Americans have been adding fruit to meat for hundreds of years. Who knew?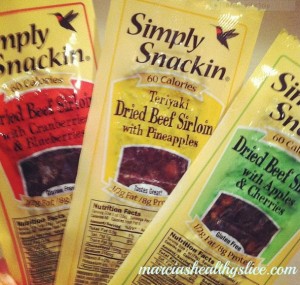 Jerky is one snack my entire household loves. Caveman, kiddos, everyone. We tried the three beef sirloin flavors shown above plus chicken jerky w/black bean salsa, Italian style w/Romano cheese and w/mangoes and papayas.
This jerky is phenomenal. Delicious. Natural. Nitrate free. It flew out of here so fast I had to wrestle to get a nibble of some of the flavors. I just ordered more because the kids are begging for it in their lunch boxes.
Each piece is packed with 8-11g protein w/just 60 calories

6 varieties (3 beef sirloin, 3 chicken breast)
No saturated fat, 3-5 carbs and a fraction of the sodium of traditional dried meats.
No artificial ingredients, fillers or MSG added.
Most varieties are lactose- and gluten-free
Best. Jerky. EVER!
WIN IT! One lucky reader will receive a 12-pc. assortment of Simply Snackin beef and chicken jerky.
a Rafflecopter giveaway

Note: I was sent this product free of charge. My thoughts and opinions are my own.