As I mentioned yesterday, we had a great time participating in a spin class with Dara Torres and trying out her newly designed FitClips by Koss.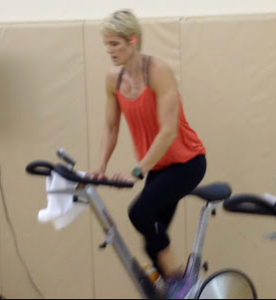 After spin class we had a chance to chat with Dara.
On workouts: Lets cut right to the chase: What's the scoop on those famous abs? Dara's favorite workout (swimming aside) is spinning. She has two spin bikes at home. She also enjoys TRX. As far as core goes, Tara swears by the Bodyblade. I've heard of this but had no idea what it was. Maybe it's time I found out! She also runs once a week, sometimes twice depending on how her knee feels (Torres had knee surgery for severe arthritis in 2010).
On food: Dara believes in moderation. She doesn't restrict any certain food but she believes in balance and portion control. When she was swimming she could keep pace food-wise with the likes of Michael Phelps. Now that she's taking a break, she still eats the same variety of foods but keeps a tight rein on portions. "If I want chocolate cake, I have a couple of bites. Just not all the chocolate cake."
On finding time: Dara is an advocate of squeezing in activity wherever you can: whether it's taking the stairs at work, curling soup cans at home, doing tricep dips against the kitchen counter, lunging with a baby in your arms, or jumping rope in the driveway with the kids, fitness is more fun when it's blended into your everyday lifestyle and shared with others. Since Dara travels a ton she plans for days she knows a workout won't happen and makes sure the days surrounding it are active.
On being a role model: Dara's 7-year old daughter has an active lifestyle as well. She swims, dances, plays LaCrosse and tennis."I don't put an emphasis on body image because I had an eating disorder in college so I'm leery of that."
On aging: Dara wrote the book Age is Just a Number. In her 40's (she's 46 now) she noticed recovery takes longer (amen sister!) Her advice: Listen to your body. "When the kids (she means younger Olympic swimmers) were doing 2-a-day workouts, I knew that was not for me. Recovery and rest need to be part of your workout plan". Dara does stretching and bodywork (massage) after every workout.
On the Olympics: Dara's favorite Olympic moment was in 2008. "You see things different as an older person. You appreciate everything more. You say thank you to everyone and really take everything in. Medals are great, but really overcoming obstacles to get there is what it's about, not necessarily the medal on your neck. Although that's great too."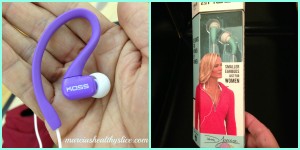 Stay tuned for a full review of the Koss FitClips and FitBuds. If you're in a hurry they're available at Koss.com. Use code Fit4life to save $5. Special thanks to Koss for sponsoring this opportunity through Fitfluential.