One. More. Single. Hour. Of school today then bring on SUMMER break!
That said, around here June kicks off birthday season (everybody except me) and all things festive. There's Father's Day, a 50th anniversary party coming up later this month, as well as a mega bash for Things 1, 2 and a gaggle of their closest friends. Suffice it to say, a whole lotta partying will be going on.
I'm in party-planning mode. While I've been known to resort to my trusty (archaic) cookbooks,  I've come into the 21st century and have been testing out recipe apps like crazy on my Droid Razr. The Droid's large screen makes it easy to work straight from my phone. Today I'm sharing my favorite apps:

Big Oven. Hands down, this one's the Mac Daddy. Search 250k recipes, recipe collections, menus, it even interfaces with Facebook so your friends' recipes are at your fingertips. I love the 'leftover' feature where I just put in what I have on hand and it gives me meal ideas and recipes. Very cool!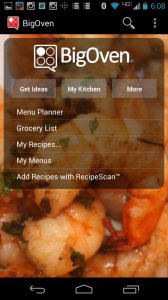 Input your own recipes or find new ones you like and save them to favorites.
So comprehensive, I even found a long lost and (much looked for) recipe for Banana Split cake I used to make with my girlfriend back in middle school. At last!
It also compiles a grocery list (doing this for large parties is my nemesis).
Allthecooks. This is like Pinterest for recipes but even better! Tons of great recipes plus there's room to post a pic of how yours came out, ask questions, leave comments, etc.
There's a weekly meal planner that I love and also a grocery list feature.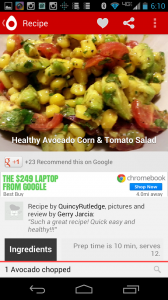 Lots of new meal ideas here!

AllRecipes Dinner Spinner. This is a fun one! AllRecipes is my go-to website for recipes and the spinner feature helps in a pinch when I'm totally sick of my meal rotation and want to change things up.
Just select:
Dish ie: soup/salad/main dish/whatever
Ingredients (is it veggie? Fish? Fruit?)
How long you have for prep ie: slow cooker, under an hour, 20 minutes or less
Then SPIN the categories for dish ideas that match your parameters.
For example I punched in Grain, Breakfast, and under 20 minutes and got this fun Jack-O- Lantern Pumpkin Pancake Recipe: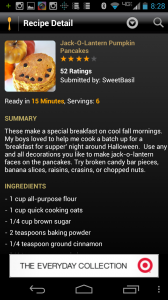 Do you use recipe apps? What are your favorites?
Disclosure: I am participating in the Verizon Voices Health and Fitness Program and have been provided with a wireless device and six months of service in exchange for my honest opinions about the product.