I was honored to be part of Jill's crew for the Leadville Silver Rush 50 miler. For those of you just joining us, Jill and I go way back. We're blog cronies since the beginning of time and we first met in Boston 2010. She was nursing a foot injury, I was barely back from a peroneal tendon crisis, it was a match made in heaven.
Since then we've had race junkets in California, Chicago, and this was my third time back to Colorado. When Jill asked me to crew for Leadville, I was pumped. While I have zero interest in running a 50-miler myself, I'm all for crazy. Plus who doesn't enjoy super-thin mountain air? So last Thursday I saddled up the mule, strapped on an oxygen tank, escaped the Amazon-like humidity that blankets Chicago and headed West.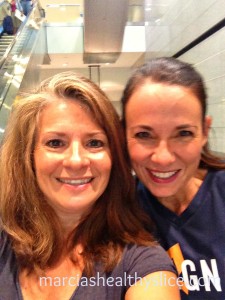 Look who I met in the Denver airport. Lisa! One of my favorite bloggers. I mean really: what are the chances? The universe works in strange ways. Such a sweet surprise!
I met Jill and we headed up to Breckenridge, where we'd (make that I'd)acclimate to the altitude, jack around, pickup her packet, obsess and stalk the weather for a few days before the race. Other than a mild headache when I woke up Friday morning (and of course some gasping when we hiked) I managed the altitude just fine.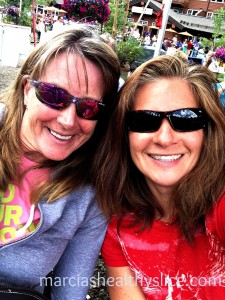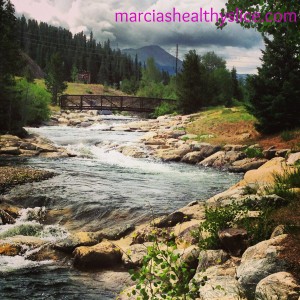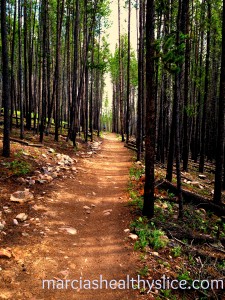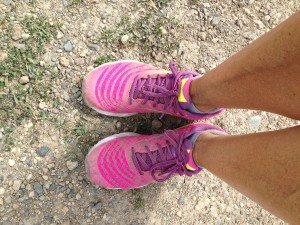 So what if my Wave Sayonaras aren't meant for trails? They're still irresistible, even when filthy and filled with rocks.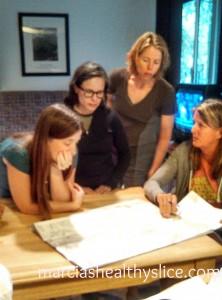 The entire Pb and Jilly Leadville posse met up in the war room on race eve for pizza and a strategy session. Truly it takes a village (and lots of ice cream) to pull off a 50-miler.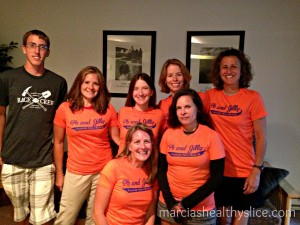 Top L to R: Ryan, me, Kathy, Terzah, Melissa. Bottom: Jill, Cynthia.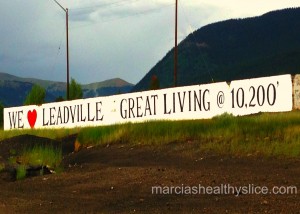 We arrived in Leadville on race day just before sunrise.

Jill was ready to get the party started. Note the monster hill in the background. The first of many.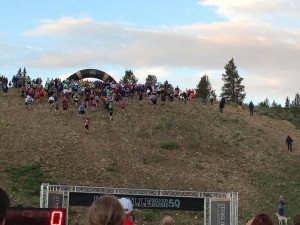 Here's the crazy train leaving the station.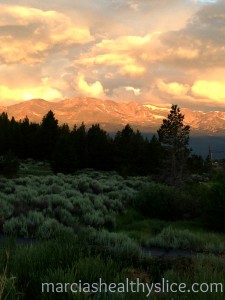 A minute later I caught this scene just beyond the porta-potties. The sun bathed the mountains in a rosy glow. Breath taking.
The remainder of the day entailed map-reading, driving like banshees through the mountains to the next 'spot' charting pace, calories, fluid intake, bug spray, sunscreen, shoes, raincoats, poles, ibuprofin, you name it we tracked it. Oh and cowbell. LOTS of cowbell.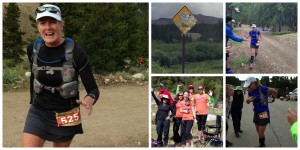 Before we knew it, (because Jill is badass fast) we were beelining for the finish line. We waited as ominous clouds gathered. Just as Jill appeared at the top of a precipitous hill (what else is new?) it began to rain.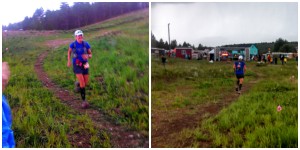 She finished strong. Triumphantly. With a smile! Then the heavens unleashed their fury. I will let you read her race report for the details, but I will say it was an extraordinary day in so many ways. If you know Jill, you know the strength and tenacity within her. Although she often doubts herself, we never doubted her ability for one second. She did not disappoint. It was a magnificent weekend of friendship, support, crashing through limits, and delirious, crazy-ass joy. Thank you Jill for allowing me to share in this epic journey!
Good things come to those who work their asses off.