You know this summer has been sparse for me running wise. Sparse running = little to no running fuel usage. My peanut butter and salted caramel GUs have sat forlornly awaiting my return to distance running….or so I thought. Tired of being the last runner on the face of the earth who hasn't yet tried peanut butter GU, I went to my stash on race (or shall I say rainy wog) morning. It was 'only' a 5k but what better chance to throw down a PBGU?
I was traumatized by what I saw. This is not for the faint of heart. My stash had been wiped out. Honey Stinger Chews? gone, GU? nada. Chia Surge? MIA. This called for some sleuthing. Kids denied it. Plus they're convinced something terrible will happen if they so much as glance at the stash jar.
That left one Caveman. He came clean immediately upon interrogation. He'd been taking them pre-weightlifting in the morning. What the what? Without notifying me? Since when is running fuel a pre-gym thing?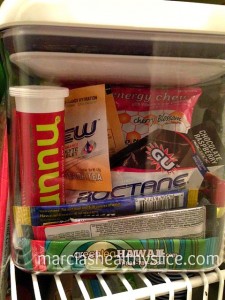 Here's my stash in all of its splendor before the violation occurred.
At the risk of sounding all self-absorbed and biatchy, I'll admit I was perturbed. I'd have been fine, if only he would have TOLD me he was taking them. If he was a runner, I'd expect to share them. But this…
My stash was carefully curated with flavors hand picked (and bought on sale) the way I like it. Anyone can go buy a case of something. Sigh.
Are you territorial about your running stuff? Do you share fuel?