The latest Bestowed Box is all about boosting a winter-weary immune system. So many favorites in here plus a couple of new to me items as well. Plus let's not forget Easter is fast approaching and Mother's Day is around the corner. I'm always looking for healthy gift ideas.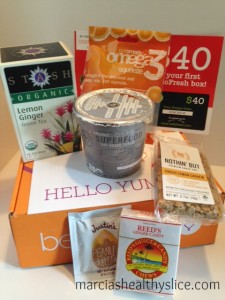 Reed's Ginger Chews: I had to throw myself over these to keep the Caveman from snagging them. They are his all-time favorite.
Stash Tea Organic Lemon Ginger Tea: Immune-boosting green tea with a soothing blend of ginger, organic lemongrass and antioxidants. What's not to love?
Vigilant Eats Superfood Cereal: I just ate this for breakfast and wow! Just add cold water (water!) and you've got a tasty bowl of organic, gluten-free, soy-free, non-GMO, TASTY cereal. I tried the maca double chocolate and it was filling and fabulous. Perfect for throwing in your gym bag, taking to school or the office. There's even a spoon inside! Cereal can also be mixed with your choice of milk or hot water.
Hello Fresh $40 Gift Card: Pre-measured farm-fresh ingredients are delivered straight to your door along with easy-follow recipe cards so you can create amazing meals quickly and easily.
Justin's Honey Peanut Butter Squeeze Pack: You probably know about my love for this stuff. If you haven't tried Justin's, you need to. Dairy-  and gluten-free, non-GMO. It's all good.
Nothin' But Lemon Ginger Cashew Snack Bar: Kids this one is so delicious I can't even express it. It definitely got my attention. It's crunchy yet chewy, tangy and sweet. A combination of organic oats, ginger, lemon, cranberries, cashews and sunflower. Too good to miss, I swear.
Coromega Omega3 Squeeze Orange 7-Day Pack: This is a personal fave of mine. In case you didn't know, one of the keys to life (IMO) is fish oil and these have absolutely zero fishy taste. Each packet contains 650mg of Omega3 fatty acids. They're gluten-free, sugar-free and need no refrigeration. I love these for travel.
There you have it: another grand slam by Nutritionist and Bestowed Curator Heather Bauer. Use code HELLOYUM42 when ordering and your first box is just $10 (regularly $19). Hurry: Offer expires 4/15. Not up for a subscription? Items can be purchased individually here. Check out the fun assortment of healthy snacks and paleo treats!
Have you tried any of the items in the latest Bestowed Box? Do you have any fun Easter basket or Mother's Day gift ideas?