On Friday my 'runtourage' and I headed to Springfield, IL for the 50th running of the Lincoln Presidential Half Marathon. 50 years=wow. We stayed at the Hilton which was the race's host hotel so packet pickup was nice and easy. 75 cent parking? Toto we are not in Chicago anymore! The expo was nothing special. Read no shopping, which is really a blessing. It was super windy the day before so I worried the race would be the same.
Shortly after checkin, we headed out for a carby dinner and to the grocery store for water and morning fuel. Someone, who shall remain nameless, told me I did not eat enough and felt my races could be better if I went in better fueled. So, I stuck with my tried and true pizza, but forced down a donut before bed. Note ominous foreshadowing. In the morning, instead of my usual bagel, nut butter and banana, I ate something else. I am ashamed to even tell you what it was, it probably works well for some. I know better than to do this. I really do. In over 75 races, I've never had a major digestive issue in a race (besides heat induced grossness).
I slept fitfully and felt gross. After my dubious 'morning fuel' I felt even moreso. We headed to the Lincoln Library for a blogger meetup. Conditions were perfection: mid 30's, clear and sunny. Breezy, but nothing crazy.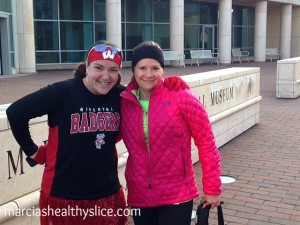 Awesome to see Jess again!
Shortly after that pic was taken we headed to the starting area and I made a beeline to the porta pots. Stomach was doing bad things. The lines were crazy long so I sprinted back to the hotel. All the better to get things moving, right? I made it back to the starting line in time to hear "Abe's" long winded address and national anthem. I was tucked in the way-back behind the 2:25 pacer though. Oh well.
Mile 1: 9:35. We were off with the loudest musket blast ever. I had no choice but to take it easy, which is a good thing. I was boxed in, the slower runners saving me from myself. Within the first mile a guy to my right took a header and rolled, he fell so hard. Not 10 seconds later a lady up ahead did the same thing. The roads were badly chewed up from our crazy winter so I focused on where I stepped.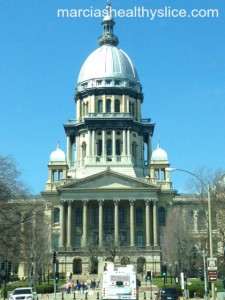 Miles: 2 and 3: 9:11. If I can do this the rest of the race, I'll be a happy girl.
Mile 4: 9:22. Oh crap my stomach hurts. Please oh please don't let me be this guy today.
Mile 5: 9:20. Keep going, do what you can. The park is pretty. I had an awesome 16 miler here back in the day during a marathon training cycle. I focused on that.
Mile 6: 9:13. I'm doing great on the hills if I do say so myself. I'd see one ahead, assess how long it'll take to get up, wrap my head around it then take small steps, pump my arms, all the good stuff. I'm afraid to take a GU. But I do. Heaven help me.
Mile 7: 9:40. More than halfway. I did not train hills for 12 weeks to walk up them today. There was no walking. "I am trained for this" is my mantra.
Mile 8: 9:39. Loooong incline, stay strong. I keep telling myself this is not a hill. Oh and stop overdressing already. I mean really.
Mile 9: 9:44. Entering the Oakridge Cemetery where President Lincoln is buried. We are stopped at the gate while a caravan of tour buses enters, leaving us to crawl behind them breathing their fumes. I am this close to barfing. This is where the race went to hell in a handbasket for me. It's probably cheating, but I turned off my watch while we waited.
Mile 10: 9:50 Hills are coming regularly, like contractions. My endurance is not where it should be. Ugh. Left inner quadular area is not happy.
Mile 11: 9:58 Ack I'm struggling, stomach is gurgling. But twin Captain Americas are somehow struggling more and I pass them.
Mile 12: 10:14. One last mongo hill here I didn't appreciate. My legs are shredded. Let's be done already.
Mile 13: 9:51 A guy is doing walk/run intervals and always starts running when I catch up to him. Maybe I should do the same? No.
Home stretch: 8:34. I hear the Caveman and kids but don't see them. I wave in their general direction then haul it in. This last bit turned out to be .29 according to Garmin. I suspect the course was long as I'm a very good tangent runner and .29 is simply too much extra for a half. Whatevs.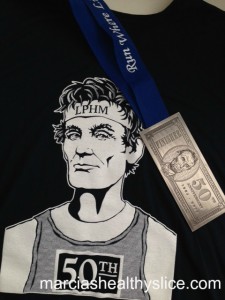 Chip time: 2:07:xx
Garmin: 2:05:xx (remember I turned it off when we were stopped.)
AG: 20/96
Overall: 324/1134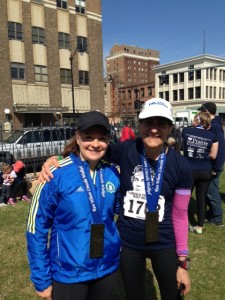 It's always great to see a dear friend at the finish! Geri and I ran Boston together in 2009.
Final Words: Bellyache aside, this was a fun (smaller) race. It was capped at approx. 2000. The shirt was whack. The medal pretty darn spectacular, even though I was obsessed with getting the usual giant penny. The course is challenging (for us hill pansies especially) but the parks are pretty and you pass all the historic Lincoln sites. Lots of different road surfaces to contend with: potholed asphalt, gravel, bike path, bricks, steeply banked roads. No timing clocks on the course except at the finish. Plentiful water stations with very supportive volunteers. I suppose I shouldn't be content with my results as they are nowhere near the sub-2 that I wanted. Yet I am pleased with my time, given the GI issues. My heart wasn't doing the racing thing it was last year. I felt like I could've run harder, but didn't dare tempt fate. I am thrilled with the way I handled the hills and how hard I fought mentally when I was feeling awful. I thought my fueling was the culprit for the GI issues, but a full 48 hours later, I'm still not feeling great. Now I'm wondering if I have a bug or the water/pizza I ate at that restaurant were an issue? Today I am taking it easy with bland food, probiotics and a little yoga. 
Special thanks to Joanna over at Race-Ready Coaching for an awesome training plan. I found the workouts challenging but not impossible, and a great change of pace from the plan I had been using. I felt like the hill training left me very well prepared, which is huge. This was my first time using a 4-run/week plan (I'm a 3-run RLRF girl) and I didn't always do the entire 4th easy run. I know my endurance would've been better if I had. My bad. Overall I am very pleased and have learned there is SO much value in changing up my plan from time to time.
Next up: Eggshell Dash, followed by Flying Pig 3-way (5k, 10k, half).
Is it ok to turn your watch off in a race if you are involuntarily stopped? Have you ever run through a cemetery?