Unlike last week, this time I was not up ahead of my 3:40 alarm, but rather in the midst of a dream when I was awakened. One where I was calculating training paces for one of my run coaching clients. I've heard that deep sleep is when the brain orders its thoughts and apparently that's what was going on. Good to know I am productive when I sleep! Ha!
I was up and out dark and early. I picked up Emily and we headed to Soldier Field for the 11th annual 10 miler. My third time running it. My goal was simply to run happy with friends and enjoy rather than race. Kind of my motto for the year.
I opted to start four corrals back so I could hang with Emily, Bobbi and Chris. We were off nice and easy, chatting all the way. Chris pulled out in front. I ran with Bobbi and Emily until I nudged ahead. I could hear them talking behind me and I figured they'd catch up or I'd slow and reunite but I found a groove and just kept going. Before long, thoughts turned to my skirt. I felt the compression-short unders riding up. Images of expansive chafe wounds danced in my head. Finally, at the turnaround I pulled over for a skirt adjustment, figuring Emily and Bobbi would come up. Thankfully no chafing but no Bobbi and Emily either. I searched the oncoming runners but didn't see them. I thought Chris was somewhere ahead of me so I continued on. My pace felt comfy and easy. I suspect the ZYM I added to my water bottle had something to do with that.
At mile 9 as we rounded McCormick Place, rap music jammed from I don't know: Ice Tea? Sweet Tea? Snoop Dog? It was the one that keeps going Uh Ohhhhhhh. A woman to my left in a red/white/blue tutu danced along. The tiny shred of competitor left in me said "you're going to let her dance faster than you run?" So I passed her. She answered by sprinting right back ahead of me. Oy.
It became my sole mission in life to finish ahead of the dancing tutu. I had plenty PLENTY left after all. So gradually I moved right, leaving dancing tutu on the left of the path and moseyed past all sneaky like as we approached the stadium. Now where the hell was the opening to go under and onto the field? I swear we entered earlier last year. The herd sped up in anticipation of the finish line. As we finally ran down into the dark underbelly of the stadium, a woman with a jog stroller of all things whizzed past me. Is there an ice cube's chance in hell jog strollers could be permitted in this race??
Before I knew it I was on the field in bright sunlight, charging to the finish on the 50-yard line. 10 miles is such a great distance when you're trained for a half or more because it's over just when you begin to struggle.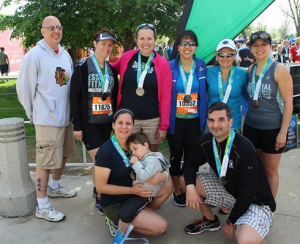 Here's the entire crew post-race. Special thanks to Kim's hubby for taking the pic!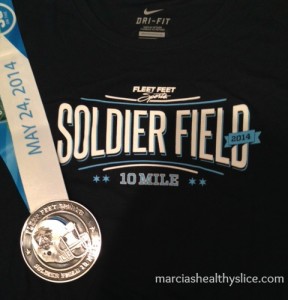 Final words: This is a top-notch, very well-done race. The shirt is awesome. The medal is nice, but pales in comparison to last year's 10th anniversary edition. I super appreciated the free parking which is unheard of in the city. The only drawbacks are trekking to Fleet Feet in the city for packet pickup (bless her heart, Emily did this for me) and the entry fee is high ($90).
What was fun for you this weekend? Did you race?