Where do I even start? If you hung with me here awhile, you know I've been dreaming about this one for longer than any other marathon. Boston came quickly, before I had a chance to even think it was a possibility. But NYC? I watched that iconic start on the Verrazano Narrows Bridge for longer than I can remember. I summoned the nerve to get in the lottery in 2010. Then I waited, and waited and waited. Granted there were some years in there I hoped I'd not be picked as I was injured or running crappily or something. Thank my lucky stars, I was the last of those grandfathered into the "3 denials and you're in" clause. So 2014 was my year. I'll never forget the look on Caveman's face when he saw the charge come thru on the credit card. "You're doing what?" For how much??"
I felt like I was the last runner to arrive Saturday morning, but no. My plane was packed with runners headed to the big apple. Let the festival of running chatter begin. So much fun.
We scored a great room at the Hilton Garden Inn that went down in price not once, not twice but 3 times. 5 blocks from the finish line. Meant to be!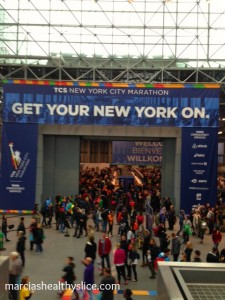 Saturday was rainy and grey as we headed to the Javits Center for packet pickup. It was a madhouse and I wanted all the things. I settled for a half zip, hat, kombucha glass and some new (hard to find) Balega Blister resist socks, which in hindsight, I should've worn. Cue ominous foreshadowing.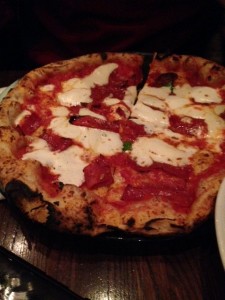 I relaxed in the afternoon then enjoyed a carby dinner at a pizza place I promised myself I'd remember the name of, alas I do not.
Race day dawned as expected: overcast with howling winds. We cabbed to the Staten Island ferry where I was to meet Julie, alas I never found her. Police with bomb sniffing dogs checked our baggage out. This was the first of four times I'd be searched or scanned before making it to the start line. Sad it's come to this but I appreciate all the effort too.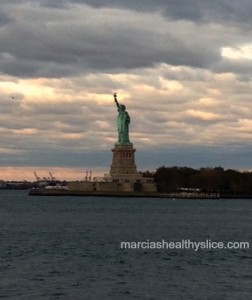 Ferrying past lady Liberty.
Before long we exited the ferry and boarded buses bound for Runners' Village. The bus ride was way longer than anticipated. I was so glad I had food with me.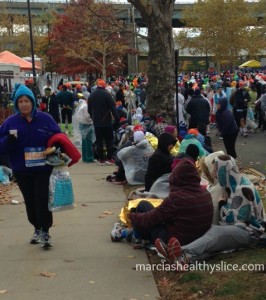 The Village looked like a refugee camp. No tents could be erected due to the extreme winds so there we sat, cowering, on cardboard, plastic, whatever, trying to stay warm. Such a great mix of people. I'd be talking with a pack of ladies from Denmark one minute, a guy from Germany the next. My bus seat mate was from India. Running the universal theme. So cool.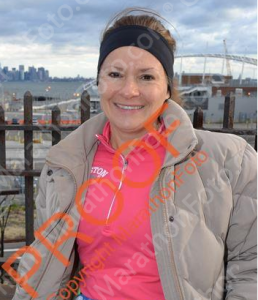 I was rather proud of my throwaway clothes: A giant down parka in baked potato brown I named 'big nasty' and some vintage yoga pants with a waist so high it tucked right under my boobs. Super stylin' but warm.
The canon sounded and the elites went off. All the runners in the village cheered wildly. Every time the canon fired for another wave, all I could think was Hunger Games. Someone's dead. Haha!
I thought I had all kinds of time but it flew. My corral closed at 10:10. Then it was time to lose my yoga pants and the big nasty and go. We filed like sheep to the bridge. This was it.
Goals: I'm here to soak in and enjoy. I aimed for 10 – 10:30 pace, although this was my goal pre-wind advisory.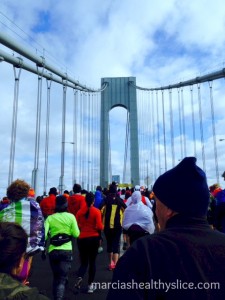 The canon sounded and Frank Sinatra's New York New York blared. Due to the high winds, there was no starting structure to run under. This was freaking it. Surreal. I am here. Healthy. At the starting line I'd dreamed about for so long. What a gift.
The wind was insane. It literally knocked a couple runners near me to the ground. We'd all lurch to the side with the especially strong gusts. We're talking 25mph headwinds with gusts up to 40mph for most of the race. But I had my head around it. Nothing was going to stop me from enjoying this day. I've done heat and hurricanes and blizzards. I hate wind but I know I am stronger than any wind. People were throwing off shirts and jackets and heat sheets and they'd go airborne high in the sky.
The bridge felt effortless. Of course we were going that slow. But who cares?
We came off the bridge and entered Brooklyn. I loved the crowds. Firefighters throughout the entire course parked their trucks on side streets and lined up to cheer. It was awesome.
The miles clicked away faster than in any race I'd ever run. I cruised along. Effortless. But trying to stay around 10 minute miles. All the better to soak it all in.
In the hasidic neighborhood, everyone pretty much went about their business and ignored 50 thousand runners traipsing down the street. I spotted 4 adorable little girls standing on a porch in matching black coats watching though, and waved.
This course doesn't have steep hills, but rather looooong inclines then looong declines. Mile 9 was a long incline but I loved the gospel choir out on the church steps on Lafayette Ave. I did not love the way my left foot was feeling.
After mile 13 my fuel belt was dry and I had the brilliant plan to stop (on the incline of a bridge no less) to mix some Accelerade powder. So I pulled over and got out my ziploc bag. Powder pretty much blew away. Ha! Nice try, Einstein.
Soon after, I pulled over again for water for the little powder that made it into my bottle. Note to self: No more mixing brew mid-run. This was plain stupid. After this fiasco I fell out of my groove. I felt like I got behind the 8-ball on hydration and just couldn't get enough to drink at water stations. Maybe it was the wind. The satan's spawn Queensboro bridge unraveled me further and jacked with my Garmin signal.
Miles 16-20 were on First Avenue. I spotted the Caveman at mile 17 or so. Do not know how I saw him among the crazy throngs. This street is long. With incline. Many struggle here. I did not, although my pace was slipping. Some gusts of wind were so strong they stopped me in my tracks and I walked for a bit. I wasn't going to waste energy fighting it. The miles were still coming fast. When I got beyond mile 20 I wondered what my body would do. Would my cranky knee hold out? Still I felt so dry and the last gel barely made it down.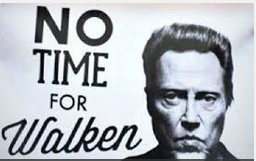 When we entered Central Park, the path was so bottle necked I had to walk. I was tired and stabby now. 5 guys jumped in with a girl ahead of me to run. Really? All 5 need to do this? Then two ladies (one with a walker) decided they needed to cross the path in front of the runners. Let's just say they did not cross quickly. It took way too much effort to get around them. That's the depletion talking. I knew it. I cracked out my Honey Stinger Chews and packed my cheeks with them. Mouth too dry to dissolve anything. Cheering pathside was Yanni and Tony Randall. Later the Caveman told me Tony Randall was long dead. Apparently depletion makes me see dead celebs.
After mile 23 or so I got angry with myself for slagging and picked it up. I skipped the mile 25 water station. I could smell the finish. Caveman said I looked strong along 6th Ave. before turning back into Central Park for the finish and I felt strong too. The final stretch was lined with flags and bleachers and I knew this was it. I thought of all the times I'd watched the TV coverage of the elites covering this final stretch. It is surreal I am finally here. One last small yet insidious uphill and I finished.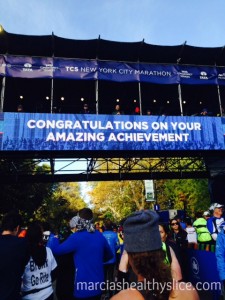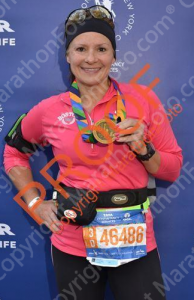 Finish time: 4:35
I didn't light the world on fire, but that was never the goal. I came to run a pace I could enjoy and soak in everything. Given the conditions, I'm quite happy with how everything went. We got our medals and heat sheets and walked a million miles until us non gear checkers got awesome ponchos. I'm trying to think of how I can wear it again. Maybe I'll picnic on it or wear it to the school bus stop on rainy days. It is seriously cozy and badass.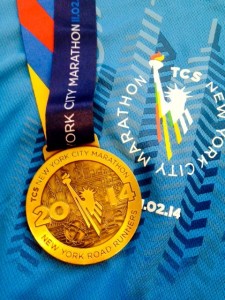 The medal and race shirt are stunning. Seriously I love them both. Asics did a great job with all the race apparel too.
Final words: This race is so well done. The expo was great, I loved the course, not the easiest by any means but that's ok. Crowds and support are amazing. Despite the challenging conditions, it was an amazing day. The runners and crowds together were so joyful and supportive. NYC truly shuts down and embraces this race. Going through the five burroughs and soaking in the flavor and culture of each is something I'll cherish forever. Nobody runs a marathon in a vacuum. We all have friends and family who make it possible to get the training done. This race felt like a total celebration honoring not only the hard work and dedication of the runners but of friends and family who are our support system. I am grateful for all of it.