One of the highlights of my week last week was getting the dreaded annual physical out of the way. While there, I learned that my Vitamin D levels are low. Again. Despite supplementing and taking in more than my share of fish oils, my 24 units fell well below the 30-100 range that is considered ideal.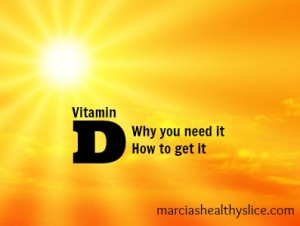 Here in the Northern Hemisphere, our daylight hours are slowly growing but winter is a good time to think about Vitamin D, the "sunshine vitamin". Did you know that 40-60% of the US population is vitamin D deficient? Vitamin D is the only vitamin the body manufactures from sunlight (UVB). But the level of vitamin D found in our body has been compromised because many of us:
1.  Spend so much time indoors
2. Live in Northern climates where sunlight is limited
3. Use sunscreen extensively
You probably know that vitamin D is good for healthy teeth and bones. But there are numerous additional benefits as well. Vitamin D deficiency is a root cause of:
Depression and chronic fatigue syndrome
Fibromyalgia
Depression
Back pain
Cancer
Diabetes
Impaired immunity
Obesity
High blood pressure
Cognitive function
How do I get sufficient Vitamin D?
With 15-20 minutes of exposure to sunshine per day your body will make 10,000-15, 000IUs of Vitamin D. Morning sunshine is best. Other than sunlight, Vitamin D comes from eating cold water fish like salmon, mackerel and sardines, cod liver oil, egg yolks, fortified milk and beef liver and some mushrooms.
Although the DV (daily value as defined by the FDA) for vitamin is 400IU, studies have shown that higher levels, depending on your specific test results, are optimal.
What about Vitamin D enriched foods? 
Sadly these haven't had much impact on Vitamin D levels since many food manufacturers cut costs by using a synthetic form of vitamin D.
So I'll be mega-dosing Vitamin D for 4 weeks then retesting. Then doing my best to keep my levels in a healthy range. I think this is a good excuse to travel to a sunny, tropical locale.
Do you know your vitamin D level? Do you struggle with it in winter?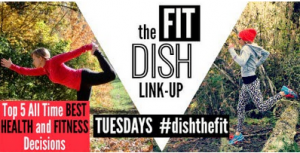 I'm linking up today with Jill for DishtheFit.