There are few things I love more than travel. Cruising is one of my favorite ways to do it. Over the years, I've done my share of cruising. I lost count somewhere after 15. Almost every single time I cruise with someone who hasn't gone before, I'm asked "what will there be to do?" or  "I'm afraid I'll gain SO much weight". While the opportunity to gain weight is certainly there, cruises also offer plenty of ways to stay healthy and active. Let the record show I returned from our most recent cruise two lbs. lighter and trust me I was not skimping on food!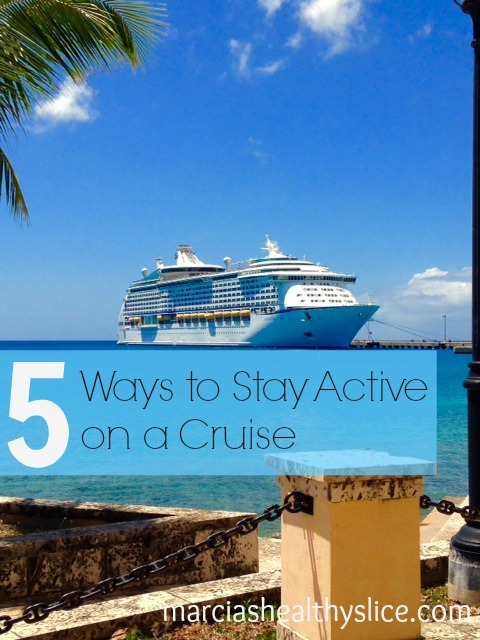 1. Hit up the onboard fitness center early and often. Most modern cruise ships have gorgeous, state-of-the-art gyms. Whether you want a treadmill, elliptical, free weights, machines, its all there at no extra charge. I like to get up and hit the gym early. It may be crowded on the first day or two but trust me, the gym's popularity fades fast. For night owls, working out while the earlybird dinner is going on is also great. Your gut will thank you. Some group fitness, spin and yoga classes have a nominal fee but are available all the same.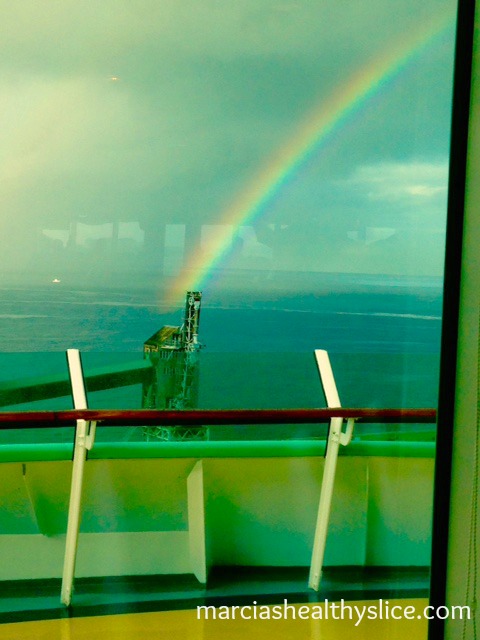 This was the view from my treadmill as we approached Barbados. Since I ran early, we were often just coming into port. The fitness center was just above the bridge so it was a phenomenal view. 
2. Walk, walk and walk some more. Most cruise ships have outdoor tracks for walking or jogging. If not, there's the promenade deck. Walk around the port towns too.
3. The stairs are your friend. Use them as much as you can. You know what a great workout they are. They'll save time and spare you the frustration of waiting for elevators too.
4. Take advantage of specialty activities. Our most recent cruise featured inline skating, ice skating, mini golf and a rock climbing wall. So much fun for all ages. And by all means, DANCE! Chances are good your ship mates will never see you again.
5. Swim. Take a dip early and bust out some laps before the sunbathers come out. It's a peaceful and energizing start to your day.
6. Technically this is not ON the ship so it's a bonus tip: Go on active shore excursions. Forget about sedentary bus tours. Go for the action. We kayaked, snorkeled, hit up the zip lines, rappelled, biked, with lots of hiking in there too.
One word of caution: Don't take on tons of new activity unless you're already accustomed to an active lifestyle. The last thing you want to do is injure yourself or be so sore it keeps you from enjoying the rest of your vacation.
Have you cruised? What's your favorite way to travel? Did you enter my giveaway?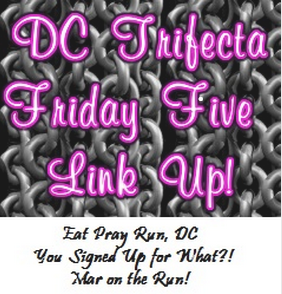 I'm linking up with Courtney, Mar and Cyn for the Friday Five.