To give you a little back story if you're just joining us. I'm a self-professed water phobe. I've made it this far in life with a mean dog paddle, nothing else to speak of when it comes to swimming. There was an incident where I needed to be rescued when I was a teen. At a Disney waterpark of all places. Yeah water and I do not mix. As a result, I stay where I know I can stand up. I've spent many years admiring triathletes from a distance, but was firmly ensconced in camp "I could never".
Not sure what Koolaid I drank, but I decided this was the year to face down that fear, and learn to swim. The "real" face-in-the-water way. When I was invited to be an Espirit de She Ambassador for a third year, I went out on a very shaky limb over deep, ominous water, and signed on to be an Espirit de She TRI Ambassador. That kind of forced my hand into taking this swim thing seriously. So I started swimming. I'd be lying if I told you I remotely enjoyed it so far. It's hard. I drank and still drink more than my share of pool water.
Fast forward to this past weekend. Our local high school has a teeny tiny community tri that's mostly high school kids but is open to everyone. Thing 1 and her friends entered as a relay team. As much as the thought of me entering on my own made SO much sense, the thought terrified me. My swim is still more of a mess than not. But I needed the confidence of knowing how a tri goes. How do I pack my stuff? Where do I put my stuff? How do I transition? Is Blanche the trusty road bike tri worthy? So many burning questions I needed to have answered. I bit the bullet and signed up.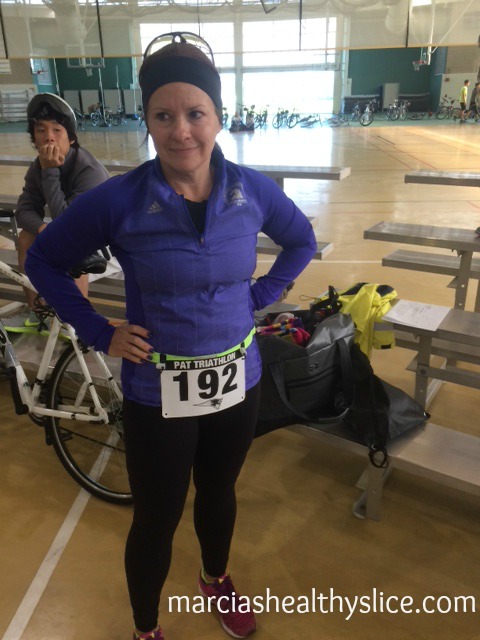 I wanted to scram when I realized the swim started in the diving well portion of the pool and would be no shallower that 12-ft.
Race day dawned cold but clear and sunny. I wore my trisCuit but layered tights and a jacket over it for the bike. I knew biking in 30's would be cold and it was. We loaded Blanche and the kids in the car and we were off.
I made 3 separate bags and put them all in my gym bag. I suspect triathletes have a backpack for this?? We dropped off my bike at the field house. I kept my bike bag with me (since bike was first in this tri) and set my swim bag where we entered the school to head to the pool (swim was last).
There were 3 waves that went off 20 minutes apart. Thing 1's relay team and I were both in wave 2. The time came to line up outside for the start of the bike leg. I chose a spot in front because the thought of people weaving and cutting me off terrified me. The field was mostly high school kids. One teenage boy cracked me up when he fell madly in love with Blanche (my trusty road bike of at least 7 years so no hot, spring chicken) and showered me with questions I could not answer: "Wow look at that sweet aero setup!" "What's your max power?" "How many centuries have you done?" He distracted me from my nerves I guess.
Goals: I had no plan to race this. It was a dress rehearsal so I could experience a tidbit of each sport plus what the transitions felt like. I did not go all out. I did not wear a watch. There were no time clocks, except at the finish.
We were off in a flurry and I was cautious. The bike course was pancake flat but had tons of turns I constantly slowed for. There was also standing water in a couple of spots, in addition to loose gravel and potholes. This was not going to be my day to crash. As I grew more confident, I began to pass people. One particular guy wasn't too happy about it, though and he passed me back. After that incident, I'll admit I may have pressed a little harder and passed him again. I wouldn't see him again until the run leg.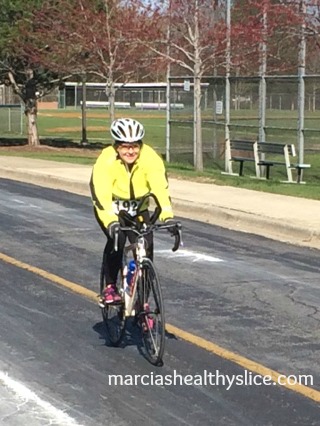 Kind of digging the bike!
The bike leg flew by and before I knew it I was making the turn to drop my bike and head to the track for the run. But there was nobody there to take my bike. Just relay team members waiting for their tag, including Thing 1, who was a little surprised to see me. God bless her, she took my bike and I was on my way to the track.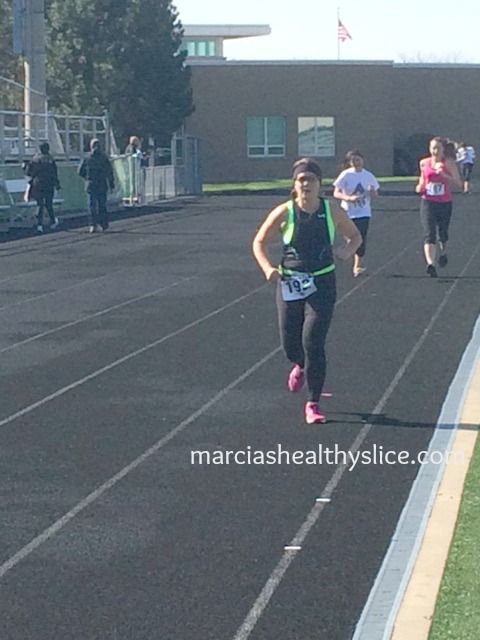 Running off the bike is not easy. Obviously I'll practice doing this more but I chose an even, sustainable pace. Nothing crazy. I was saving myself for the swim, dontcha know. But this was my safe haven. I know I can run. I relaxed and got it done. I was 2 laps in when I saw my friend, the guy who didn't want to be passed on the bike, stopped and bent over puking. I think he walked from there because I lapped him, poor kid.
I was halfway through the run when Thing 1 entered the track and was about 100 yds. behind me. I felt like I was crawling snail slow and looked forward to her catching up so we could run together, alas that did not happen. I headed off to the pool. In the pool hallway I stripped off my bike tights and shoes and put on my swim cap (the first time ever sans mirror, insert ominous foreshadowing here) while chatting with Thing 1's team member who was awaiting the tag to tackle the swim leg. I may have begged her to swim for me.
When I got to the pool, a lifeguard assigned me lane 5. That's when I begged for an outer lane because I was a brand new and very intimidated swimmer. Bless her soul, she let me have lane 8. I stood there hesitating while people were diving in. The very deep water messed with my head. The first 50m were solid. I faltered and reverted to dog paddle for a few yards after that. Then I realized my swim cap was half way off but welcomed the break to fix it. I also may have clutched the side and caught my breath a bit before the final 50m. The lifeguard, bless her heart, was so patient and encouraging (as she stood like a hawk at the end of my lane in case I went down). At last I crawled out, grabbed my water bottle and flip flops (see I told you I was not hurrying) and headed to the finish.
Sooo relieved to have finished alive! The body marking is probably the most badass thing I've ever experienced. 
If you saw my Facebook or Instagram, you know that I was stunned, STUNNED to finish 2nd overall female. I mean really, how can that be?? Now that I had time to digest it all, I suspect I must have had a BIG lead on the bike (in my wave anyway) and must have maintained (or maybe padded?) that on the run. The swim was a mess but I must have hit the pool in first place. Yes, this is a tiny race, but there were certainly plenty of other adult women competing. Mind = blown.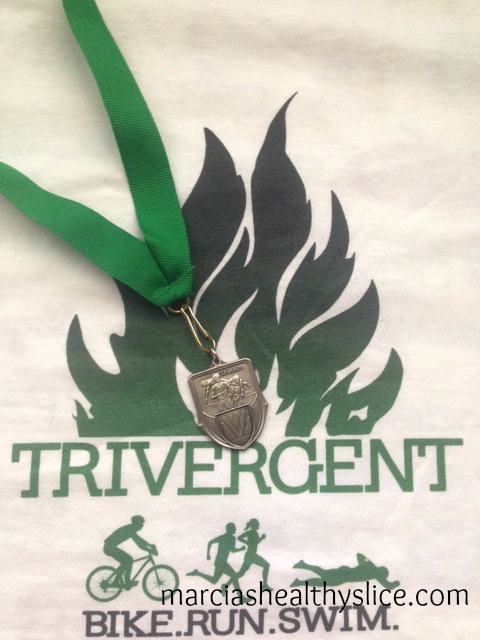 Take aways: I am crazy in love with the bike. I was far from giving it my all yet, was one of the first five finishers in my wave, first woman. What? I think I did well with transitions in that I didn't forget anything. I intentionally did not hurry at all. I could go way faster. Parceling out my gear into swim-bike-run bags worked really well. I've got a long way to go on the swim. My trisCuit was a star. Totally forgot about it, which is a sign of great gear. All hail the trisCuit! Overall, this was a huge confidence builder and it drove home (again) the fact that I tend to get in my own way, over worry and avoid things I feel are risky. I think it was the universe's way of whispering in my ear: "dude, you've got much more potential than you think".
Congrats to this weekend's racers! Did you race? Do you get in your own way? Do you know what your 'max power' is?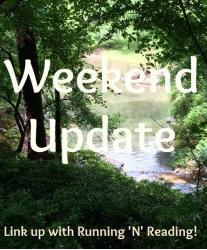 I'm linking up today with Tara's Weekend Update.