Here's a look at my no pressure, cut-back, "off-season" training:
Miles Run: 17
Miles on bike: 12
Monday: Run 4 miles
Tuesday: Strength + Yoga
Wednesday: rest
Thursday: 5 miles
Friday: Strength Training (I'm still sore)
Saturday: Bike 12 miles
Sunday: Run 8 miles (hilly)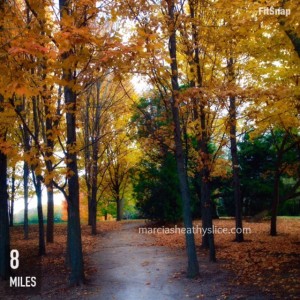 Mother Nature has been outdoing herself here lately. We've had a gorgeous fall. This was the peak weekend for fall colors. After this it all goes to hell.
On Friday the Caveman and I enjoyed a rare occurrence. Both kiddos had things to do and people to see, leaving us on our own for a date night.
Saturday was low-key as well. Errands, kid shuttling, and parking myself in front of the TV for Skate America.
Sunday I got out for 8 miles. The longest run since the Twin Cities Marathon. I took a hilly route I haven't run in ages. Except now it's hunting season, so it's all about hi-viz clothing. And prayer.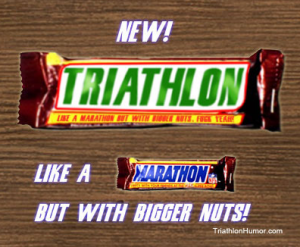 Yesterday was a meeting for "potential" 2016 tri team members, given by the tri coach I used earlier this year. After careful deliberation, I decided not to go.  For the $200/month I paid for the team coaching, I don't feel like I got the most out of it. Contrary to what I was told when I signed up, the team trains either before or after work hours, exactly when I cannot. Except for 6am Master's Swim on Mondays and an occasional group run on Tuesday nights, all tri training workouts were done on my own, which is totally fine. I love training alone. But why pay for tri team training when you're going to train alone? As far as triathlon goes, I feel confident with the bike and run but still need lots of work on swimming. With the Caveman's new work schedule, 6am Master's Swim is no longer an option, so I need to figure something out.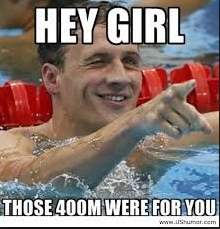 Sunday afternoon we went to a high school swim meet. I've been meaning to get back in the pool so it's a step in the right direction, yes? If only I could swim half as well as any of those kids, I'd be all set for triathlon. Alas I've got some work ahead of me.
Last but not least: It's race week for all NYCM runners! See anybody you know here? Kind of cool, except the Caveman took that pic of us and NYCM used it without permission. Of course I'd have been more than happy to let them use it, IF they'd only asked. It would have been nice too, if they would have threw us a bone and linked to our blogs. Tsk tsk.
How was your week? Did you race? Would you say something to NYCM about the pic?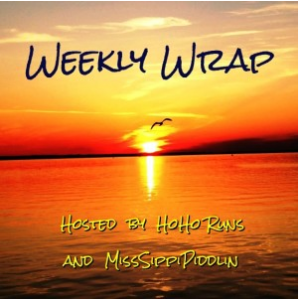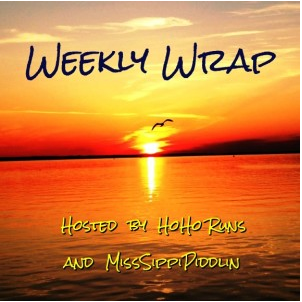 I'm linking up with Holly and Tricia for the Weekly Wrap.