This was my second time doing the Espirit de She sprint triathlon. Read last year's adventure here. I am an Espirit de She Race Series Ambassador and Founding Finisher since 2013.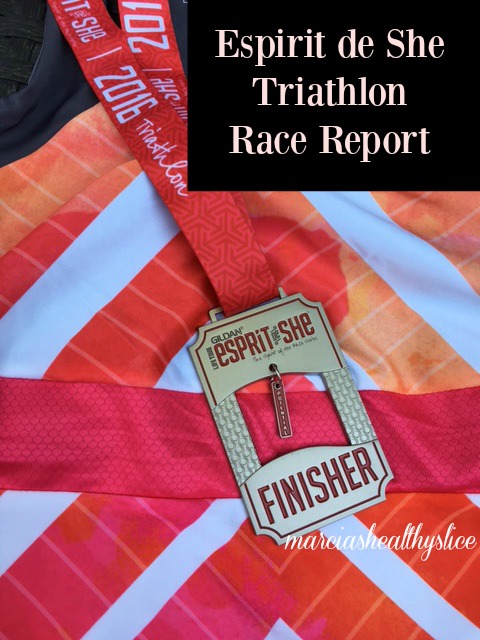 After a steamy 100-degree the day before, tri day dawned cooler and clear, albeit on the windy side. I was up and restless 30 minutes before my 4am alarm. We were on the road before 5am. The Caveman and I had the tollway to ourselves except for a bus and one car. Right before our eyes, that car, maybe 100 yds ahead of us, started drifting left, clipping the bus in the process. The car hit the center median at a high rate of speed and flipped up, cartwheeling over and over like something out of an action thriller. Except sadly it was very real. I called 911. Thankfully the bus maintained control and pulled over. Not a great start to the morning.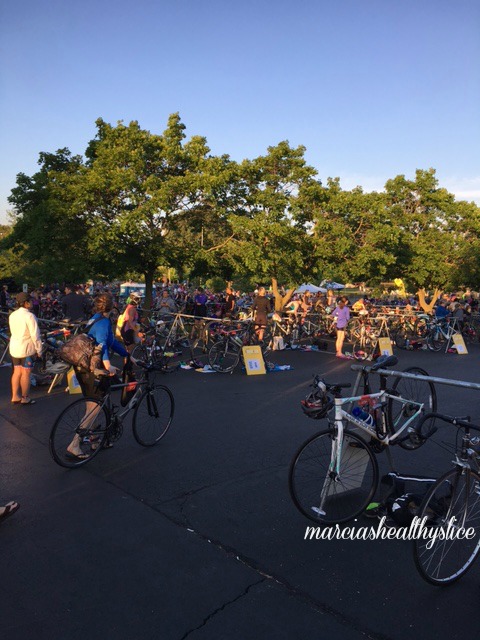 I made it to transition by 5:30. The organizers played a cruel trick on us "old" ladies and had us go off almost last this year vs almost first last year. Fair is fair I guess.
Goals for today:
Beat last year's time. Strong(ish), smoother swim with less backstroking than last year. Finish with a smile.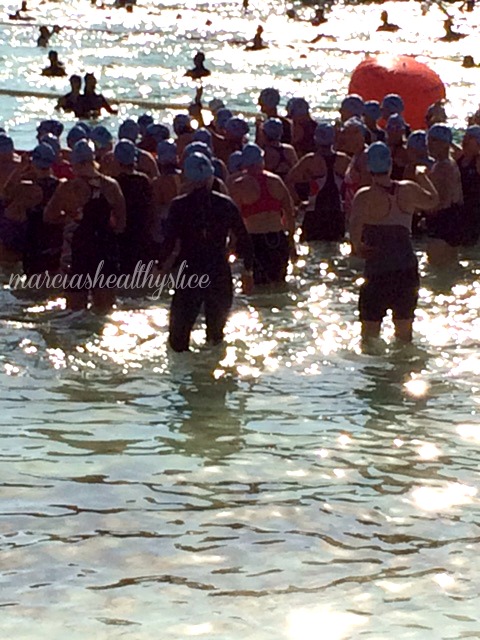 Waves starting going off over an hour before it was my turn back in wave 19. So I sat, watched and tried to relax. I was actually feeling really good. Calm. The quarry looked less daunting than it did last year. That's good, right? The water hung right at 72 degrees. Many opted to skip the wetsuit but I wore mine as a floaty security blanket. I'll take any extra flotational boost I can get.
Finally we were off. I hung toward the back, inside closest to the buoy. My sighting skills are crap so I figured I'd hug the line and hope for the best. I started swimming and almost immediately took an elbow hard to the temple followed by a kick to the forehead. I saw stars. The water was too deep to stop, so I guess I dog paddled. I'm not really sure. The course is 3 out and backs totaling 800m. I made it around the first buoy ok but soon after I was on my back floating, trying in vain to regroup. Ugh. I'd hoped to stay off my back as much as possible this year and here I was already, gasping for breath with a sky-high heartbeat. After the second buoy I was SO dizzy and disoriented, choking on water. I was expending so much energy and felt completely overwhelmed. Full-on panic mode. A lifeguard reached a floaty thing out to me but I didn't grab it. I don't even remember getting out to the final buoy. I felt like I was suspended in time: underwater one minute then bright sun the next.  I was so disoriented I wasn't even sure what buoy was the right one to be swimming toward. Then I saw the swim finish arch on the beach in the distance and flailed that way. Not sure how I did it, but at last I was on the beach. I remembered to click my Garmin over to transition mode, then walked all the way to my bike in utter despair.
Swim: 15:44 (2 minutes faster than last year, go figure)
After suffering the mother of all panic attacks in the water, not to mention a splitting headache from the blows to the head, I pulled over to wretch up a bunch of quarry water. Here it was 8:30 am and I wanted to be done. I sat on the ground in transition next to my bike, in no hurry whatsoever. That's how worn out I was from the episode in the quarry.  I took my sweet time peeling off my wetsuit and walked my bike over to the mounting area, hoping to feel less like crap.
T1: Almost 7 minutes.
I prayed I'd be able to recover, reset and regroup on the bike. I took my sweet time riding as well, wheezing and coughing up water all the way. I liked the feeling of my soaking wet tris(c)uit airing out on the bike. It was also a bonus that it wasn't raining torrentially as it was last year. But yikes it was windy. When we turned to head in on the first (of 2) loop, we were met with a nasty head/crosswind that stopped me in my tracks. Maybe I wouldn't be faster on the bike this year afterall.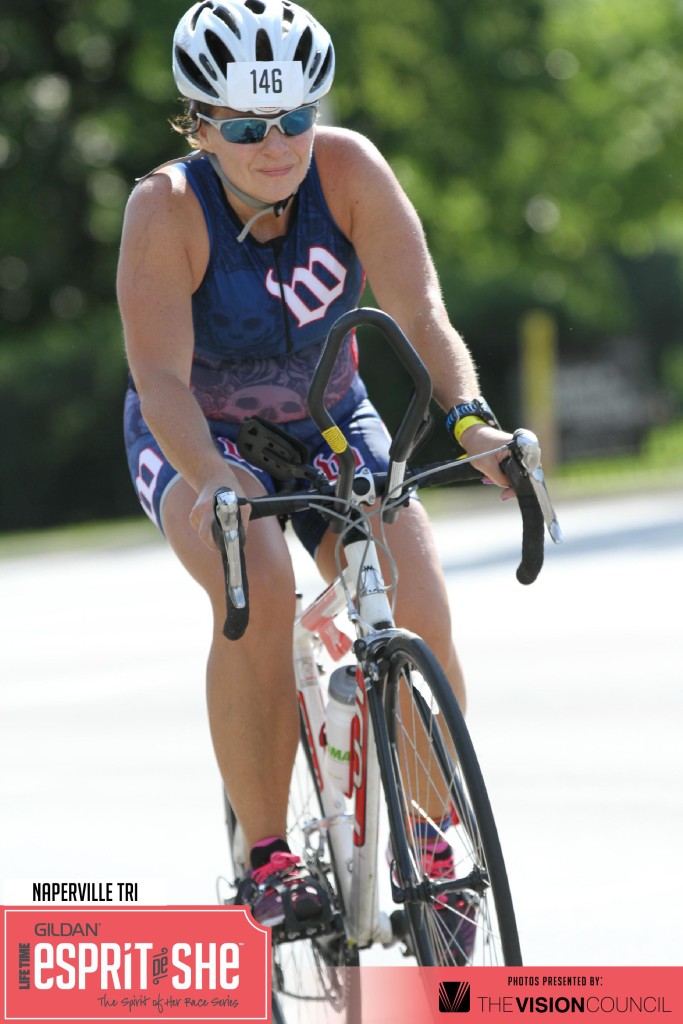 The bike turned out to be uneventful. Before long I was dismounting and Caveman was nowhere to be seen. Hmmm.
Bike: 50:XX
Again I took my sweet time walking my bike to transition. Once again I forgot to fuel for the run. It's becoming a tradition, I'm afraid. I even had the GU in my trisuit pocket, and yet? No.
T2: 2:33
I headed out on the run course. 3 miles may as well have been 3o. I. Felt. Awful. My legs weren't horribly dead, I just could not get any air. My breathing was shallow. Anytime I tried to breathe deeper I'd cough. My head continued to spin and pound. I was nauseous. No Caveman to be seen anywhere on the run course either. WTF? I began to worry something happened to him or at home. Ugh.
Dejected sums up how I felt on the run. Because we went off so late, there weren't a ton of people left on the course. Women wearing medals headed back to their cars with their bikes in tow. Much of the course was hot and sunny and I totally phoned it in with some walk/run BS.
What felt like 6 hours later, I finally finished. Foggy. Nauseous. Embarrassed. More food than I could carry was handed to me as I made my way through the finishing area. I collected my medal then I found a grassy area, threw everything down and collapsed. My phone was back in transition so Caveman (wherever he was) would have to find me.
Run: 34:XX
Finish Time: 1:50:XX (5 minutes slower than last year. Sigh)
Overall 816/1508
AG: 68/135
Final Words: This race was a mess. I basically never recovered after being kicked in the head right out of the gate. The "C-word" (concussion) is being thrown around here because I'm still not feeling like myself. Still light-headed, irritable and not sleeping well. I simply MUST figure out how to be a better open-water swimmer if I'm going to attempt another tri that has one. I'm in the market for a swim whisperer.
My performance notwithstanding, I do love this race. It could not be a more supportive environment for women, especially those that are new to triathlon. I absolutely loved hanging with the ladies in my transition area and swim wave. Some of them I met last year and they do this race every single year. So inspiring.
This race is heavy on the swag if you enjoy that sort of thing (I know you do). We got an awesome Moxie cycling tank as our race shirt and the matching skirt and shorts for those of us who signed up early. The ensemble is super cute and I am too lazy to put it on to photograph. Sigh. The goodie bag was filled with goodies!
The finish line party was among the best I've seen, even though I wasn't up for much fun at that point. Oh and for those of you who are wondering where the heck the Caveman was, he did eventually find me at the finish. Apparently he went to the car for "20 minutes" and missed me at the bike finish so he waited there, growing frantic that I'd crashed or gotten a flat or something. The only crash was in the water.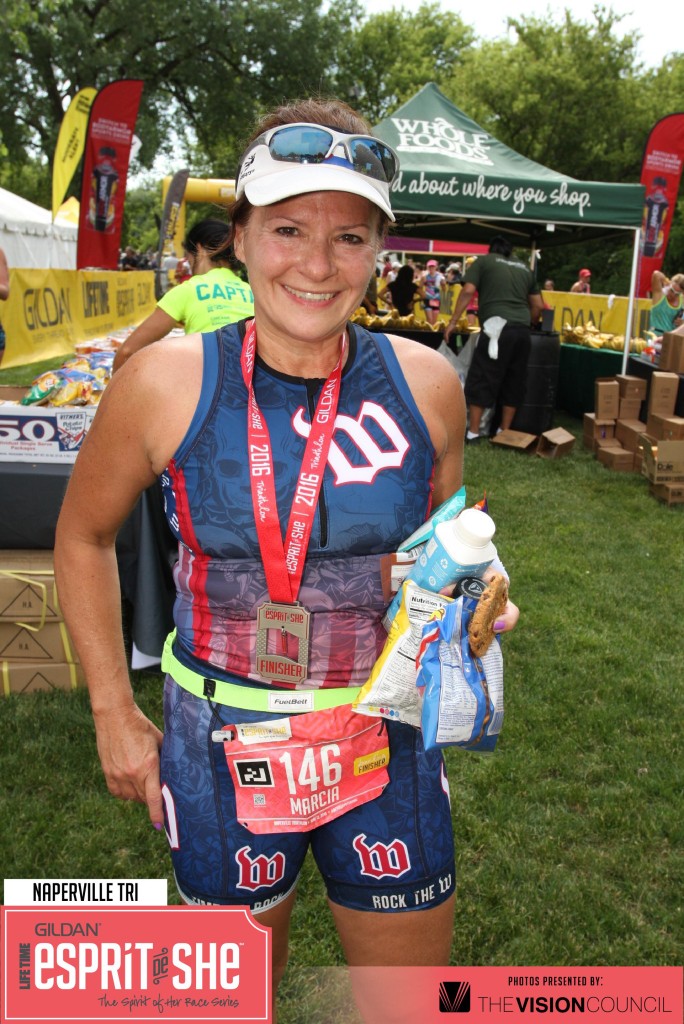 Ugh this was one report that was not fun to write. I'll stop whining now. Would I do this tri again? That depends on how proficient in the open water I can become. Given my current skill level, I would not.
Have you done a tri? Are you a proficient open water swimmer? Know any swim whisperers?