A long-elusive dream came to fruition last week as I traveled to Dublin, Ireland to run the RocknRoll Dublin Remix Challenge as part of the RocknBlog team: A weekend of running goodness including a 5k, a half marathon and a fun run.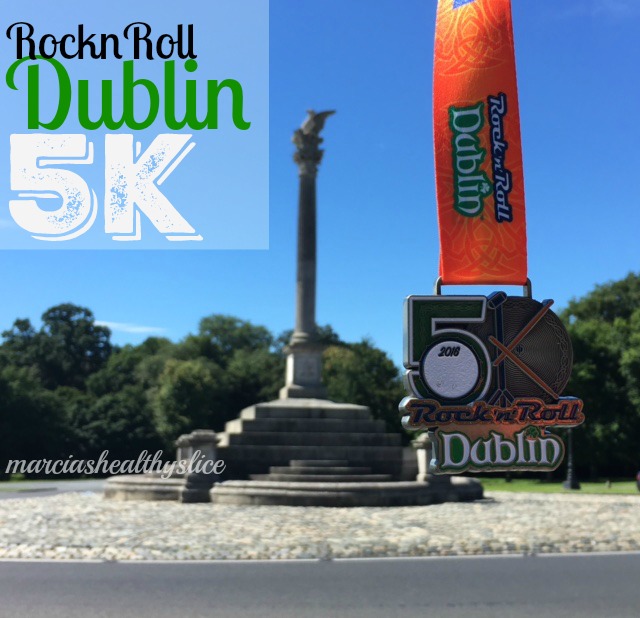 The teenager and I traveled to Ireland for a mother-daughter week on steroids. After our European Odyssey last summer, the Caveman wasn't interested in coming with us and Thing 2, the ultimate homebody, couldn't have been less interested. It was great bonding time, and a chance for me to model bold behavior to her. Who can venture halfway around the world on their own and love it? We can!
Because they offered race-day packet pickup, we spent the entire day before the 5k in Cork (more on our tours to come) and planned to grab our 5k packets in the morning, then head to the expo at Trinity College after the 5k to grab my packet for the next day's half marathon. After a 50-Euro cab ride from the airport to our hotel, I knew I'd need to be smarter about transportation so I did some research on a better (cheaper) way to make it out to Phoenix Park, where the 5k took place.
Race day was gorgeous. Mid-60's and sunny. We left the hotel 90 minutes before the race started, plenty of time to make the 4-mile trip to the park….one would think, and boarded a bus. We were off the bus with an hour to spare before race time and were to board a free race shuttle to the starting line. We met a guy from Chicago of all places, who was running his 11th RocknRoll race this year. It was he who told us it was a 5 minute walk to the starting line, so we didn't bother waiting for the free race shuttle. Chicago guy, the teenager and I plus two other runners began the walk through the park in search of the starting area. We passed the Dublin zoo. Still nothing in sight. We walked. And walked some more. The teenager whined. Time ticked away. 10 minutes. 20. 30. 40. The rest of the group already had their bibs so weren't too worried. But us? Yeah no bibs. We walked faster. Phoenix Park is larger than New York's Central Park, and we were walking to the opposite end of it.
At last I could glimpse the starting corrals, already packed with runners ready to go. We still had no bibs though. The pickup area still nowhere in sight. The corrals were going off as we approached so I made a last-ditch decision to just run, sans bib. No timing chip. Gear bag tucked under my arm. Seriously. That's what we did.
As we took off and ran along, I saw the runner's village about 1/3 of a mile ahead. No way was there time to make it there to grab our bibs. Would this jeopardize my remix? Only time would tell.
The course was on a gorgeous path through the park that took a drastic dip down, leaving us to climb in the final mile. The teenager and I ran easy breezy. She was not a happy camper and I heard about all of her aching body parts and got blamed for the excessive walking before the race.
The course had no time clocks or water station. Yet more fuel for the teenager's whining.
I wondered if we'd receive a medal at the finish or be turned away. Thankfully nobody noticed our bibless status. We got our medals and grabbed water and chips before heading to the packet pickup area to see if the remix could be salvaged.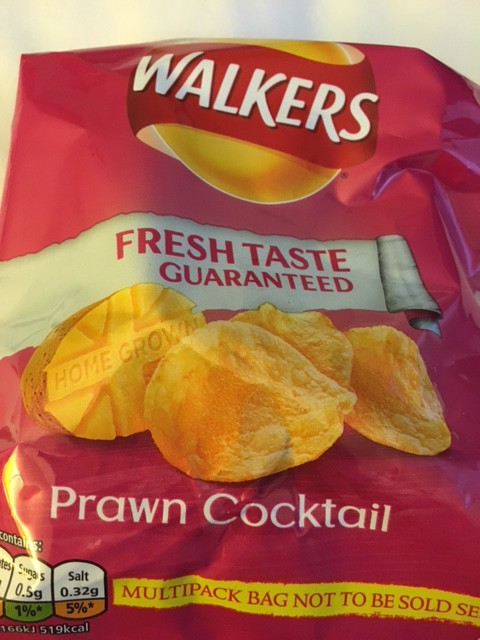 The thought of shrimp cocktail-flavored chips sort of grossed me out but these were actually not bad. 
The person in charge could not have been kinder and happily gave us our race packets after I explained what happened. I immediately began putting on my remix wristband (needed to get the bonus medal for running both the 5k and half) so I wouldn't lose or forget it when the race director told me not to if I planned on showering. So back it went into my envelope (red flag). With the 5k complete, we headed to Trinity College for the race expo and half marathon/fun run packet pickup.
Final thoughts. Despite my best efforts and research, I botched the logistics getting to the start line. I wish there was something in the runner's guide that warned how big the park was or where exactly in the park the starting line would be. Not taking the shuttle was fatal. We were disappointed to learn there was no race shirt for the 5k. The teenager especially wanted one as a souvenir. Having no water station was unexpected but ok, as it wasn't terribly warm and the race was short. It was kind of blah to get a bottle of room temperature water at the finish, but that's how they roll across the pond. This was a race where we had to make the best of a very stressful situation, calm down and remember that we are here to have fun.
Stay tuned for the half marathon and fun run report! Have race logistics ever messed you up? Did you enter my giveaway?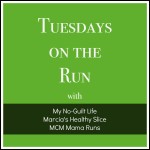 This week's Tuesdays on the Run topic is Running/Racing Selfies and Photobombs! Do you have some crazy pics? Share them!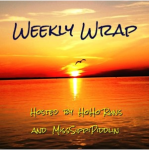 I'm linking up with Tricia and Holly for the Weekly Wrap.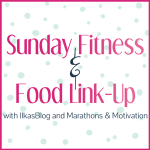 …and with Ilka and Angela for the Sunday Fitness and Food Linkup. Join us!