This week on Tuesdays on the Run we're talking about post-race rewards and rituals, but I'm going to stray from the topic to tell you about my race this past weekend.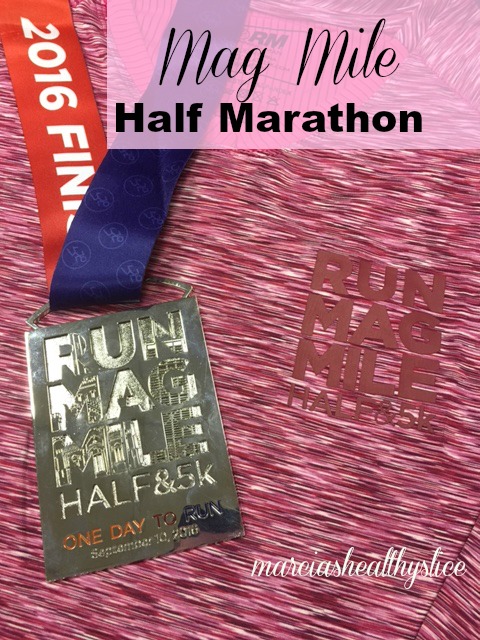 I've run in many places, states, countries even, but never down the Magnificent Mile, aka North Michigan Avenue right here in Chicago. Until now. This race was not on my schedule, but when I was lucky enough to win an entry from Suz and Luna Bar, they didn't need to twist my arm.
I was on the road by 5am, headed downtown, determined to get parked and to the starting corrals before the gun went off, something I'd failed to do at RnRCHI. Mission accomplished this time. My SpotHero parking spot was perfecto.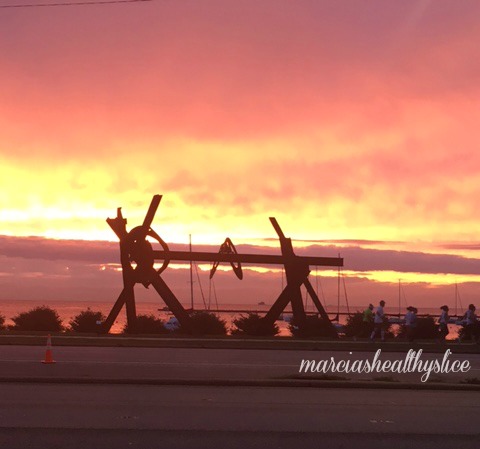 I took in a marvelous sunrise over the lake, that quickly turned to heavy overcast. Humidity thick, as it's been most of the summer. Ugh.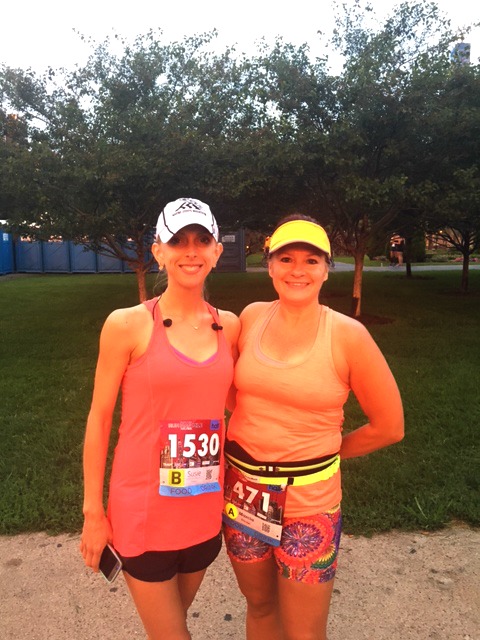 It was so great to meet up and chat with Suz and her husband Alex. I think we both got the memo on neon colors.
My plan was to use this race as a LSD training run for Indy. Despite the pace I told the wonderful people at Fleet Feet I'd run at packet pickup, they put me in corral A with the whippets. I lined up in the dead back, even though I had no business there.
I love this iconic pre-dawn view down Columbus. If you've run the Chicago Marathon, you've seen it. I especially love the American flag done in lights on the BCBS building to the right. In honor of 9/11.
Goal: Run happy
We were off down Columbus and under the Millennium Bridge, much the way the Chicago Marathon goes, except when we got to the smelly dark tunnel that throws all Garmins for a loop, we took a left and headed to Michigan Avenue. As soon as I made the turn onto Michigan Avenue I was hit with the smell of Garrett's caramel corn. Divine. Running on the Mag Mile was fun and as a result I ran the first 5k too fast. C'est la vie. I'd pay later and pay I did but this was a training run so who cares? Not I.
After our jaunt up and down the Mag Mile, we headed over to the Lakefront Path, the scene of any number of Chicago races. We'd pass the Shedd Aquarium, Soldier Field, McCormick Place and more before turning around and heading back in. I ran easy and stopped to take pics of the steamy skyline. It was a super-humid 75 degrees with spotty rain. Not my cup of tea. At all.
The race was uneventful. I didn't look at my Garmin as it was messed up from the tunnel. I strolled through the water stations and took in plenty of Nuun since I was sweating my behind off. It would've been worse without the rain and overcast but still, the humidity and heat made it a slog. I thought it was cute when volunteers at the water stations pronounced Nuun as "nun". Some called it Gatorade, while others just said "electrolytes".  I made a bathroom stop shortly before the turnaround then slogged it in.
At the finish we were treated to cold towels, Luna Protein Bars, a Corner Bakery turkey sandwich and chips and…ready for this? Cheesecake. Ely's cheesecake no less. A Chicago icon. Love.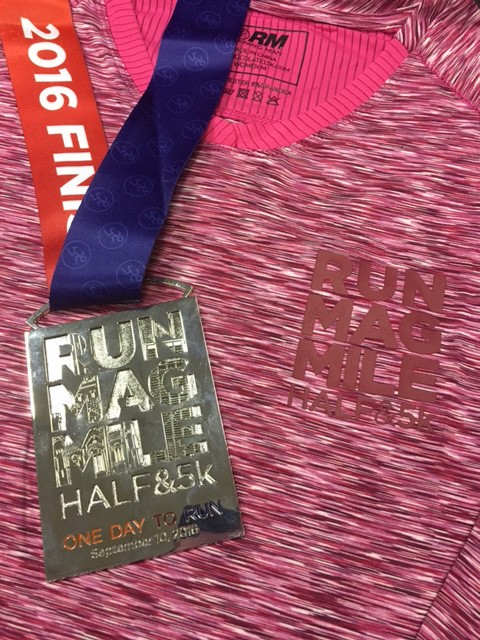 Finish time: 2:18. I totally earned that with my photo stops, bathroom breaks etc.
Drawbacks: The propensity for Chicago to be hot as balls at this time of year and the 3-6pm packet pickup option in Deerfield is better than having to trek into the city, but such a small window of time right in the after school/work rush makes it very challenging to get there.
Kudos: I enjoyed the Mag Mile aspect of the course. The race is small enough to never feel crowded. I loved the unique post-race food and they hit it out of the park with the race shirt and medal. The shirt is a nice raspberry color (guys got something different) long sleeve that fits well. Overall a really well-done race.
Loading InLinkz ...