Life force or vital energy is known as Prana. In yoga we are taught to draw Prana into the body through the breath. When life gets stressful or complicated, I remember to go back to my breath. By inhaling and exhaling, slowly and deeply, pulling my shoulders down and back, and letting tension release down my spine, I am reminded not to overthink, obsess or worry. Just slow down, breathe, and rebalance.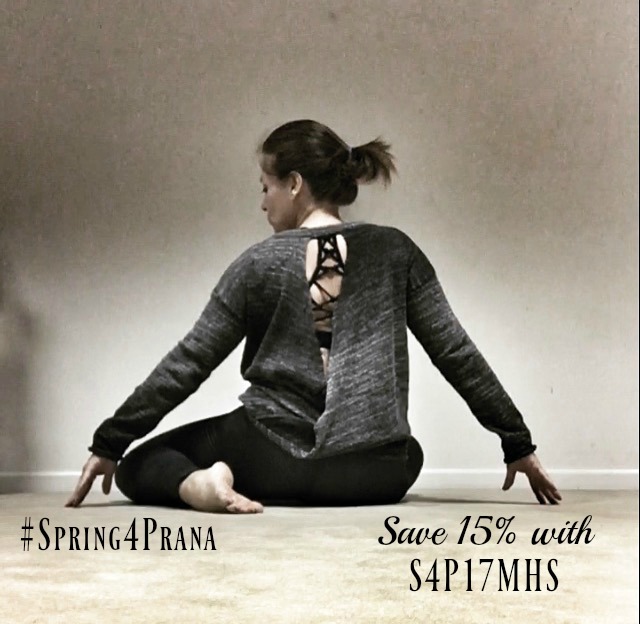 Nightingale Sweater, Elixir Bra and Ashley Leggings
I especially notice my breath when I'm running, breathing in the cold, crisp air of a new day. When I swim, I tend to obsess over my breath: Often holding it when I shouldn't, then gasping and struggling for it when I fall out of my rhythm (which is often). Most of the time though, breathing is something that happens simply and naturally, with no thought given to it whatsoever.
PrAna clothing embraces some of these same ideals in their clothing line. Simple, quality design, thoughtfully crafted with the environment in mind. From that first pair of PrAna pants I bought years ago that I still wear today, I've enjoyed PrAna clothing for it's easy design, natural colors, comfortable fit and attention to quality and detail.  As winter winds down, it's exciting to look toward spring and new beginnings. New life, new growth and a new spring collection at PrAna.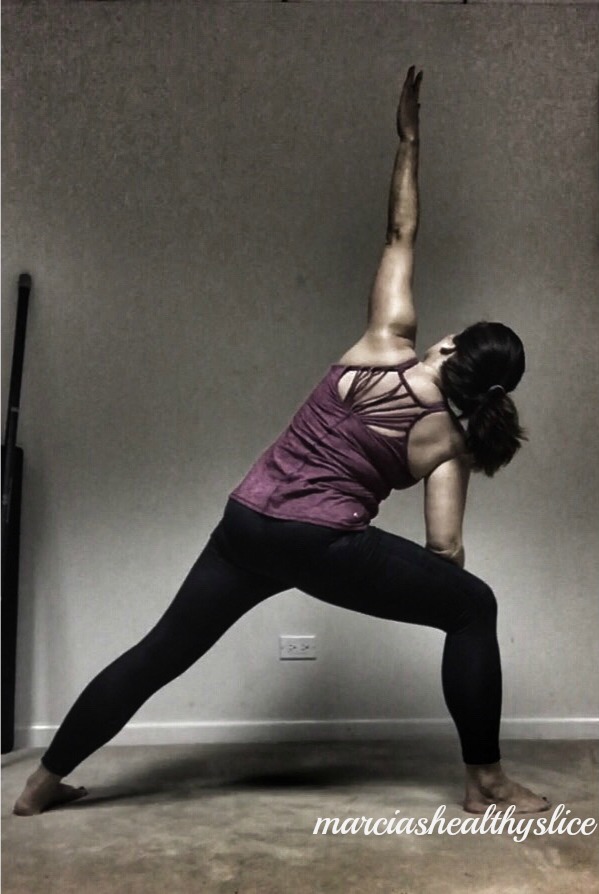 Delicate tank and Ashley leggings.
There's a lot to love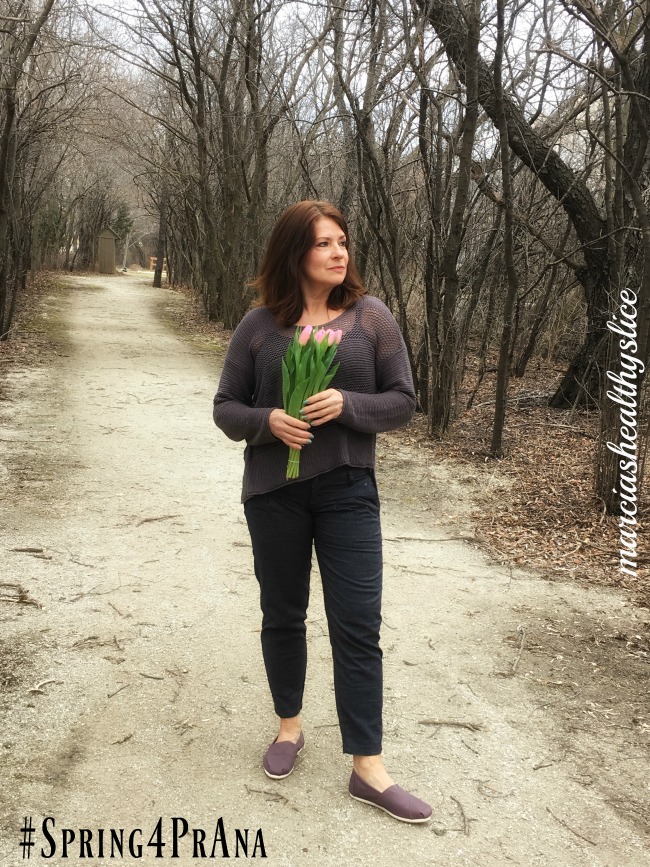 Liana Sweater in Moonrock. Made of a whisper-light weave of organic cotton and hemp, this sweater features angled, asymmetrical styling that'll have you reaching for it again and again. It's effortless and beautiful layered over a basic tee or cami. The wide neckline gives it a casual flare. Wear it with your fave jeans (mine are PrAna's Kara) or the Lizbeth Capri shown here.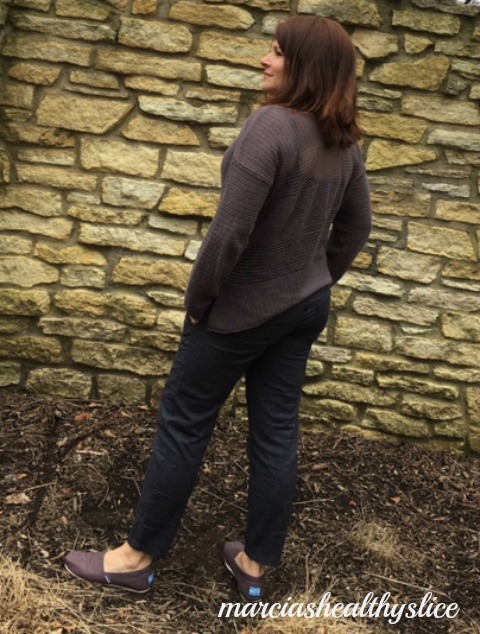 Lizbeth Capri in Coal. When the days warm up, I'm all about lightweight capris and these fit the bill perfectly. Made of soft hemp and recycled fibers, they're comfy and light with just the right amount of stretch.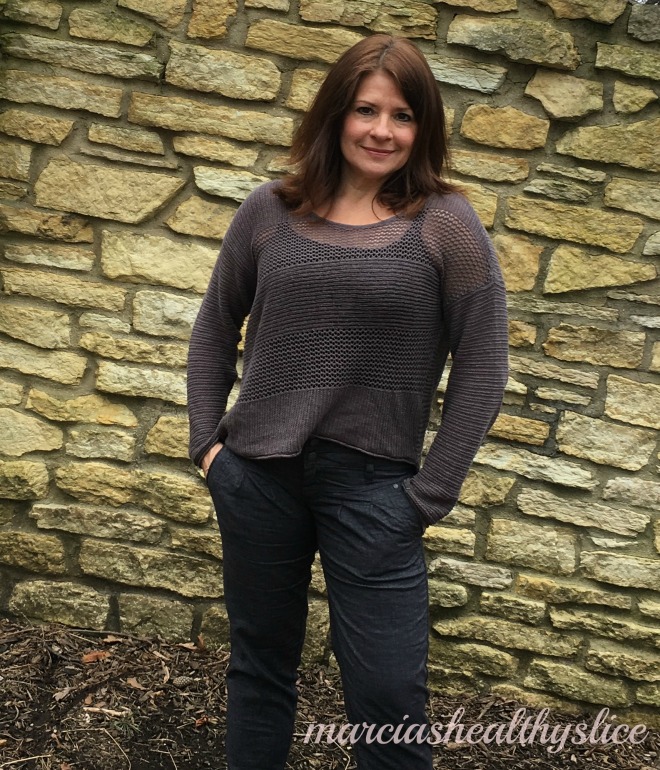 There's double yoke styling at the mid-rise waist, accented by pleats. Legs taper for the most flattering fit.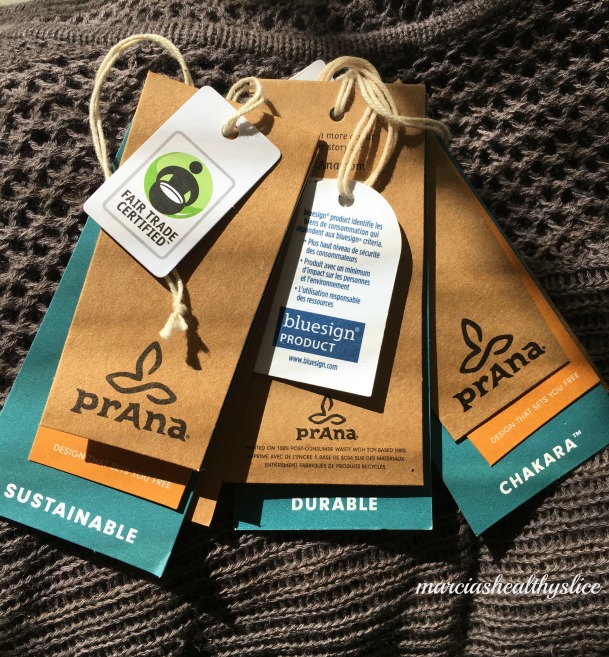 PrAna's partnership with bluesign® systems ensures all fabrics they use meet the highest environmental and human safety standards. Fair Trade certified products are manufactured by garment workers who are treated and paid fairly and have safe working conditions. All things I feel great about. Be sure to take a look at the entire spring collection because, I assure you, it's a great one. Right now, until March 28 save 15% off your PrAna order with code S4P17MHS.
How do you relieve stress? Have you updated your wardrobe for spring? What's your fave PrAna piece?
Special thanks to PrAna and Fit Approach for sponsoring this post. I was provided an outfit free of charge for review purposes. All other outfits shown were purchased by me. All thoughts and opinions, as always, are my own.