This week's Tuesdays on the Run Linkup is going over to the "other" side of running. Most of us obsess with the physical aspects of training for a race but may not pay enough attention to what's going on upstairs in our head. The mental aspects of running are what we're talking about this week on the Tuesdays on the Run Linkup.
With my first triathlon of the season just days away, the training I've done isn't what's going to make or break my day, but rather my mental state. I'm fairly certain that if I can stay calm in the water and complete the swim in a reasonable fashion, I can hold it together on the bike and run well enough to make the day a success.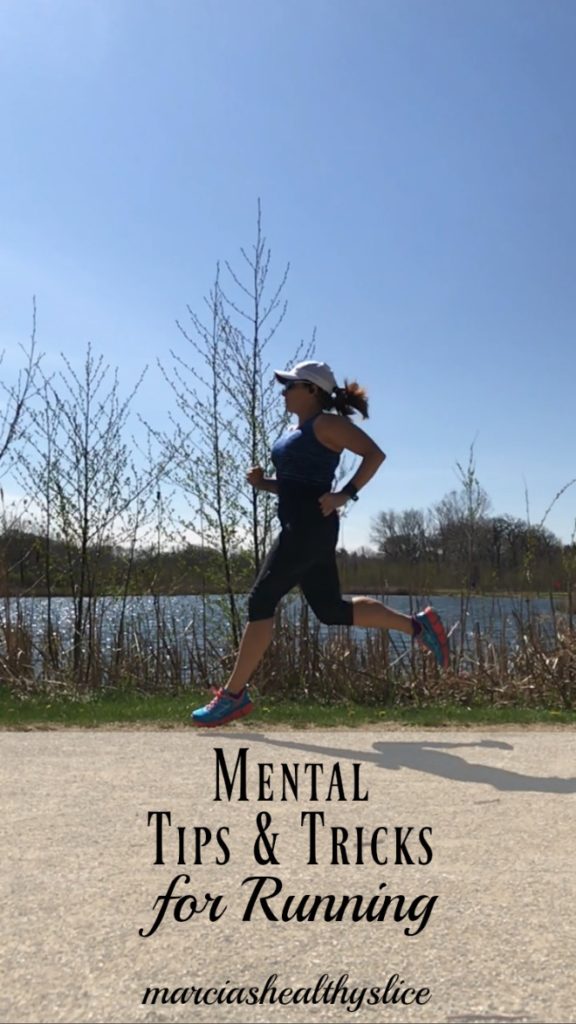 Before I was a runner (or a triathlete), I was a figure skater. At a pretty young age, at a figure skating competition I let my nerves get the better of me and my performance was a disaster. All it took was that one time of having my behind handed to me on a platter for me to realize I had to do something different. Not with physical training, but with my head. So I thought about the most famous, successful skaters I knew and pretended I was them. How would Dorothy Hamill behave? When I skated out under the spotlights in shows or under the scrutiny of competition judges, I took a deep breath, put on a big fake smile and pretended I was Dorothy Hamill, the goddess of figure skating at the time. And you know what? It. Freaking. Worked. No more shaking to death with nerves. Once I put the stress and second guessing aside, I was able to deliver the performances I trained for. Turns out, I was doing something very right, according to Dr. Brown, who I'll get to in a moment.
As a running and coach, I can say firsthand that my clients' mental toughness is equally and often more important than their physical training. I've seen highly gifted runners get in their own way mentally and middle of the road runners far exceed their expectations. It's fascinating.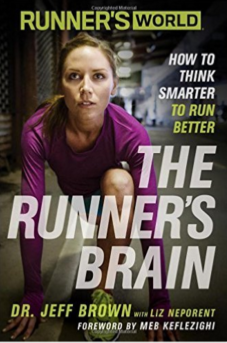 When Runners World asked me to review Dr. Jeff Brown's The Runner's Brain. How to Think Smarter and Run Better, I jumped at the chance. Dr. Brown is the official lead psychologist for the Boston Marathon medical team, so he's seen firsthand the range of emotions us runners go through and understands our motivations and hangups.
The book starts off by explaining the science behind running, its effects on the brain and why it can become addicting. Then it delves into ways one can master the mental aspects of running. The bottom line is we are creatures of habit and we need to repeatedly reinforce positivity, confidence and good habits until they are ingrained in our brain. Each chapter covers various ways:
Goal Setting
Visualization and Focus
Association and Dissociation
Training and Racing Strategies
Managing Competition
Overcoming Challenges
You'll also find exercises for training your brain and a whole chapter devoted to running greats sharing their own tips for staying mentally strong and resilient.
My takeaway: I really loved this book. It's a great resource I'll refer back to again and again. It's well written in a conversational, easily readable tone. Dr. Brown has a way of taking highly technical brain concepts and distilling them so they are easy to understand and relate to. This is a good read for all runners from beginning to elite. It would also make a great gift! The Runner's Brain is available on Amazon.
Other good resources for strengthening your mental game
How Bad Do You Want It by Matt Fitzgerald. Book review is here.
The Athlete's Way by Christopher Bergland. This is one of the first running books I read when I signed up for my first half and full marathon in 2007 and it's still one of the best. I haven't done a full review on it but it's well worth checking out.
What mental strategies do you use to overcome obstacles in training and racing?
I'm linking up with Suz, Rachel, Debbie and Lora for Coaches' Corner.
Loading InLinkz ...