Chances are good if you hang around here, follow my Instagram feed or Facebook page, you know we recently took an epic trip to Dubai and the Greek Islands. Actually the Greek Island Cruise was the part of the adventure that we booked first. But one doesn't fly all the way to Europe to spend only a week. At least we don't. We bandied about, considering lots of other places: Switzerland, Prague, Iceland, Scotland….any would have been awesome, but when the Cavemen put Dubai on the table, it was a done deal.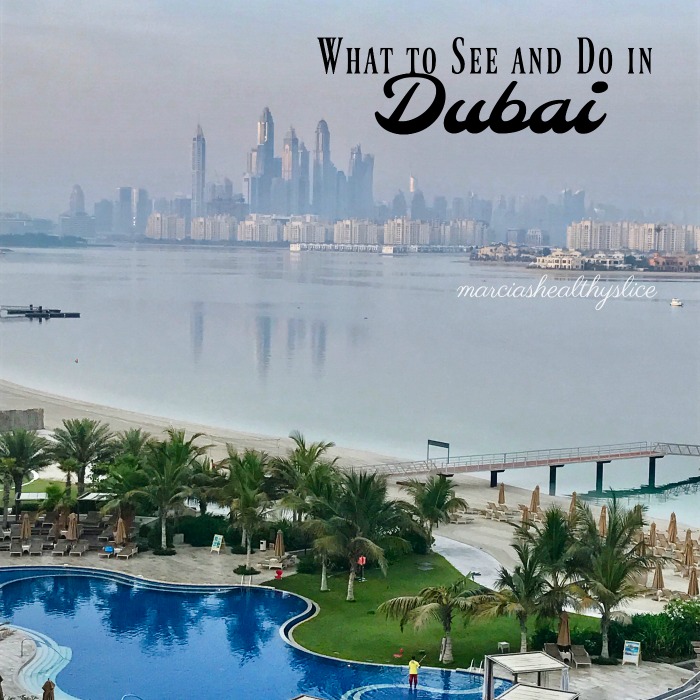 We took a morning flight to London and spent the night there. I recommend flying during the day vs overnight to help with jet lag. Visiting London is like going to our home away from home since we lived there many years ago. Click here for what to see and do in London.
The following afternoon we made our way to Heathrow for the 7+ hour flight to Dubai. After some delays, we made it there in the very wee hours of the morning. Even in the dead of night, Dubai is spectacular.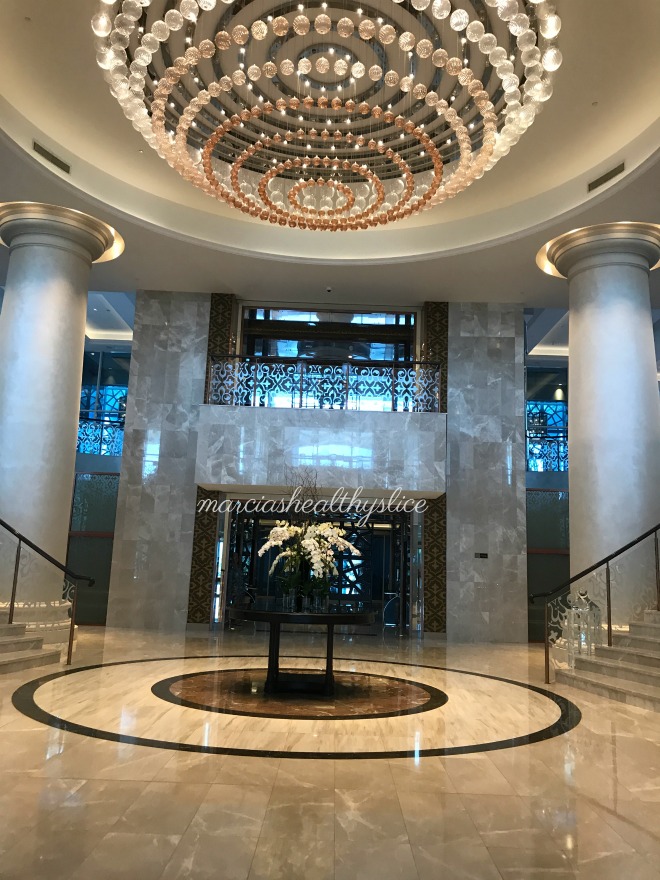 We took a taxi (actually a limousine, more on that later) out to Palm Jumeirah Island where we stayed at the gorgeously opulent Waldorf Astoria. Because Dubai is 9 hours ahead of Chicago time, and we arrived at our hotel at approximately 4am, we immediately went to sleep and slept through to noonish. We spent that first day laying low at the hotel infinity pool, which was gorgeous.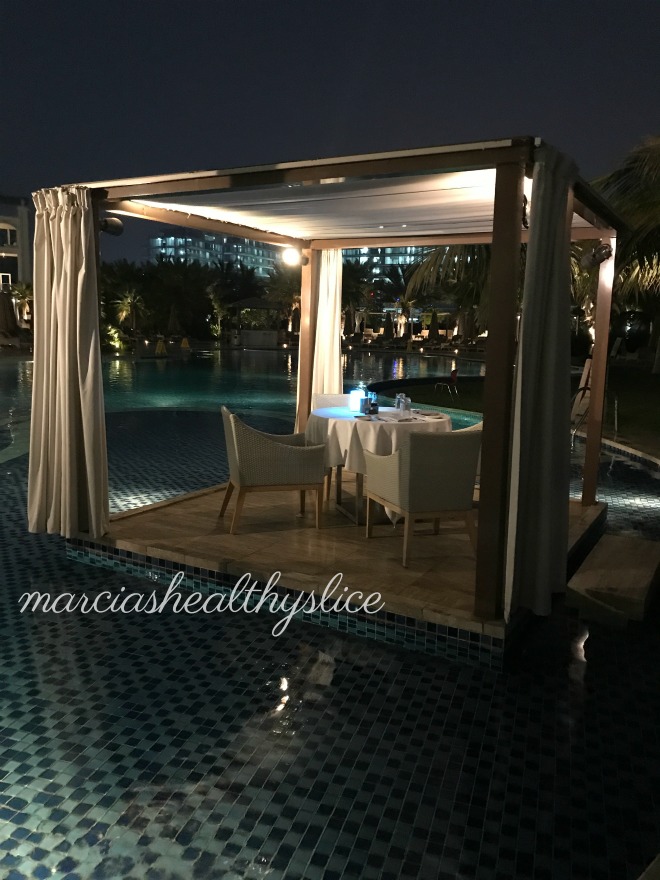 One of our favorite places to dine was at this hotel restaurant that had tables IN the pool. When we got hot we could go wade around a bit. Trust me, we did!
Things to do in Dubai: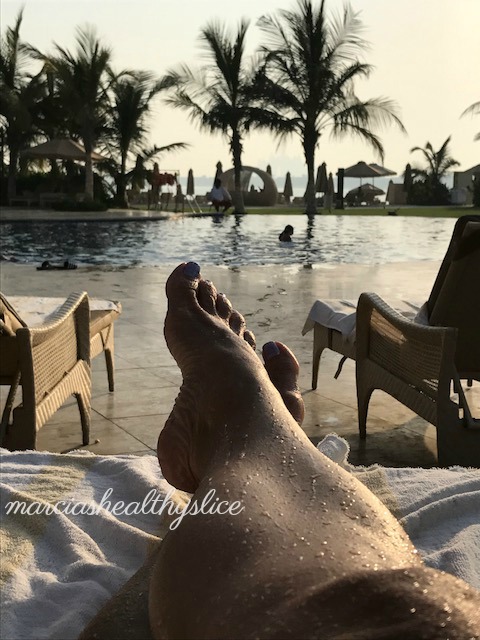 Enjoy the pool and beach. Our hotel had the best of both. Beautiful, white sand beaches and a number of pools to choose from. Because it's so darn hot though, the water is on the very warm side. You could even say the beach water was hot. Like a hot bath. Weird and not refreshing in the least.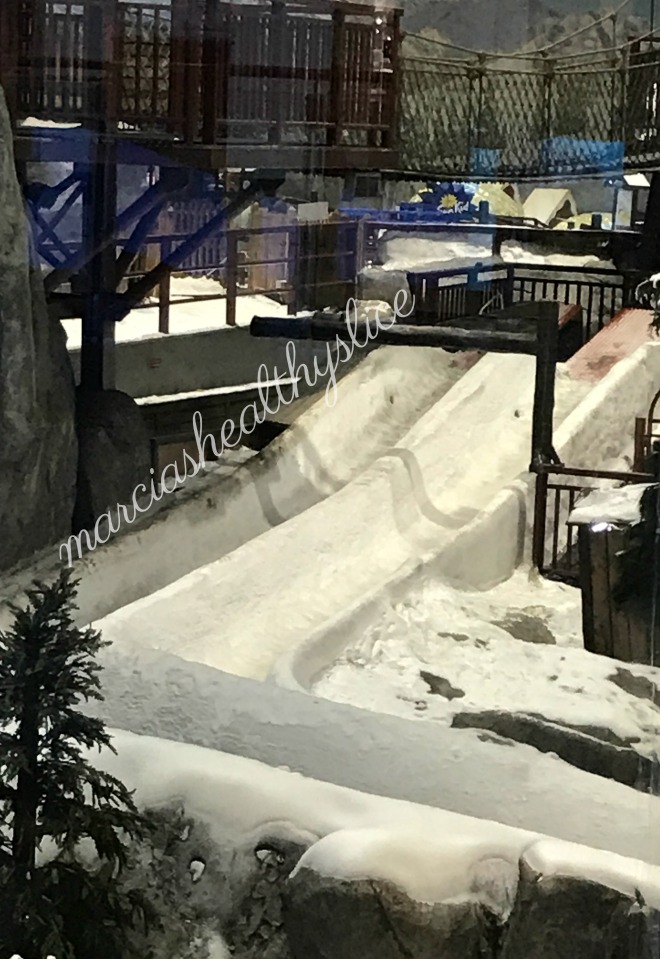 Check out the malls. Dubai shopping malls are like American ones on steroids. Dubai is the home of the world's largest mall. You'll find all of the popular American stores and restaurants there. You'll also find indoor downhill skiing. There were even penguins walking around. We did not ski but it was amazing to watch.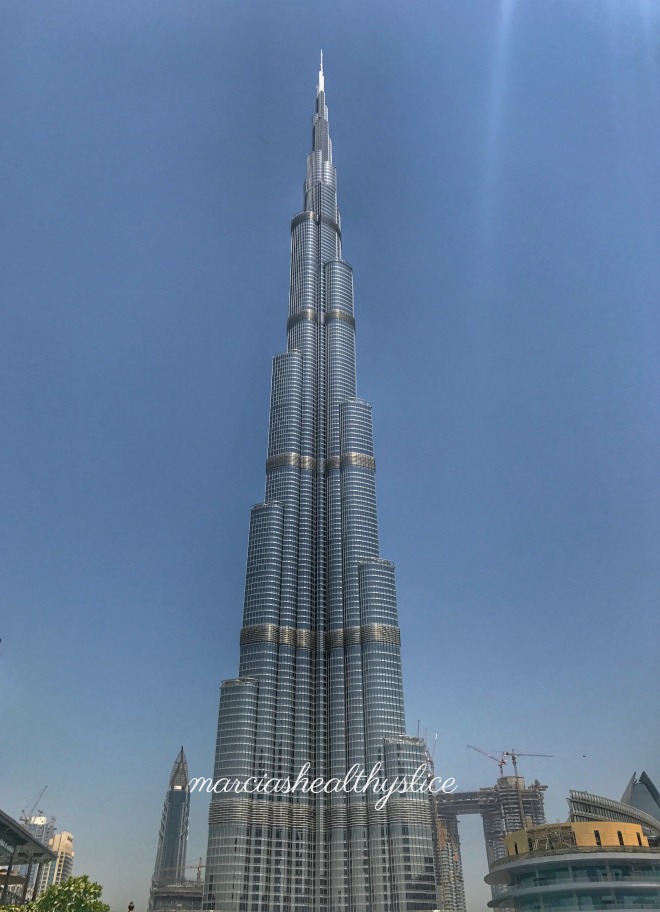 Visit the Birj Khalifa. Head up to the sky deck on either the 125 or 148th floor. The 148th floor is uber pricey but you'll be away from the masses AND you'll get swanky drinks and snacks as you're treated to a view like no other.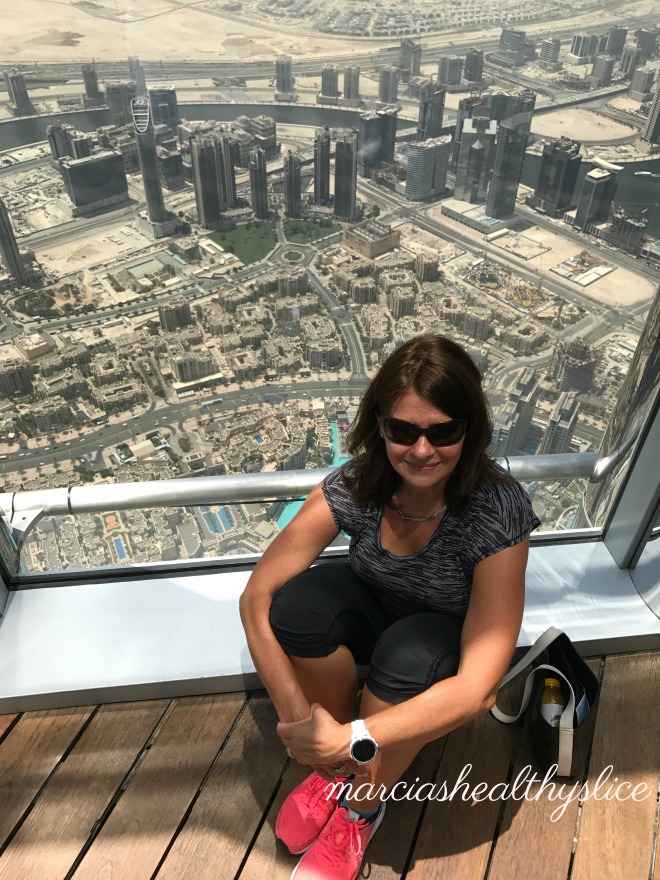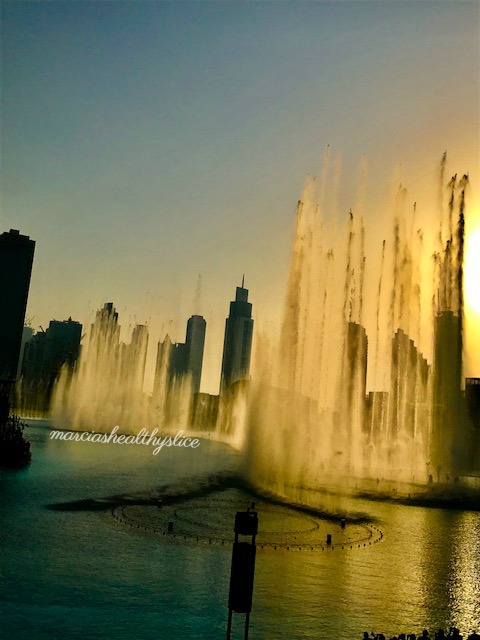 Stay for the evening fountain show.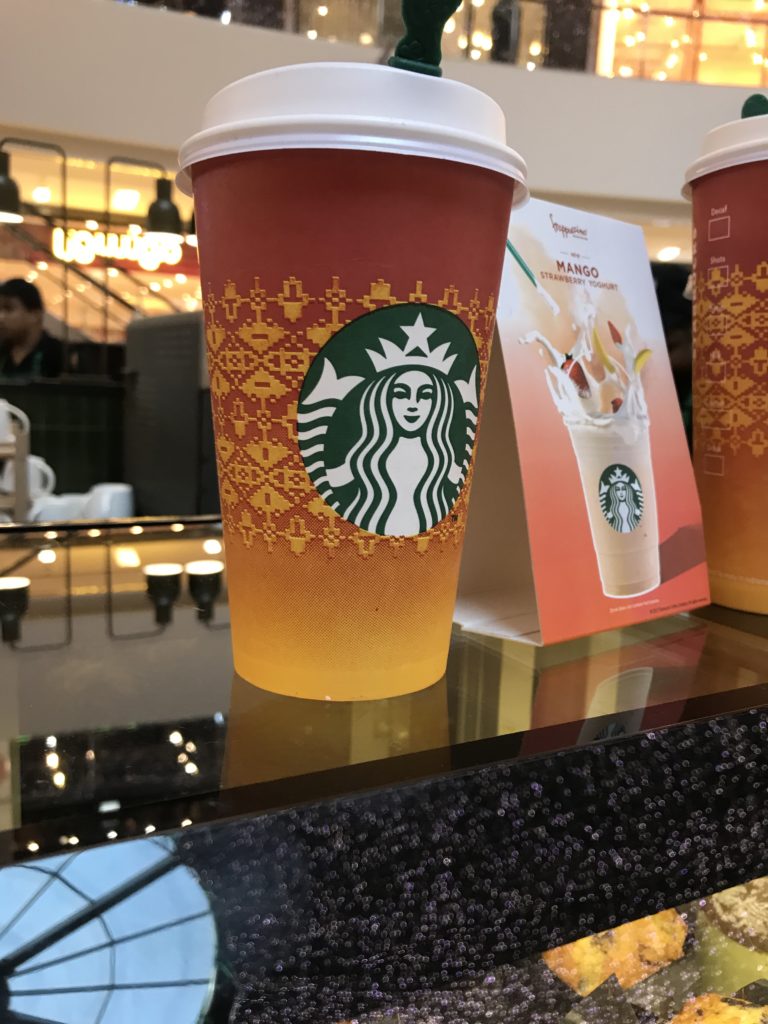 Hit up Starbucks. You know I had to get a mug, right? The coffee tastes a little different than it does in the US but look at the pretty cup!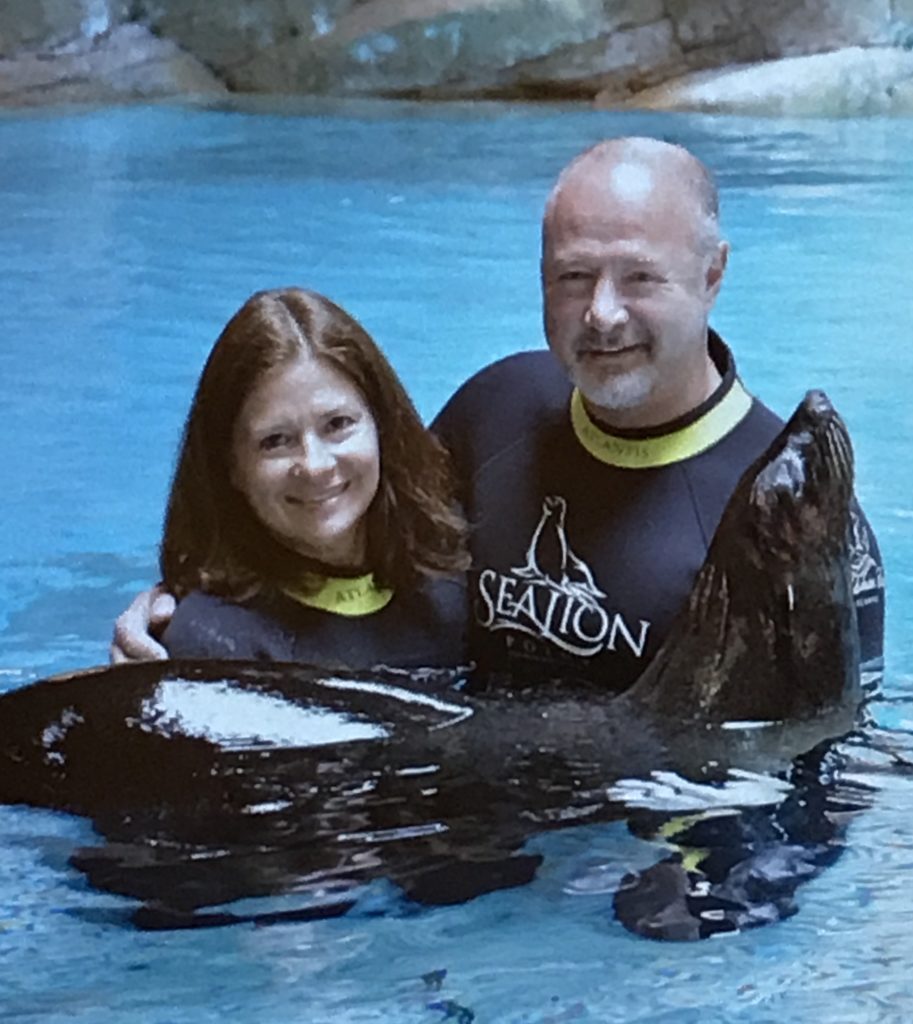 Swim with the Sea Lions or Dolphins at Atlantis. This was so much fun! We followed it up with a refreshing day at the water park.
Visit an Aquarium. There's a nice one at the Dubai Mall or you can visit the Atlantis hotel.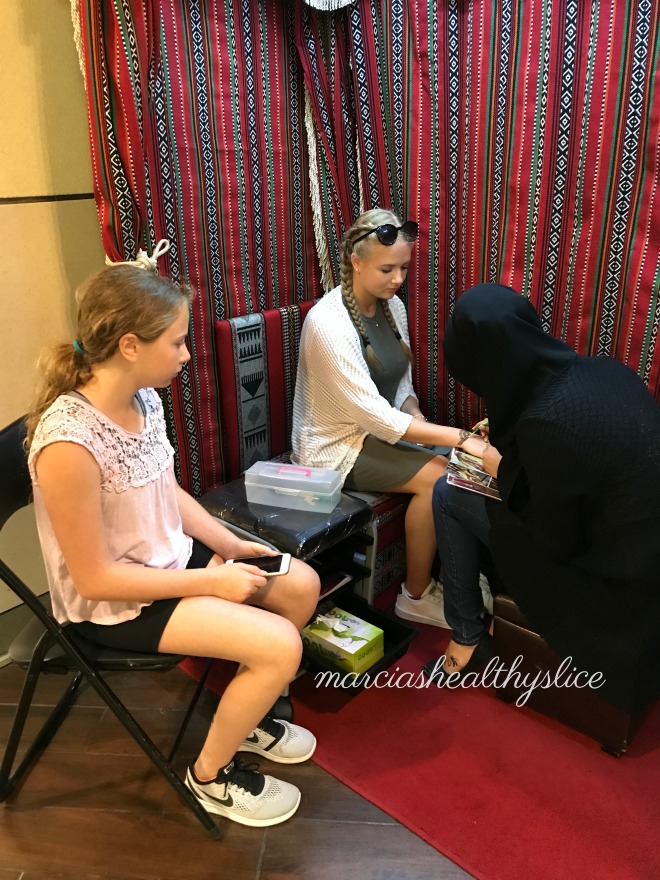 Get a henna tattoo.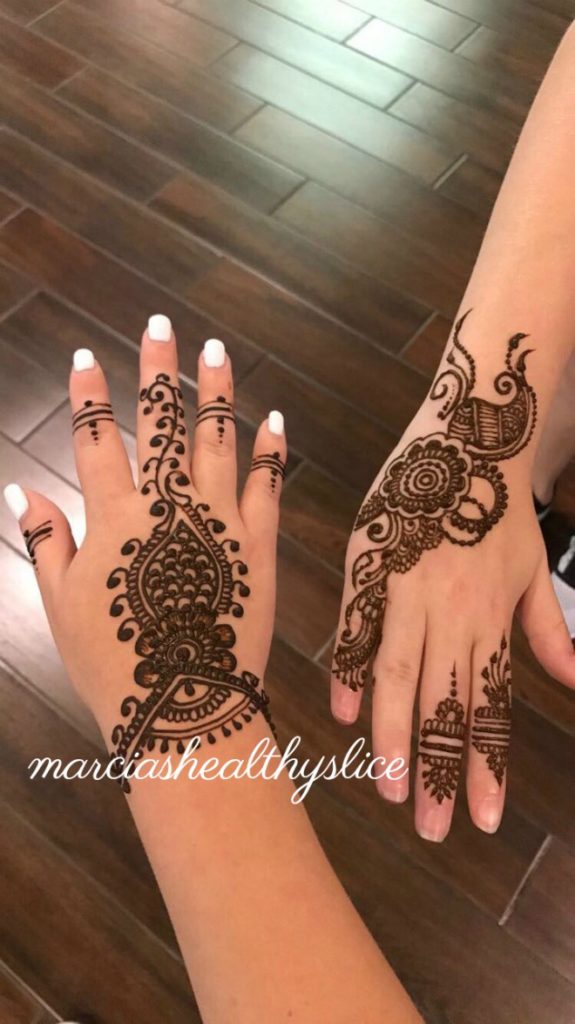 Sadly these were mostly worn off by the time we returned home to the states,
Take a Day trip to Abu Dhabi:
Abu Dhabi is the capital of the United Arab Emirates. It sits off the mainland on in island in the Persian Gulf.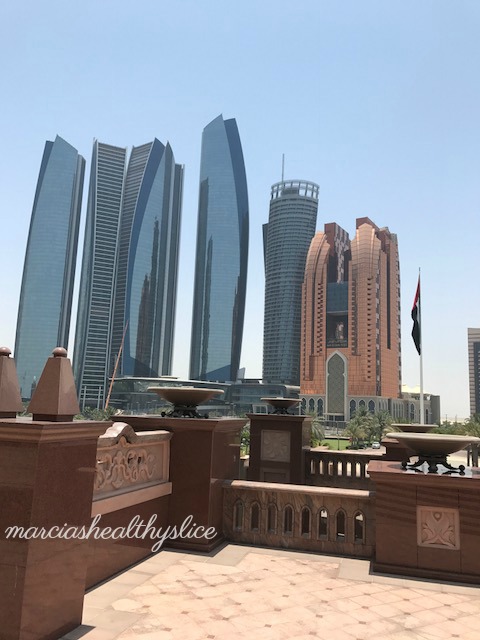 The skyscrapers in Abu Dhabi look like something out of a sci-fi movie.
We enjoyed 24k gold flake cappuccino and camel's milk ice cream at the Emirates Palace Hotel in Abu Dhabi.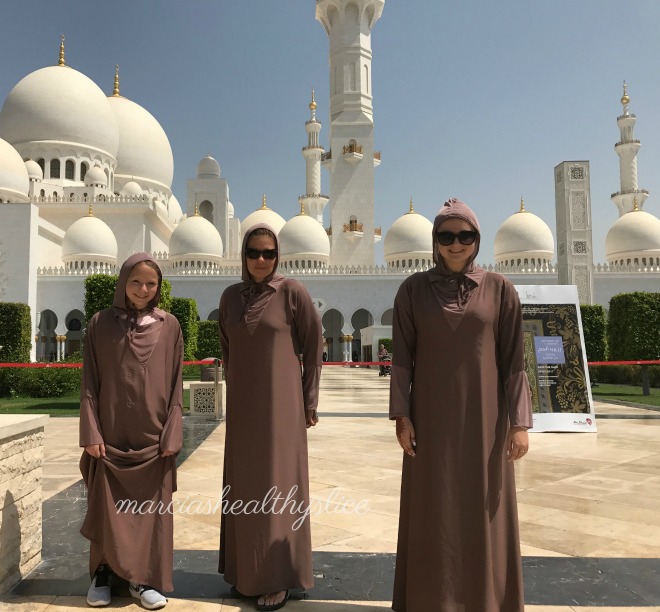 Visit the Sheikh Zayed Mosque….and wear traditional garb. Made of stunning white marble and filled with Persian carpet and crystal chandeliers, it has room for 41,000 worshippers.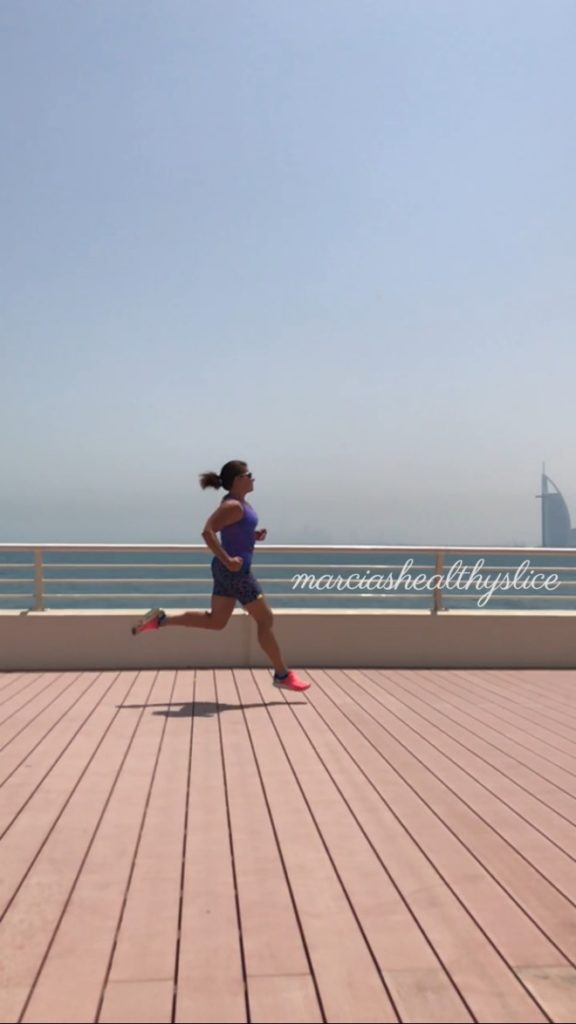 Running? In the "offseason" which is over the summer, Dubai is oppressively hot. Think an average of 106F with 90% humidity. When we were there it was commonly hitting 115+ during the day and dipped to 98 overnight with  very heavy, 90% humidity. Because of that, I opted for the treadmill, except for these strides I did purely for the photo op.
Visit the Gold Souk. This is in the commercial business district where you'll find over 300 jewelry traders. You can score a great deal on gold jewelry, but you  have to haggle for it. Not my favorite thing to do but between the Caveman and our driver, I got a necklace I love. In Dubai the quality of gold, platinum, diamonds and merchandise in general is very tightly controlled so there is no worry as to its authenticity.
Visit the Spice Souk. This is located in Deira, adjacent to the gold souk. It's a traditional Arab marketplace where you can haggle for great deals on herbs, spices, fragrances, textiles and household items.
If you go: Know the difference between Taxi and Limousine. Basically if the car is a Lexus, it's considered a "Limousine" and will cost you considerably more. We learned the hard way. Taking a taxi and going by the metered rate is the better (cheaper) option.
If I were to go again, I might not stay on the Palm Island (although it was very cool) because getting OFF the island is a bit of a hassle. There's a train that goes only from the Atlantis Hotel at the very top of the palm, so we needed to take a pricey taxi just to get to the train, OR we could take a taxi straight to the mainland, which we did. The other option was a water taxi, but that sells out quickly.
The only real drawback (besides oppressive heat if that bothers you) is everything is very VERY expensive. A simple food court pizza at the mall for the four of us without drinks ran upwards of $100. The simple things like food and transportation really took a toll as the week wound down.
Final words: High cost aside, Dubai is an enchanting, extraordinarily beautiful place to visit. Because it is a monarchy, it is run SO much differently than the US is. For example there is no path to citizenship for foreigners and nobody is allowed to own land. Everyone rents from the King. It is a very clean, opulent city with no homeless problem and extremely low crime. At no time did I feel unsafe. Our driver spoke very highly of the way things are there and was not permitted to talk about the royal family, nor were we allowed to take photos of the royal palace. We encountered no other Americans while in Dubai. Other guests at our hotel tended to be European and Australian.
Have you visited Dubai? What's the most exotic place you've ever visited?
I'm linking up with Tricia and Holly for the Weekly Wrap.