Ahhh trails. I love to take my marathon training to shady trails on summer days when the heat and humidity are unbearable. The beauty and solitude of trails in autumn with the crunch of leaves and brilliant foliage is simply unparalleled. Honestly any day I get to head off and hit the trails is a good day. Did you know trail running benefits mind, body and spirit? It's true.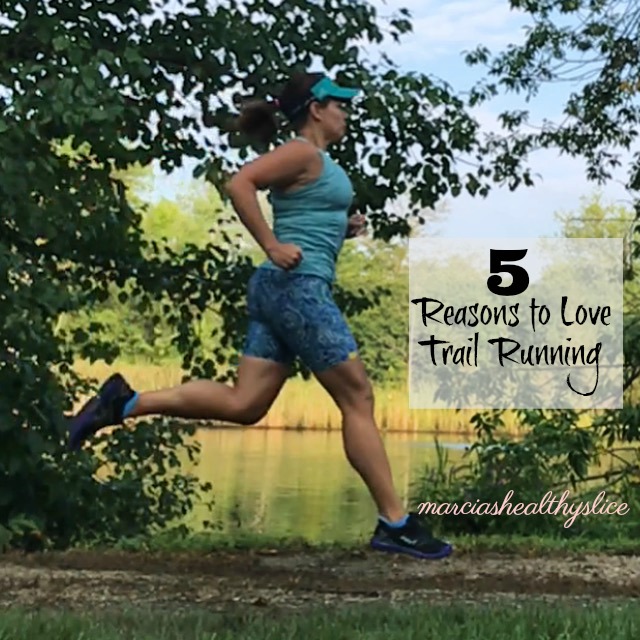 Trails take you away from traffic and closer to nature. There's something so relaxing about hitting the trails. Fresh air and birdsong trump pollution and traffic noise any day. It's as if I've disconnected from the daily grind and took a "recess" for grownups. Because I need to focus on the trail and where I'm putting my feet, I don't have time to dwell on the problems and petty annoyances of daily life.
Trails reinforce a spiritual connection. Being outside in nature reminds me that I'm part of something much bigger than myself. Hitting the trails is very grounding. It's a great time to decompress and clear my mind.
Changing terrain challenges the body. Whether you're climbing, descending, cornering or negotiating uneven surfaces, no two trail runs are ever exactly alike. The varying nature of trails keeps your body guessing and gives it the best workout.
Softer surfaces are kinder to the body. Face it running pounds the body. Anytime I can escape to gravel, wood chips or dirt, I do it. Forces that typically transmit up from pavement to the ankles, shins, knees and hips are dissipated thanks to softer, more forgiving ground.
Trail Shoes. Recently I was sent the TrailRoc 285 trail shoes from Inov8 for testing purposes. Right out of the box they had me at purple. The fit seemed snug at first, to the extent I wondered if they'd be too small. Turns out they're just right. So right they feel almost glove-like on my feet. The longer I wore them the more I loved them. I tested them on forest and prairie trails, some of them muddy because that's the kind of summer it's been. The treads on the soles are, in a word, awesome. They really bit in to hilly trails and gave me confidence on treacherous uphills. No slipping here! Turns out the soles are made from three different rubber compounds: The hardest is at the heel, the softest rubber runs up the center for superb traction and a medium rubber runs along the edges for security with every foot strike. Love, love and LOVE!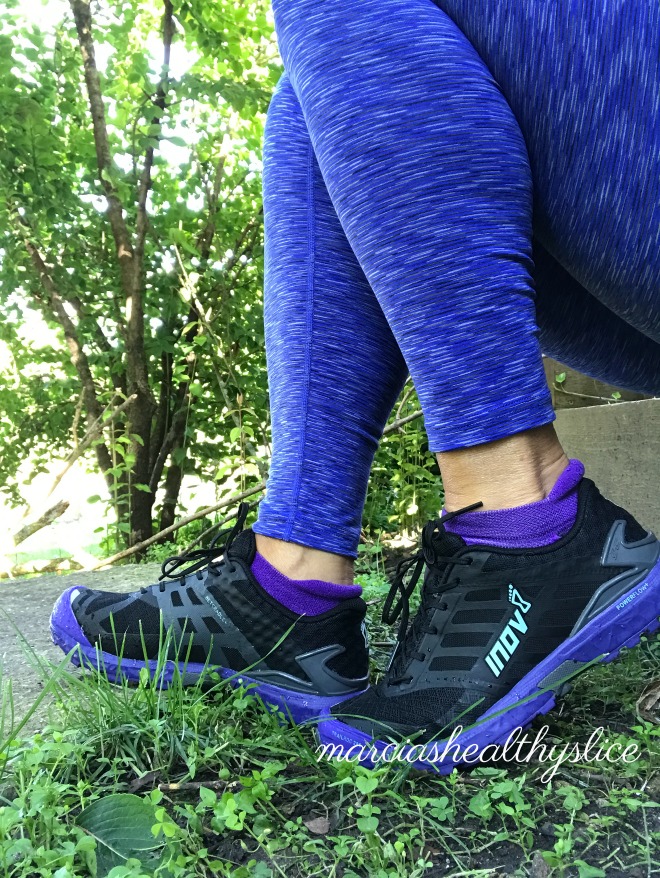 The tough treads and water-repellent upper are going to make this an ideal winter shoe as well. Trail shoes give me extra peace of mind in snowy/icy conditions.
The Verdict: The TrailRoc 285 Trail shoe is well worth checking out. They're designed for neutral runners and the cushioning in the soles make them ideal for hard, rocky trails. I will definitely be keeping them in my shoe rotation.
Which do you prefer: Trails or pavement? What is your favorite season to go trail running?
I'm linking up with Suz, Rachel, Debbie and Lora for Coaches' Corner and with Nicole, Jen, and Annmarie for Wild Workout Wednesday.
Loading InLinkz ...