I've made you wait long enough but the wait is over. The Berlin Marathon Race Report is here.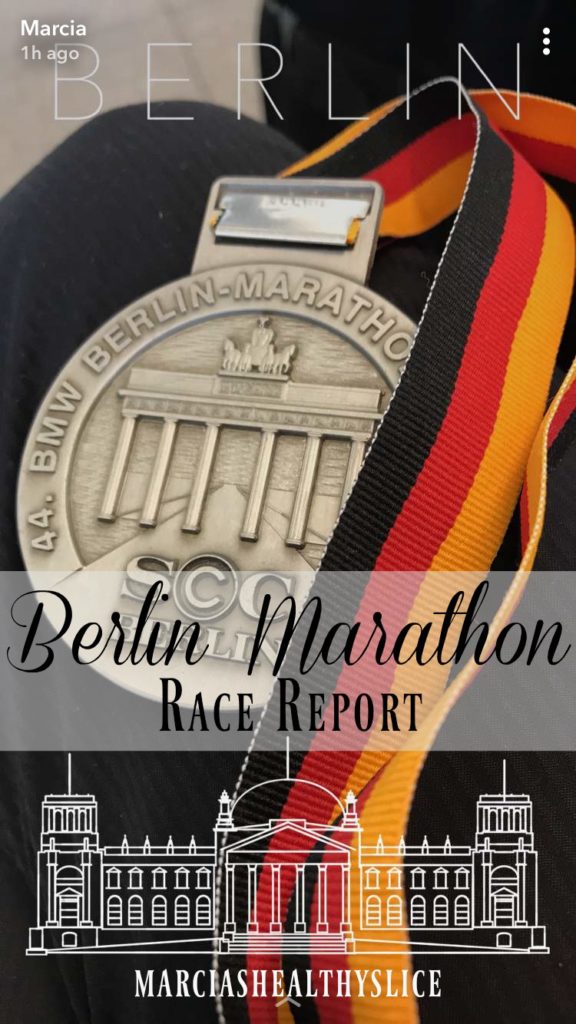 When we left off yesterday, the starting gun for Wave 2 of the Berlin Marathon had sounded and I was off, doing a slow shuffle across the timing mats with 42k of my newest friends. As you'd expect, the start is epic, crowds are thick, TV cameras are everywhere, and the straightaway toward, and running around, the Berlin Victory Column is one of those "pinch me" moments I'll cherish forever.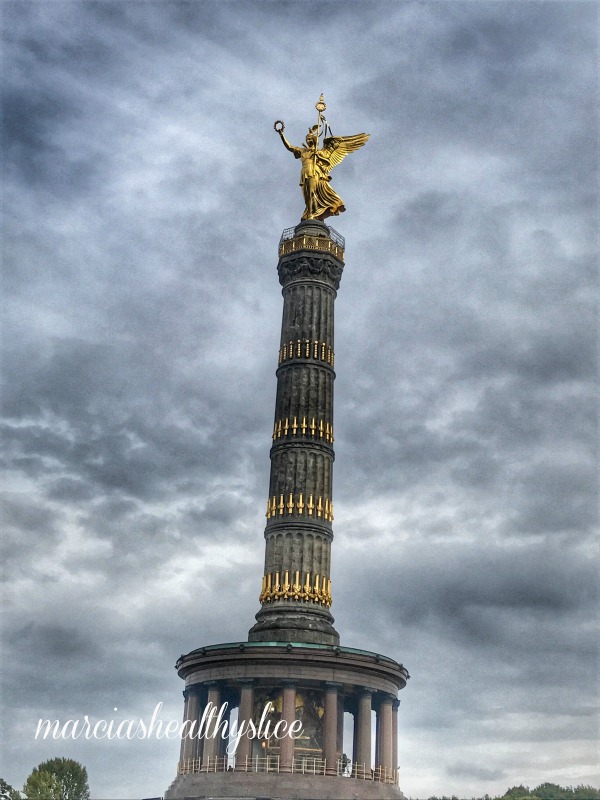 Goal: Run Happy. After spending 4+ weeks in the pool at the peak of my training cycle rehabbing my posterior tibial tendon, finishing would truly be winning. Since I was going into this race supremely undertrained, I planned to run (slowly) for as long possible then implement a walk/run strategy.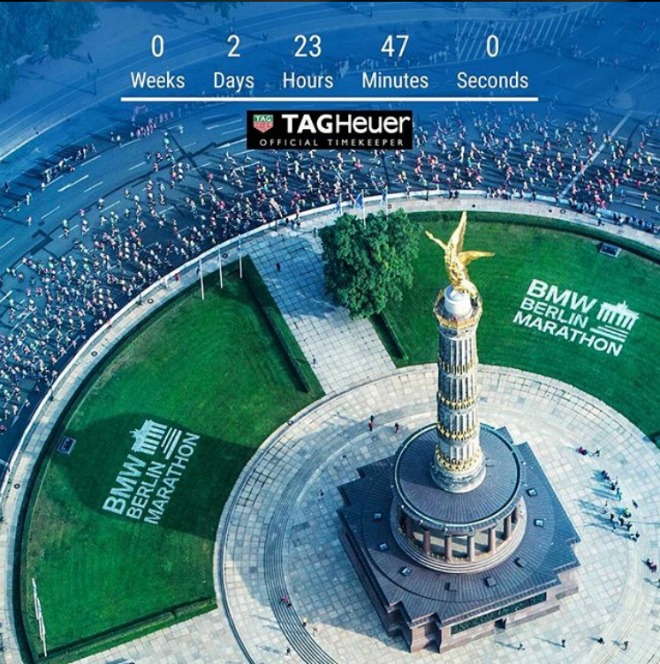 (Google Images)
In the first mile, my legs felt like wood and there was tightness in my hips. Despite resting in the hotel room the afternoon before, we toured all morning and were back out, walking in the evening for dinner. No surprise why my legs are "not so fresh". Maybe they'd loosen up after a few miles. I wasn't here to PR anyway. I was determined to soak in the sights and sounds and enjoy. When it wasn't drizzling it was super humid and breezeless: 99% humidity to be exact. It wasn't hot, yet I felt too warm and clammy despite wearing a tank while others still had jackets and rain ponchos on. Really? Maybe the remnants of getting over a cold was to blame? The flying hormones of impending menopause? Whatever. The course was tightly packed with runners as all marathon majors are and the pavement was slick. All the better to keep me slow I thought. I'm notorious for going out too fast and paying later.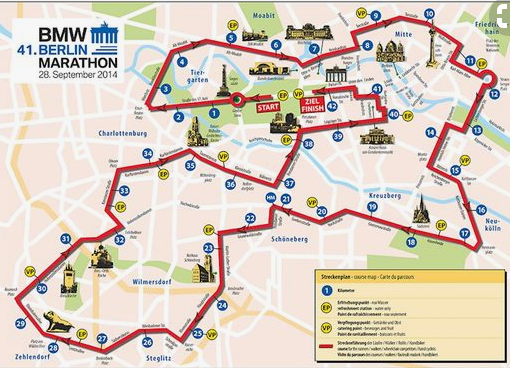 The first 5k passed with no walk breaks. Go me.
The first 5 miles passed with no walking. Go figure.
8 miles and still no walk breaks. The course was still very crowded. Could I make it to 10 miles?
I wish I could tell you a miracle occurred and I ended up being able to hold an easy breezy pace for the whole 26.2 but to be honest, it was a struggle from the get go. I never felt good. My dang hips just ached. Was it the travel? All the walking in the days leading up to the race? The dampness? All of the above probably.
Just about at the 10 mile marker, there was a man down with emergency personnel working on him while volunteers shielded him from view with heat sheets. The event staff did this thing with ropes that redirected all of us up off the street entirely and onto the sidewalk and around the corner so we wouldn't have to run around the man. It was at this point that I took a short walk break. The plan was to take one walk break per mile from here on out. Forward progress.
I may have shouted "Ricola!"
The course was amazing and lively. Plenty of bands, drum bands, Dj's and spectators, although not the quantity of  spectators you find in New York, Boston or Chicago. The Germans are reserved while the Scandinavians are loud and boisterous. There were plenty of sparse areas but no dead/unsightly/industrial areas at all. Berlin is a beautiful city with plenty to look at. I pulled off in a few spots to take pics. I never missed my music. There were several instances when I'd see a famous church or landmark that I'd tear up. If you'd have told me even 10 years ago that I'd be running the Berlin Marathon, I'd have thought you had a screw loose.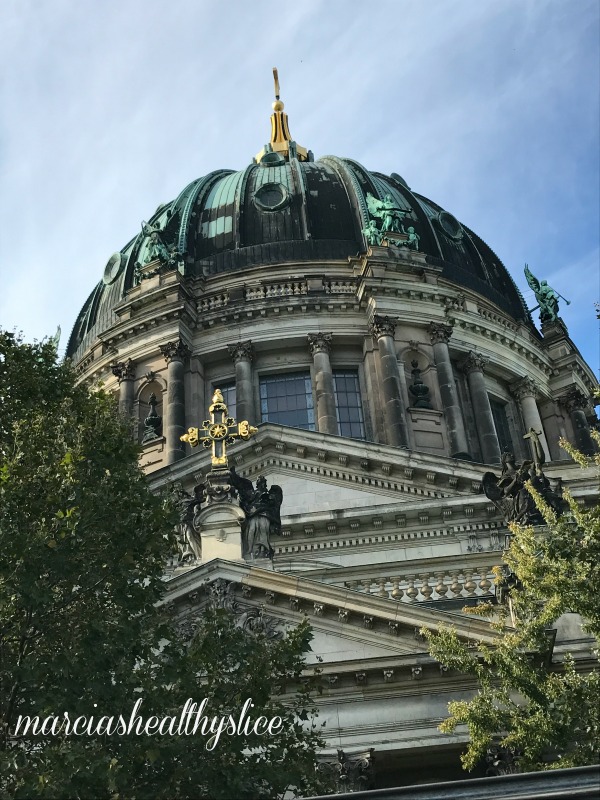 At the halfway point I was still going strong (well slow) with my one walk break per mile policy. When I approached the 21k timing mat, I fantasized for a bit that this was a half marathon and I was just about done. Um, no such luck. I sucked it up and went on. I also noticed around this time, that my Garmin was clicking off the miles considerably faster than course signage indicated. The course is kind of a big loop with plenty of twists and turns but I'm an excellent tangent runner and was very mindful of the blue paint on the road so I'm not sure what happened.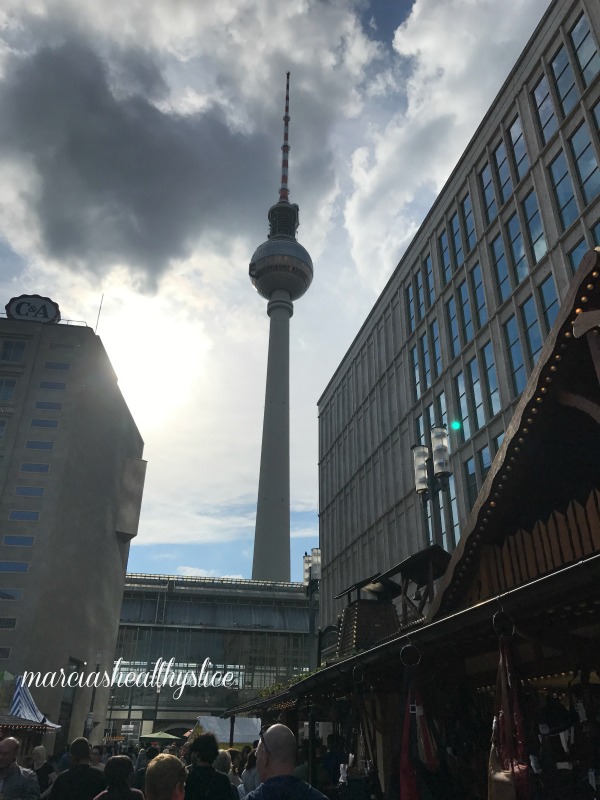 I forgot my hydration vest bottle that I use for plain water so I was stopping at stations for "Wasser" pretty regularly. It was amazingly cold and refreshing but I have to tell you, I've never been shoved at water stations ever and here I was shoved repeatedly. It's not as if I don't know how to ease myself over and signal to the volunteer for a handoff. I'm not sure what the shoving was all about. Another weird thing they did was give us a large yellow sponge in our goodie bag and had water bins (marked "Schwann") you could soak it at the water stations to refresh yourself. I didn't bring mine but some people affixed it to their wrist with a sweatband and swabbed away. Alrighty then.
At about mile 19 I started to take a second walk break in some of the miles. Our bibs were made of some kind of heavy paper material, unlike any I'd seen before. With all the moisture/drizzle in the air, one of the holes in mine ripped through and my bib was precariously attached to my bib belt by just one fastener. So odd they'd use paper that wasn't waterproof.
Potsdamer Platz was rocking and filled with BMW fanfare and the excitement for the finish was building. I caught a third wind and found myself running with Captain America.
At 4 hours 30 minutes, I had 2 miles left to run, according to my Garmin that is. Even though I knew my Garmin was clocking the miles ahead of where I actually was, I still believed the finish would come sooner than it did. When my watch registered 26 miles, the finish line was still nowhere in sight. I ran on, hoping I'd spy the Brandenburg Gate each time I turned a corner.
At long last, I turned onto the final stretch. I wasn't sure if the finish line would be before or after the Brandenburg Gate. Turns out it's after Waaay after. Like WTF after. But I couldn't stop now, although others were walking, I straightened up and ran it in, even though I was dying. I thought of my very first marathon finish line in Chicago on that blistering hot day….about that triumphant charge down Boylston in Boston….about that last stretch through Central Park on a very windy day…..and now passing under the freaking Brandenburg Gate headed to the "ZIEL" (finish). And those are just the majors. Oh the places running has taken me.
It didn't even occur to me to throw my hands in the air at the finish in Berlin. All I wanted was to stop running and turn off my watch. There was a looong walk as usual where we got out medals, a bag of food, a heat sheet and I opted for the poncho so I got that too. It's a chic silver BMW one that will serve me well on Halloween.
Finish time? 5:01. Somehow I ended up running 26.9 miles. This is highly irregular for this tangent runner to be so far off. Not sure what happened.
While I was all about running happy and taking pics, I'll admit that it stung a little to be over 5 hours for the first time ever. With my PB well over an hour faster, there's a part of me that bristles at the 5. I know it's completely unfair of me to set out with no time goals and then be ticked off about time so that's all I'm going to say about that.
Pros:
Course is beautiful with so much to see. Truly the best tour of the city!
Great crowd support
Plenty of course entertainment
Getting to and in starting corrals was easy peasy
Plenty of potties at the corrals. Lines were only 5 people deep!
Pre-race time was exciting and energizing. Fun music and watching the elites go off on the jumbo screen was cool
I loved getting a bag of food at the finish rather than having to grab and juggle stuff
Adidas hit it out of the park with the official race gear
The medal is iconic
Trains to and from the race were quick and easy
My Mizuno Wave Sky shoes were awesome! I think I found my new marathon shoe!
Cons:
The course was very crowded for a long time. I was elbowed repeatedly and shoved at the water stops.
After running 26.2 miles, I believe a medal should be placed around your neck. Here they handed it to me, all folded up.  Pffft.
In NYCM they wrapped me in my poncho, fastened the Velcro, put the hood up and congratulated me. Here they handed me a poncho folded up in a package and I was left to fumble with my food bag, water bottle and heat sheet in the muddy grass and figure out how to put it on.
The last time I wore a Champion Chip in my shoe was Boston. There someone knelt down and removed it for me. Here I had to search for the chip return place, bend down in muddy grass again and unlace my shoes. No small task when your body is petrified from 26.2 miles.
Expo was beyond packed. Thankfully the Adidas store near our hotel had all the official marathon gear.
Overall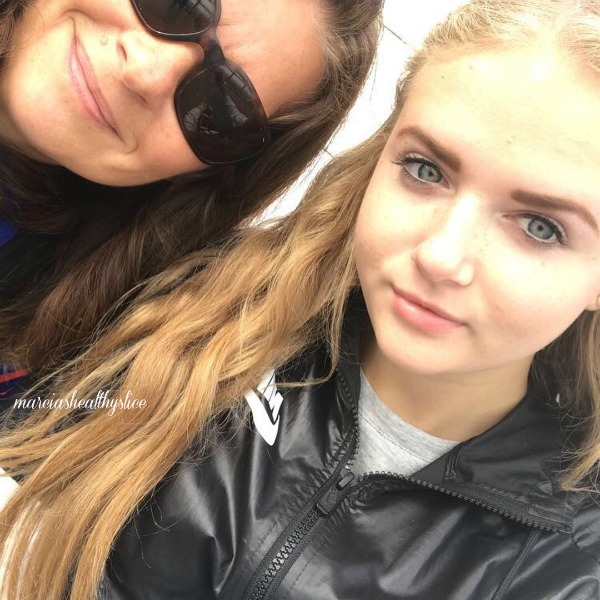 All criticism aside, it was an epic race week that had tons of twists and turns but in the end, the teenager and I had the time of our lives. All weekend I never felt unsafe in Berlin and the teenager was able to easily navigate the subway system to get herself to the finish line to meet me. Memories and life experiences like these last a lifetime.
Have you been to Berlin? Run a World Marathon Major? What race is on your bucket list?
I'm linking up with Suz, Rachel, Debbie and Lora for Coaches' Corner, and with Deb for the Wednesday Word.
Loading InLinkz ...