This week's Tuesdays on the Run topic is Runners Gift Lists but since I am just back from an epic destination race remix weekend, I'm going to stray. One does not get any more glitz and glam than Las Vegas and RocknRoll Las Vegas keeps well with that theme. As a RocknBlogger, I am lucky enough to get a free entry to this race series.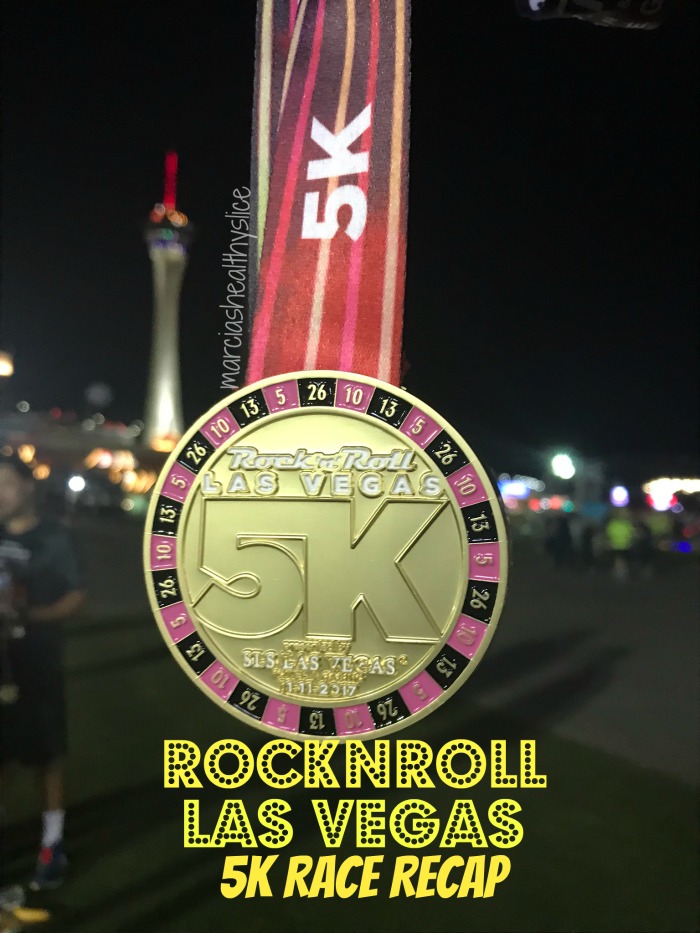 After a flight delay that had us taxiing back to the gate for a mechanical repair, I finally arrived in Las Vegas Saturday afternoon. A little too close for my taste, since the 5k was happening that evening and I had yet to hit up the expo for my race packets. I whizzed through the expo at warp speed, but not so fast that I didn't get a chance to snag a pint glass. Remember what happened to my RnRLV pint glass in 2015? May it rest in peace….and shattered pieces.
As Darlene and I navigated the monorail system, we grabbed a quick slice of pizza at a hotel food court then headed to the hotel to prep for the 5k. I knew I was dehydrated, depleted, and travel weary from being up at 4:30am but surely I could manage a snail-paced 5k.
We took the monorail to the starting area and I found #allthefab Tina. Next we found Tricia and her husband Greg and all headed to the corrals. Before we knew it we were off.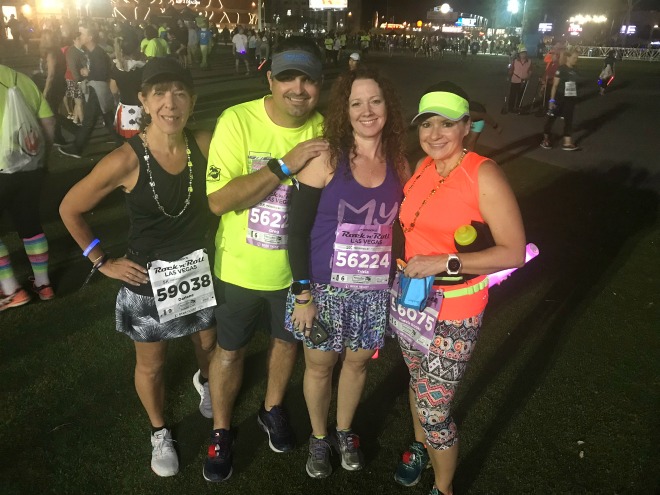 The 5k does not take place on the strip, but rather one street over from it. One lane is closed to traffic while the other is open. I found my easy breezy pace and banged it out. Unlike 2015 when I last ran this race, the course was a pretty straightforward out and back. I managed negative splits (slow ones) even with a water stop at mile 2.
Mile 1:10:17
Mile 2:10:01
Mile 3: 9:40
Remainder: 8:45
Finish Time: 31:14
Shortly after that we turned into the "finisher's village" where we wove around for a bit before heading to the finish line. Soon after I crossed the finish line I spied Kim and her husband and then Mary Beth and her husband.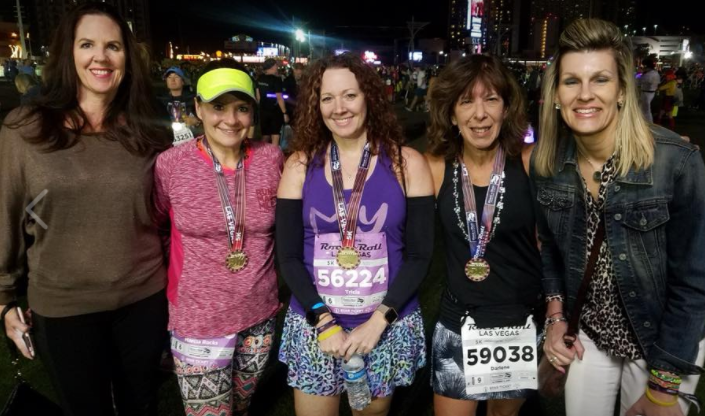 Here's the blogger crew. L to R: Mary Beth, me, Tricia, Darlene and Kim.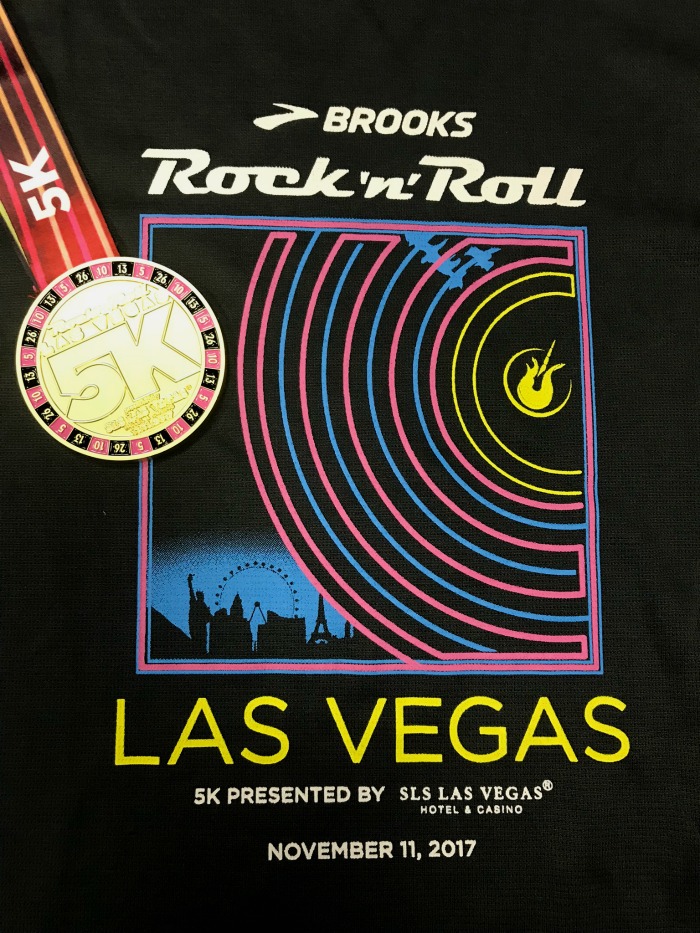 Pros: This is a fun evening race with a Goo Goo Dolls concert afterward. It's a fun kickoff to the race weekend and sets up your opportunity to score sweet swag including the coveted Remix Medal, which is a pretty spectacular guitar this year. I love the 5k medal. The Brooks race shirt is great but I would have preferred a fun neon color. We could not have asked for better weather.
Cons. The course, while better than 2015, still isn't all that great, since it's not on the strip. You do what you gotta do to score the remix and that's pretty much it. Getting this far North on the strip is challenging, if your hotel is not close (ours wasn't). However, because our hotel was near the first monorail stop, we were able to pack onto an empty monorail car and actually get seats. Logistics for this race are definitely a challenge.
Overall. This is a super fun evening. The race is very well done, swag is great and after party snacks and concert are on point.
Have you ever run RocknRoll Vegas? Have you run an evening race?
Loading InLinkz ...