Workouts were definitely a (small) side dish this week as Thanksgiving prep-execution-recovery took precedence. Here's how what little I did shook out:
Monday: Yoga
Tuesday: Rest
Wednesday: Rest
Thursday: Run 5 trail miles
Friday: Rest (MIL wrangling so not really rest)
Saturday: Run 6 miles (2 with Ozzypup)
Sunday: CrossFit
I took the first part of the week easy both because I was in the throes of Thanksgiving prep and because I was feeling rundown and on the brink of catching the cold bug that was going around. Knock wood, I managed to fight it off. Hope I didn't speak too soon.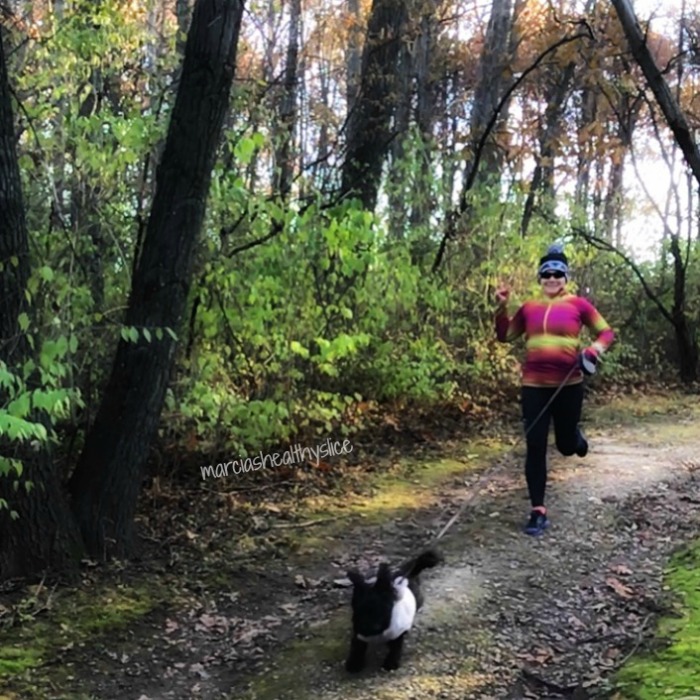 Late Monday night I got a text titled "Sad News" from Thing 2's school principal. A girl in the class was killed in a tragic accident earlier that day. She traveled with her family for the holiday to the family farm in Indiana and was swinging on a tire swing when the tree limb it was attached to broke, sending her falling to the ground then hitting her in the head. She was airlifted to the nearest hospital where she was pronounced dead. A vibrant 11 year old I just saw at the 6th grade band concert a week earlier, gone. It's all so much to process. I can't even imagine what her family is going through. Her friends and the entire school community are in shock and disbelief. It's been difficult to say the least.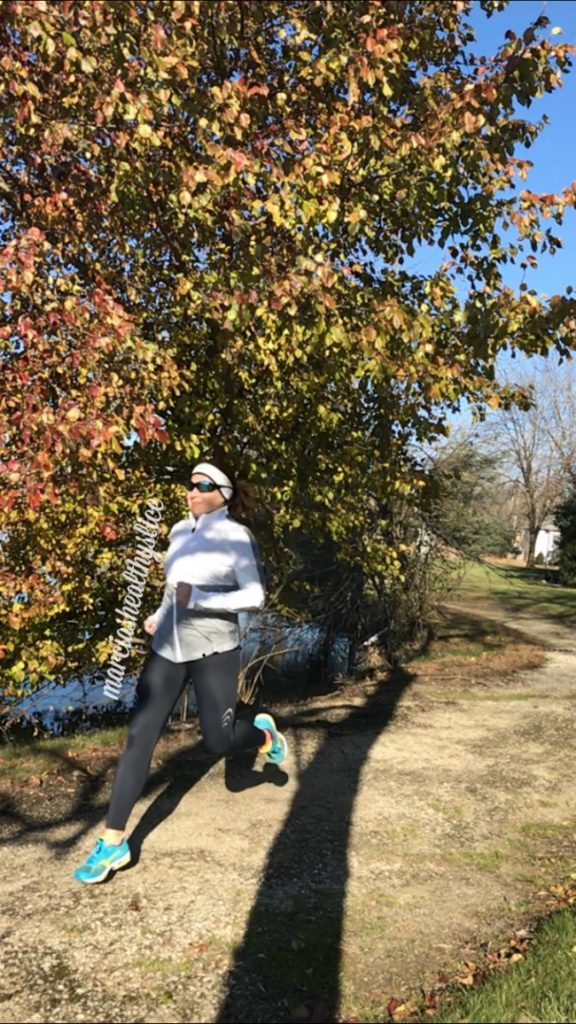 The tragedy put my stressing about the Thanksgiving meal, family quirks, lack of workouts etc. in perspective. Don't sweat the trivial, small stuff. Life is precious and fleeting. Live every day to the fullest and cherish those around you. Those things you're putting off until "someday"? GO DO THEM! Tomorrow is promised to no one.
Moving on…
Hot List
No Sweat Box. Need a fun, motivating gift for the runner in your life? Maybe yourself?? The No Sweat Box aims to make running the best part of your day by tailoring the contents to your specific running/training goals and adventures. Before receiving mine, I was asked about my goals and the races I have coming up, Here's what the box I received looked like.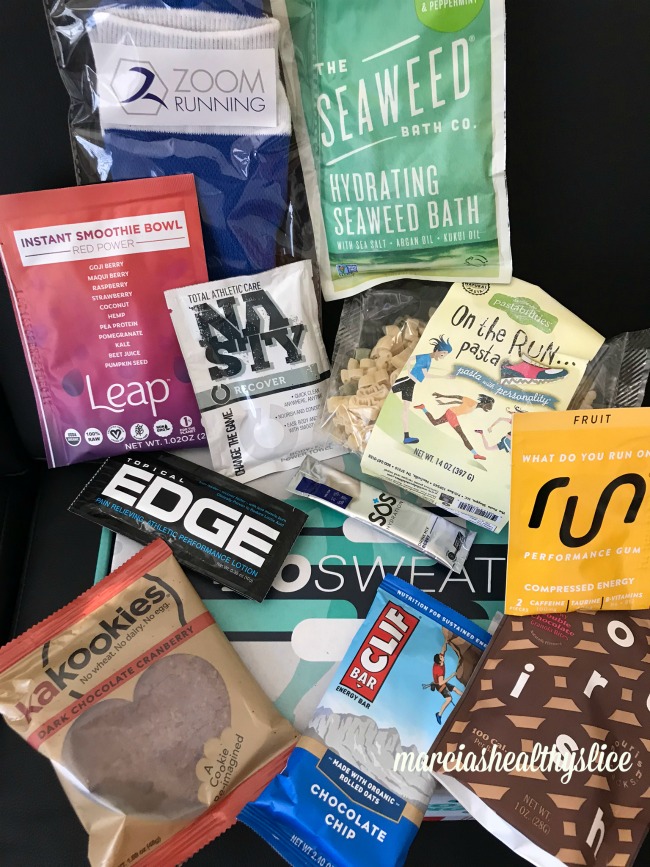 Training essentials I already know and love plus some new-to-me products I can't wait to try. Overall a very exciting mix.
Runner-shaped pasta from The Pasta Shoppe. Seriously so adorable. Plus it came with a recipe for Creamy Roasted Red Pepper Pasta.
Run Gum. This is one of my go-tos for late in long races. Love!
Topical Edge Pain Relief Gel. New to me, sounds awesome.
Clif Bar. Chocolate chip is my favorite. Holla!
Leap Smoothie Bowl. Packs four servings of fruit and veggies and no crap you don't want. I'm in love!
Nourish  Snacks Granola. A great topping for yogurt or that smoothie bowl.
Nasty Wipes. Nothing like a little post-race refresh!
Hydrating Seaweed bath. You probably already know how much I love a therapeutic, post long-run soak. This one contains sustainably harvested (in the USA) organic seaweed to help detoxify, moisturize and restore. Yes please!
Kakookies. The Dark Chocolate Cranberry cookie has all the delicious flavor of a "regular" cookie but with no wheat, dairy or egg. I've been wanting to try one of these for ages and this one did not disappoint. It's a perfect travel snack or for pre- or post workout.
Zoom Running Socks. I've not heard of this brand but I do love me some toe socks. Can't wait to take these for a spin.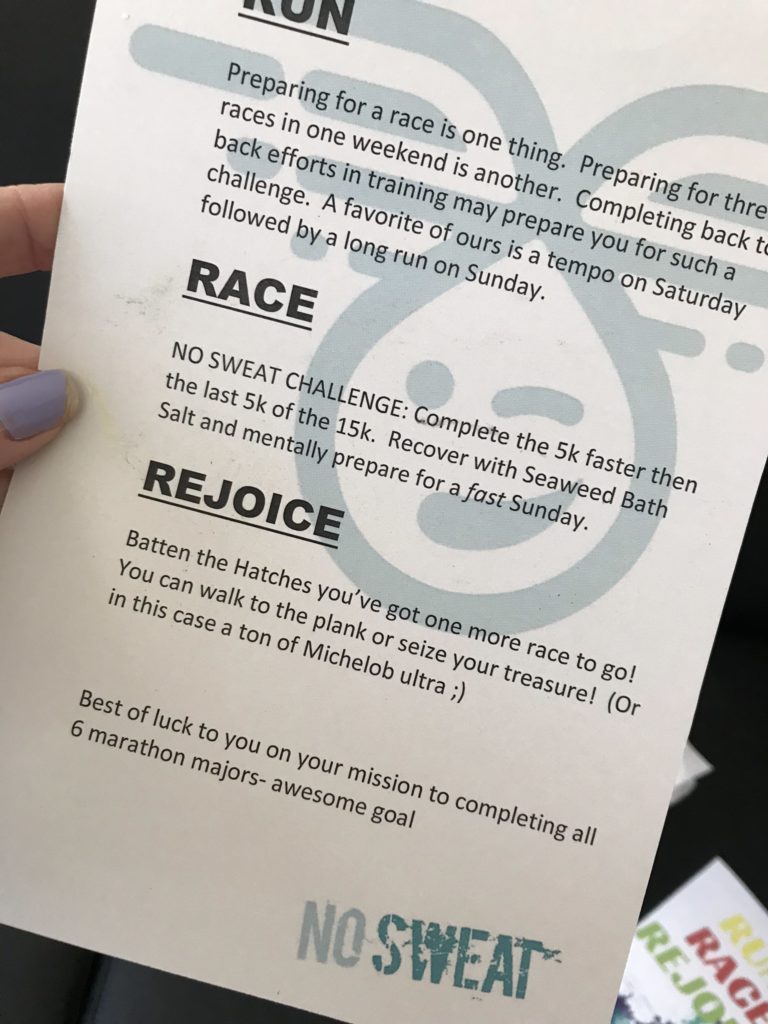 My No Sweat Box came filled with goodies plus this sweet note. 
What are you putting off until "someday"? What would you want to find inside your own No Sweat Box? Have you started holiday shopping?
I'm linking up with Tricia and Holly for the Weekly Wrap.