Chances are good you've come across someone (or maybe lots of people) who "used to run" but for one reason or another, no longer does. The reasons why this happens vary widely but two of the most common ones I've heard are because of injury or time constraints. Priorities change, life gets in the way and they simply no longer have time or choose to spend their time on running.
There are also people who remain content and just keep on keeping on. They run well past retirement and seem to never slow down or get injured. What are the secrets of those lifelong runners? How can we be one of them?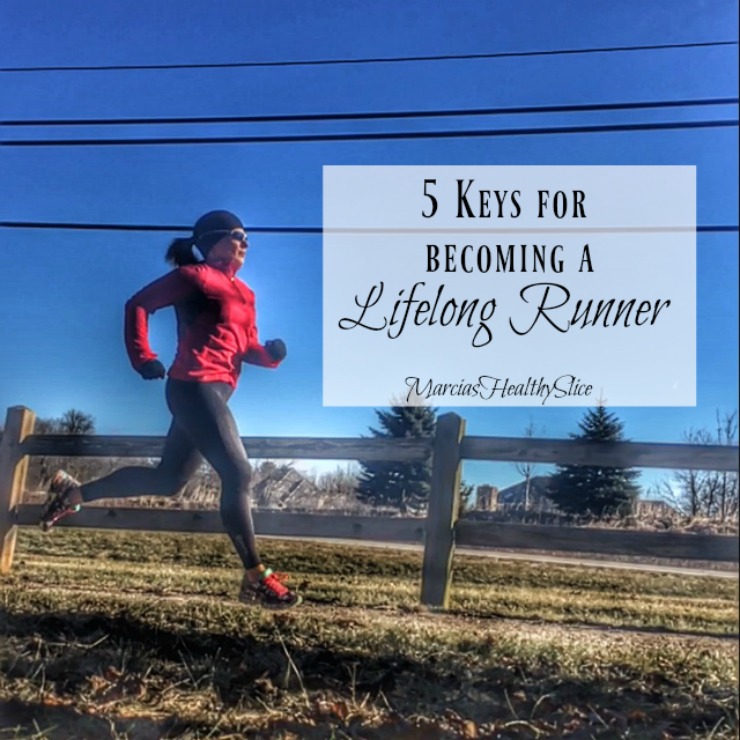 As someone who's embraced the sport of running for over 20 years and would like to continue running in some capacity for as long as possible, the thought of choosing to stop or being forced to stop floats around in the back of my mind. While I no longer push for PRs or have any desire to run longer than 26.2, I can't imagine not lacing up a few times a week and heading out to pound the pavement.
When I was invited to read Jonathan Beverly's Run Strong Stay Hungry: 9 Keys to staying in the Race, (affiliate) I was intrigued.
Who doesn't want to run strong for as long as possible?
The book starts off with several case studies of individuals who chose to quit running. The reasons are unique and personal and vary widely.
The author puts it more eloquently than I can:
" People stop running when they fail to adapt, either to changing life conditions or to the demands of age. They reach a point where the effort exceeds the outcome and no longer produces the desired or expected results."
Contrary to the reasons I listed above, the number one reason people stop running is when they run on a track or cross-country team in school and then graduate, leaving the sport behind entirely. Certainly career and family obligations make huge demands on time.
Some lose interest in racing. Some lose interest in training. Some train too hard for too long and burn out. Some fail to achieve a big goal (Olympic trials) and walk away, cold turkey. The reasons are fascinating.
So why then are some people able to stick with running for a lifetime?
What are the secrets of lifelong runners?
Beverly spells out 9 keys. I'll give you five. You'll have to read the book for the rest.
Consistency. According to the author, runners that really stick with the sport do so consistently. They don't take breaks. Running becomes part of their identity and the habit is ingrained.
Variety. While lifelong runners are very consistent, they also seek out variety both in terms of varied running workouts (speedwork, tempo, long) terrain (road, track, trail) and crosstraining. This helps prevent injury and avoid mental burnout.
Adaptability. Runners need to be willing to change the nature of their goals as they age. Where once a runner might have had a goal to win a race out right or gun for a PR, as we age more appropriate goals need to be set. You can stay happy and engaged if you adapt what you aim for and redefine what constitutes being successful.
Listen to the body. Lifelong runners are notoriously good at being able to put aside watches, mileage trackers and plans and run by feel. They run more/faster when they feel good and go shorter/easier/not at all when they're not feeling great.
Passion. We tend to stick with things we care deeply about. That's why it's important for lifelong runners to stay connected to their running and the running community. Some runners do this through a running club, a network of friends or through coaching and giving back to the sport.
This is such a interesting and thought provoking read, especially if you've been running for awhile and are at a point where it's time time to reassess goals to keep you motivated and engaged.
Do any of the qualities above describe you? What motivates you to be a lifelong runner?
I'm linking up with Deb for the Wednesday Word and with Rachel, Lora and Debbie for Coaches' Corner.
Loading InLinkz ...