First, how many times lately do you hear me say this? Yeah pretty much never: I had a solid workout week!
All of my runs felt strong.
I made it to yoga, didn't tear or rupture anything and split shorts guy was a no-show.
I went to cycle class and was called a 'new face.' Oops.
Did all of my strength and core workouts.
Can I get a boom shakalaka?
The only thing I didn't do was get out on Blanche the trusty road bike. This was for safety reasons as Blanche seems to have little to no brakes left. I think she needs a spa day.
Do you have your bike tuned up?
I am still Garmin-less so my paces are a mystery. But whatever they were they felt good and that's what counts right? About that Garmin: I planned on using my REI coupon for a new one until I realized GPS devices were not eligible for the discount. Sigh.  Soooo I'm playing the field until a good deal crosses my path. I'm going to try some iPhone apps and see if any of those float my boat.
Do you use a smart phone run tracking app?
My new addition: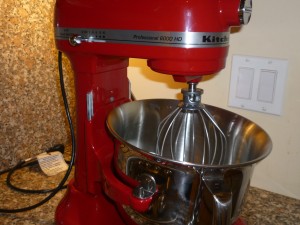 I call her Katniss. Since there is no new Garmin to name Katniss, this will have to do. Isn't she pretty? Her maiden creation was going to be some black bean brownies, alas we had a tween sleepover this weekend and the brownies never happened.
Alright, enough about my weekend shenanigans and on to the Champion winners!
Christa
Ladies please email me at teamarcia at gmail dot com and I'll get you set up!
Thanks to everyone who entered! Thanks to Champion for sponsoring!
Thanks so much to everyone posting and tweeting their play-by-plays from Boston today. I am loving every second of it and living vicariously through you. Run strong and smart in the heat today and of course have a blast!