Yesterday I had a long run on the docket. It was 28 degrees and falling. A fine coating of ice shellacked the pavement.
Do I wear a jacket? It'll be the first time this winter that I've worn one. My inner pansy alert is sounding. I usually go without in 28 degrees but if it's dropping…and there's wind…
I gather my stuff: Garmin, which is usually on a kitchen counter where it charges…or in a kitchen drawer…or closet drawer.
Sunglasses (for wind as there is no sun..I'm pretty sure it overslept). Most likely on a mudroom counter…or kitchen counter…or dresser drawer or a closet drawer. Cannot find.
iPhone arm holder. Cannot find. Search all the usual haunts: kitchen counters and drawers, mudroom counters, cabinets and drawers, closet drawers and shelves, dresser. Nada. Now I'm pissed. Plus I'm wearing my jacket so I'm roasting which makes me extra pissed.
Finally, after an exhausting, cussword-riddled search (thank heavens I was the only one awake), I went out sans phone/tunes. Big deal right? Who can't run 8 miles without music?
But it was a big deal because being organized is not brain surgery. Yet I can't seem to corral my running stuff in one place for easy access.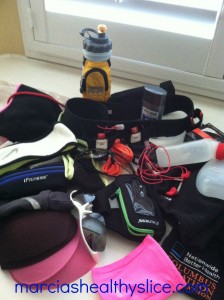 After returning from my run, (which went great BTW, I managed to stay upright and my mood improved exponentially) I spent the day decluttering. I pulled out all the running gear I could find. Much of it is still at large. Note this does not include apparel, shoes/socks, hair accessories, or fuel. From now on I'm keeping it all in one, go-to place. But how? Where?
Oh and for the record, I found the iPhone arm thing. On a high-up closet shelf where I could not see without climbing. I must have whipped it up there. Sheesh.
Do you have this problem? Tell me how you store your running stuff!
Final days: Balega socks giveaway!