You know I love me the mystery and intrigue of subscription boxes. Bestowed is a good one. Mine had a whole mess of fun, healthy stuff in it, including a monster bag of Kind granola. I won't lie, the Caveman and kids circled around it like vultures. The granola vanished. So did the fruit snacks. If I didn't throw myself over the hemp hearts, those would've been toast as well. I held my ground. Survival of the fittest, right?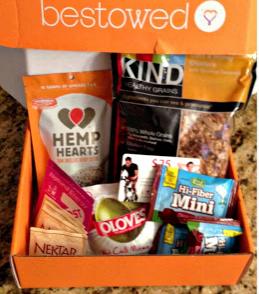 The contents are hand-picked by nutritionist and author, Heather Bauer. She doesn't throw just any old thing in the box: Products are tested and chosen based on their ingredients, nutrition, and how they fit into an overall eating regimen.
Bestowed Box is a great gift idea because it keeps on giving, and the contents are constantly changing month to month. Perfect for that special graduate, just saying…
Subscriptions can be purchased monthly or annually: $19 per month with free shipping.

Boxes arrive on the 15th of every month.
WIN IT! One lucky reader will receive a Bestowed Box of their very own. This giveaway is open to US residents only please. Note: I was sent this box free of charge. All opinions are my own.