I am a late comer to this whole electrolyte thing. For years I ran my longer runs with water and a fuel drink like Gatorade or Accelerade. But  I struggled in the heat, especially in those late miles. One particularly hot RnR Chi Half, I took a salt packet mid-race. And oh what a difference that made. Since then I've been swapping out my plain water for electrolyte potions when it's hot, I'm going long or both.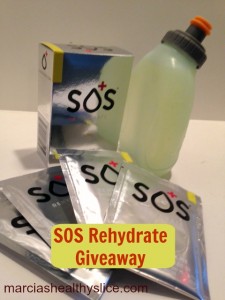 The kind folks at Meijer sent me some SOS Rehydrate to try. I'd never heard of it. But I had a 22-miler on tap last weekend. So I mixed some up and into the fuel belt it went. It has a pleasant light citrusy flavor.
SOS was designed by a doctor and two professional runners

Medically proven and effective in combating mild to moderate dehydration

Provides 3 times the amount of electrolytes found in other sports drinks

Has half the sugar and half the calories of coconut water and contains all the electrolytes

Available in blueberry and citrus flavors
No artificial sweeteners, flavors or colors
Just 25 calories per serving
If you follow me on Instagram, you already know this. Ha! I will definitely be using SOS Rehydrate when I run the New York City Marathon in a couple of weeks. SOS Rehydrate is $8.75 per box of five packets. Right now it's $1 off at Meijer stores, no coupon needed.
WIN IT! One lucky reader will win a box of SOS Rehydrate.
a Rafflecopter giveaway
Note: Thanks to Meijer for sponsoring this post. I received product samples free of charge for review. All opinions, as always, are my own.