Did you know it's National Peanut Butter Lovers Month? As a runner, I celebrate my love of peanut butter almost on a daily basis. When my friends over at CocoaVia told me they had a Peanut Butter Smoothie recipe they wanted me to try, let's just say they didn't need to twist my arm.
What is CocoaVia? Its a daily supplement made with patented cocoa extract. Cocoa beans contain powerful phytonutrients that support healthy circulation by helping your arteries stay flexible. Each serving offers 250mg of cocoa flavanols, with no artificial sugar, artificial colors or preservatives.
Lets get to to the smoothie: Besides having all my favorite things in it: hello dark chocolate CocoaVia, peanut butter…match made in heaven….this one has ground flax seeds. The antioxidant benefits of flaxseeds have long been associated with prevention of cardiovascular diseases and have recently also been tied to decreased insulin resistance.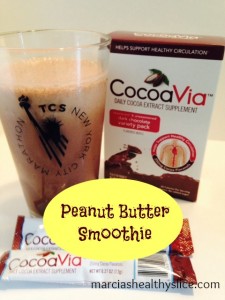 8oz. skim milk (I used almond milk)
1-1/2 tsp crunchy peanut butter
1 t ground flaxseeds
1/2C ice cubes (I lived on the edge and used coffee ice cubes)
1 packet CocoaVia Dark Chocolate Sweetened or Unsweetened supplement
1. Combine milk, peanut butter, flaxseed and CocoaVia supplement in a blender.
2. Add ice cubes (crushed)
3. Blend, pour into a glass and enjoy
Now for the best part. One lucky reader will win a whole stash of CocoaVia along with a snazzy tote and recipe cards.