Now that we're getting up in the nether regions of fall marathon training mileage, I'm paying extra special attention to recovery. When these baby blue numbers from PRO Compression showed up at my door, they were a sight for sore legs.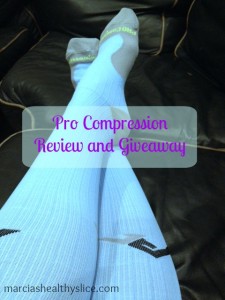 After my 5k last weekend, I slipped them on and got on with the rest of my day (7 hours on my feet at an ice skating competition). Because I had a 16 miler the following morning, I needed the old legs to be fresh.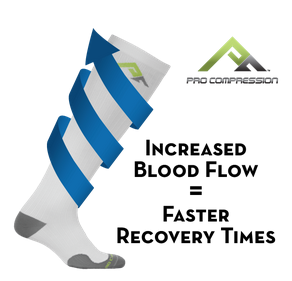 Why compression socks? True graduated compression promotes circulation by pushing fluid up from your feet and ankles toward your knees. It helps reduce swelling and inflammation while providing support to tired muscles and tendons. Compression socks can be worn before, during and after long races and workouts to keep your legs feeling fresher and less sore.  Personally I like to slip them on after an ice bath and wear them the rest of the day. I've been known to wear them overnight after marathons and rest assured I'll be wearing them on the flight home from the New York City Marathon in November.
Made of a proprietary blend of poly and nylon fibers, PRO Compression socks are made right here in the U S of A. Maybe one of the best things about them, performance aside, is the whole mess of fun colors that are available. Show me a runner who doesn't love a pop of color!
Right now, use code BLG14 to save 40% on any PRO Compression Marathon Socks or Sleeves. Or, if you're feeling extra lucky…
WIN IT! One lucky reader will win their choice of PRO Compression Marathon Socks or Sleeves. U.S. residents only please.
a Rafflecopter giveaway

Note: I was sent free product for review purposes. All opinions are my own.