Ah the holidays. Images of golden turkeys carved table side, the warmth and comfort of family and friends, it's all good right? The reality is few of us have holidays that even begin to approach the perfection depicted in glossy magazines.
Thanks to inappropriate comments, unfair judgement, unrealistic expectations, alcohol induced barbs, and emotional wounds that have gone unforgiven, holiday gatherings can be a hotbed of stress and hurt feelings.
How to deal:
Let offensive comments roll like water off a duck's back and diffuse potential powder keg moments by changing the subject. This is a hard one but remember

the crap they're spewing is a reflection of the offender's own inner turmoil, jealousies and insecurities, not yours.

Present a united front. Be on the same page with your spouse/sibling/whomever and have each other's back. Bullies are far more likely to strike when you don't have backup.
Get a hotel. This allows you to limit your exposure. You are no longer hostage to someone's hospitality. This pulls the rug out from under a controlling host and you have a place to escape. I realize this isn't really an option if you're hosting, but who says you have to invite anyone to stay with you anyway?
Get your sweat on. You need the endorphin rush now more than ever. Find a turkey trot, hit the gym, go for a brisk walk before (and after!) dinner, or all of the above.
When all else fails, leave. Whether you leave the conversation, the room, step out for air, or pull up stakes and head for home (or that hotel I told you about), remember these are all options. Your sanity and well being are most important. Teach people how to treat you by not tolerating bad behavior.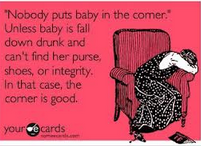 I think one of the keys to surviving the holidays is letting go of the idea of perfection. We can't choose our family but we can choose how much time we spend with them and how we react to them.
Here's to a holiday filled with love, gratitude, understanding and joy!
Who's cooking? Who's traveling? Add me to the travel camp!