One of  my favorite things to do to expedite recovery after a grueling workout (besides foam roll til the cows come home) is to eat fresh pineapple. On its own, added to my recovery shake or worked into a side dish, I love it. Besides being delicious, pineapple is a great inflammation fighter. It contains a natural enzyme called bromelain that helps reduce swelling, inflammation, excessive coagulation and bruising.  I find that when I have pineapple after a hard workout, I have less muscular soreness the next day. Pineapple is also packed with Vitamin C, a powerful antioxidant that boosts immunity, helps build and repair tissue, metabolize fat and cholesterol and a host of other great things.
Compliments of domestic diva Martha Stewart, here's a great way to enjoy pineapple with another superfood: sweet potatoes.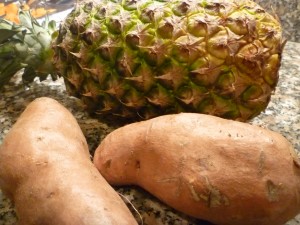 Roasted Sweet Potatoes and Pineapple
Serves 4
2 sweet potatoes
1 medium pineapple, cored
2T vegetable oil
1/4t cayenne pepper
Coarse salt to taste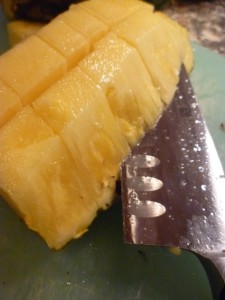 Peel the sweet potatoes and dice into 1″ chunks. Do the same with the pineapple.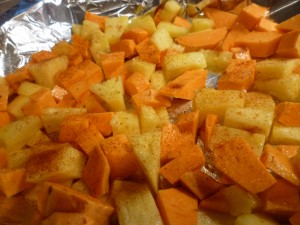 Toss both with the oil and spread out on a baking sheet. Sprinkle with cayenne pepper and salt.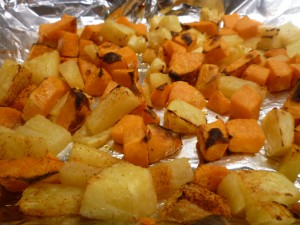 Roast at 450 degrees F for 30 minutes, turning every 10 minutes, until golden.  Serve it as a side dish, add it to a salad whatever!
Enjoy!
Good luck to everyone running the Blue Ridge and London Marathons this weekend!
Who else is racing?