1. I got up at 2:50 am and never really went back to sleep. The room was too hot, the dogs started bugging me at 3 and again a 4. I got up at 4:30. I still haven't run. I'm leaning toward saving it for tomorrow when it's supposed to be way cooler.
2. You know those Asian nail salons where the technicians shout in foreign tongues and you wonder WTH they're talking about? I read an article written by a Vietnamese journalist where she outed them. They're gossiping. About us. But we already knew that, right? I can just imagine what they say about my hideous, black toenails. Actually they're petite flowers right now, cuz I haven't marathoned since last year. Haven't been in one of those nail salons in eons either.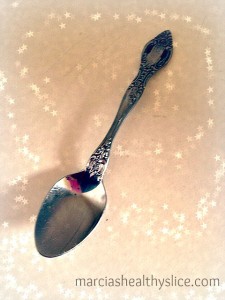 3. While most people snag a t-shirt or coffee mug on vacation, look at the spoon I found laying on the floor near baggage claim at Sea-Tac airport on our way to Alaska. The kids (and everyone else for that matter) were totally grossed out when I picked it up. I call it my royal spoon. I think of Alaska every time I eat yogurt with it. See? I told you I was tired.
4. Yes, four things, I'm getting punchy. Thing 2 has been begging for 2 years now to go to the Flying Pig Marathon. It conflicts with Wisconsin, which I've done the past two years. It'll conflict again. So do I:
Do FP next May?

Blow off FP and do Wisconsin a third time?

Do Wisconsin on Saturday then high tail it to Cincinnati for FP on Sunday?
I'm leaning toward option 3. Or if I do option 1, I'd do the 3-way (5k/10k/half) and the kids would do the kids' races.
Are you planning 2014 races?