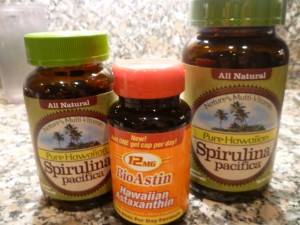 1. Spirulina Pacifica and Hawaiian Bioastin Astaxanthin. It's been 3 weeks now since I started taking these super nutrients. While there are other variables at work here (hello Vitamin D mega dose) I've been feeling great–better than I have in a long time. Less fatigue, less soreness after hard workouts, quicker recovery and, knock wood, I think this stuff boosts my immunity as life has been uber stressful with end-of-school-year obligations topped with last weekend's sizzling hot, sleep deprived relay. I take one Astaxanthin soft gel once a day. I slip a teaspoon of Spirulina powder into my recovery shake and boom, I'm good to go. Cannot tell you how impressed I am with this stuff so far!
*Note: I was compensated for this campaign but I wouldn't be singing its praises if I didn't absolutely love it.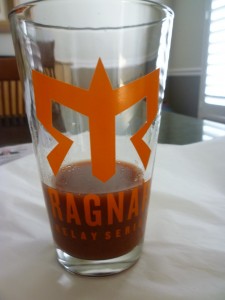 2-3. Tart Cherries and a Race Pint Glass. In keeping with the whole recovery theme, I'm loving me some tart cherry juice about now. I love cherries drenched in dark chocolate too but let's focus on juice for now. Filled with free-radical fighting phytochemicals, I chug a little after my run or splash some in my recovery shake. I've been lusting for a race pint glass for some time now. This one from Ragnar completes me.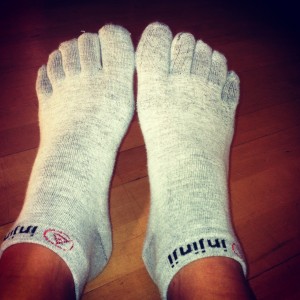 4. Injinji Toe Socks. I was very skeptical about these bad boys as I am the high priestess of nasty foot blisters. I've been wearing these with my snug-fitting Mizunos and so far? They're great. I'll keep you posted when marathon training sets in.

5. Chasing the Sun. Makes me think of the relay. Great memories. Now that it's over. Ha!
What are you digging now?