What I say vs what I do: I mentioned 2013 was going to be the year of the 5k for me. No more LSD….yeah right. What races have I signed up for so far? 3 half marathons.
Back to the gym: I finally made it to my first spin class of the year.  The parking lot was so packed I could have used a shuttle bus to get to the door. Yet 10 minutes before class began, the cycle studio was almost empty. I think they're all in SYNO yoga. The class eventually filled but still, no scratching and clawing like those yogis.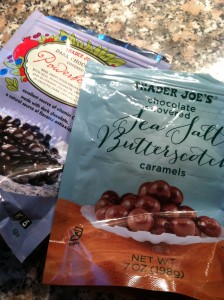 Treats I hate to love: As if Powerberries weren't enough, now Trader Joe's has Chocolate Covered Sea Salt Butterscotch Caramels. Total sweet tooth crack. I'm just now wedging myself back into my jeans after our recent gluttonous adventure on the high seas, aka cruise.  Maybe this is why I have my schedule stacked with half marathons. Have you tried these?
Balega Socks Winner!
Bobbi come on down! Please contact me with size info. and your prize will be on it's way. Thanks to all who entered! Thanks to Balega for sponsoring! Stay tuned for more giveaway fun soon!