For me, probably the next best thing to a runner's high or a destination race with great friends is enjoying workout gear that is functional and stylish.  Recently I was invited to try out some workout wear from Albion Fit, a company dedicated to distinctive women's fitness apparel and swimwear. I tested the Love Racer in neon pink. What better way to shake off the winter doldrums?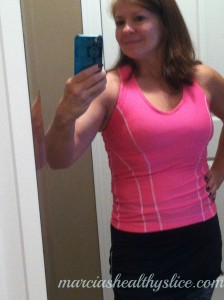 It was love at first sight. This racer-back tank is as versatile as it is cute.  I ran in it, wore it to yoga, spin classes and in the gym. It was super comfy and did not chafe, even through my toughest workouts. When I say it has a built-in bra, I don't mean one of those useless 'shelf' setups. No, the Love Racer is great for high and low impact activities alike. It even has removable bra cups.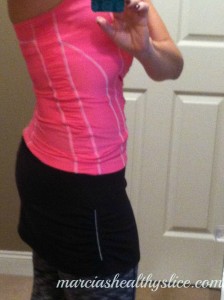 Be still my heart: look at the ruching on the sides. Gorgeous and so flattering. The Love Racer is a winner in my book. The quality of the fabric, the workmanship and the styling are all top-notch. Through several machine washings the color has not bled and remains just as vibrant as ever. Thanks to the groundhog for predicting an early spring–I look forward to getting outside in this tank soon!
WIN IT!
One lucky reader will win a Love Racer in their choice of colors. Need to shop now? Use code 'healthyslice15′ for $15 off any online purchase  at Albion Fit of $50 or more. Valid until 3/1/13.
Note: I was sent this item free of charge for review purposes. My opinions are my own.