If you've hung out with me here for any length of time, you know I love me some yogurt. I love the creamy fruitiness before and after workouts, as a snack, dipping apples in it, making parfaits with berries, nuts, granola, even cooking and baking with it, you get the picture.
When I was invited to participate in a mission that involved taste testing Greek Yogurt, I grabbed my spoon. I am all about Greek Yogurt.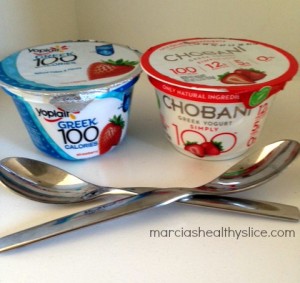 So the mission: Conduct a blind taste test of Yoplait Greek 100 Strawberry and Chobani Simply 100 Strawberry. Game on!
Step 1: Find stylish blindfolds to eliminate any urge to peek. Check.
Step 2: Acquire said yogurt at local grocery store. Check.
Step 3: Administer blind taste test among friends. These particular friends are die-hard Chobani fans. They went into this fully expecting to choose Chobani as the favorite.
Here's what Jen had to say after her taste test.
Step 4: Have an unbiased and cooperative loved one (AKA Thing 1) administer blind taste test to me.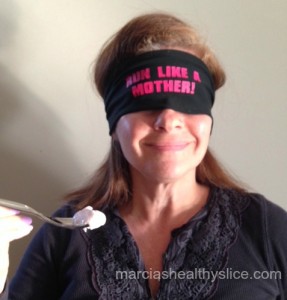 My impression? First let me out myself: I enjoy Chobani. I love other Yoplait varieties like Fruitful but I wasn't familiar with their Greek Yogurt going into the taste test. The verdict? Yoplait tasted sweeter, thicker, creamier. Chobani tasted sour by comparison and the texture was on the runny side. Did I just say that? In my opinion, Yoplait Greek is the clear winner. There are 12 flavors in all, 100 calories per cup. I can't wait to try the rest!
The score at halftime: 4 preferred Yoplait, 1 preferred Chobani.
Step 5: Because this is actually a lot of fun, I'm going to gather more opinions by dragging the dog and pony show, er I mean the yogurt to tomorrow's race. Because runners have the best taste right? Stay tuned!
In the meantime, don't take my word for it, click here to find out how to take the Yoplait Greek 100 Taste-Off and see for yourself which you prefer.
This post is sponsored by Yoplait.
Are you a Greek Yogurt fan? Do you have a favorite brand? Have you ever done a blind taste test?