Total Mileage: 55
Monday: Yoga. This hot vinyasa flow class is so darn crowded and yet they continue to allow people to stroll in late and disrupt everyone to move their mats. Why. Just why? Seriously when the door closes and class starts, that's it…or should be, IMO. Call me the yoga nazi.
Tuesday: 4.12, upper body strength/core
Wednesday: 7 miles (7x1000m) Not sure how I managed this. There's always more in there than you think.
Thursday: Bike 20 miles
Friday: Run 6 miles, lower body strength/core
Saturday: Rest
Sunday: Run 18.18 miles hilly + hill repeats. Because I'm obsessing about those damn NYC bridges.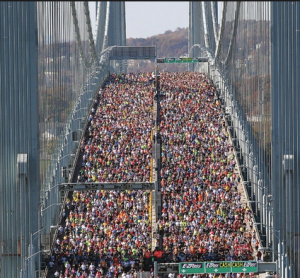 I feel good about this week. Like I'm finally getting in a groove and handling the long run ok. Overall I still feel like my conservative training plan is on the easy side, but then they throw in a workout like 7x1000m. The cooler temps made training paces a whole different animal. It was a single parenting week and every freaking person in the house (except me) has had lingering cold/chest congestion that just won't quit. Not sure why I haven't succumbed, but I won't question it.
Can we talk safety for a second? In the last week alone, I've witnessed 1 car accident (pulling out of the school parking lot of all places) seen 2 very scary near misses involving bikes and was almost taken out by a blue-hair who was literally looking through her steering wheel as she drove half on a 45mph road and half on the shoulder gravel and weeds. I minimize the amount of time I spend on busy roadsides (honestly no more than .25 of a mile), run against traffic and at really unbusy times (read early weekend mornings). But still, danger is out there. The amount of drivers talking on phones while they drift onto the shoulder blows my mind. Be careful!
Good luck to everyone in their peak week before taper! It's all getting real! Are you as safe as you can be when out running/biking/driving? Are you a yoga nazi? One more day for my Pro Compression giveaway!