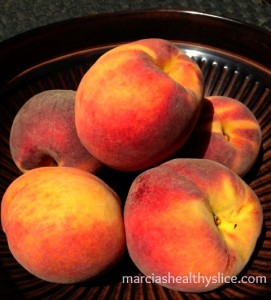 1. Peaches. They're so good this year. Knock wood, I haven't had a single mealy one yet. And when the garden gives you cilantro, you know you need to make salsa. Here's a great peach salsa recipe adapted from one found on Yummly.
Fresh Peach Salsa
2 peaches, diced

1 red bell pepper, diced

1/8C red onions, chopped

2T chopped fresh cilantro

1T sugar

1T lime juice

1/8t cayenne pepper
Combine all ingredients in a bowl and refrigerate at least 1 hour. Enjoy!
2. Day Camp. Thing 2 started day camp this year so nervous she literally cried in the bathroom before I took her the first day. Fast forward 2 weeks and she's having so much fun, she asked to go another week. Win! Definitely a girl who needs to be nudged out of her comfort zone.
3. Magic pillow. If you're anything like me, you're very particular about your pillow. I've had mine…oh…let's just say far too long probably. I've tried to replace my "vintage" pillow, but nothing could come close to it's comfort. Until I was asked to test the adjustable pillow from Rem-Fit. You add or subtract foam until it's just the way you like it. I'll give you the full scoop in another post, but let's just say, I am totes digging this new one.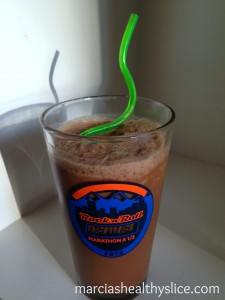 4. A cold recovery beverage. You know I love my coffee. In summer it gets iced. In marathon training season it gets proteined up. Since we're in both of those, all of the above. Many of you have asked how to make it. Here you go:
Protein Iced Coffee
2 oz. almond-, coconut- or milk of your choice

1 scoop protein powder. I'm currently using this chocolate one from MyProtein. It has a great chocolate flavor and contains dextrose (read high carb), which you may not want if your're not recovering from strenuous exercise. But my coach recommended I throw down a mix of protein and carbs in the 30-minute window post workout when the body is most willing to absorb it to rebuild and restore. 

8 oz cold brewed coffee

Secret ingredient: coffee ice cubes. The more the merrier.
Mix it all up in a blender and you've got a delicious, ice cold, recovery drink. Remember the ratio of coffee to milk is totally up to you.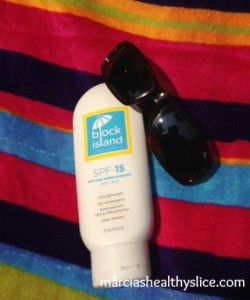 5. Block Island Organics Sunscreen. Between summer camp, pool days and the like, we're outside all the time. I'd be lying if I said I didn't question the ingredients of most sunscreens on the market. Face it they're filled with chemicals. This one from Block Island is not. It's a physical sunscreen made from minerals and things like aloe vera, shea butter and coconut oil. It's a vegan formula that's non-comedogenic, paraben- and phthalate free. Made in the USA and not tested on animals. Best of all, it goes on light and works great. We've worn it at the beach and pool, when out for bike rides and at day camp. Wanna try it? Use code marcia when ordering and you'll save 20%. But hurry because this offer expires on 7/31.
What are you loving lately?