Miles Run:

62. This is fairly average for me this year without marathon training in the mix. A much-needed low pressure, run for fun kind of year.

Miles Biked:

0. We had a cold snap and I fell out of the habit, what can I say?

Strength/Plyo workouts:

2 weekly strength/core and 1 weekly plyo interval session.

Yoga:

I'm back to hitting up a weekly class. Go me.

Books:

Huh?

Movies:

Catching Fire. I read the book so long ago, I barely remembered half of it.

Races:

3 5ks
Panting for Paws (paced Thing 1), The Chevy Chase, Long Grove Turkey Trot
Drink:

Switched over to Christmas blend coffee a tad prematurely but is it ever good!

Food:

I am obsessed with kale salads. The one I discovered on our

Alaskan cruise

and shook down the chef for the recipe changed my life. The key is to massage the kale with the dressing. Kale is pretty and frilly but tough. Like some people I know, the massage makes it so much more tender and agreeable.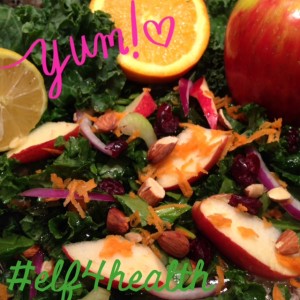 Here's another salad I made yesterday as part of the Elf4health challenge. I adapted it from the Costco Cookbook I got last weekend: Enjoy Cooking the Costco Way. Love me some Costco!
Kale and Spinach Chopped Salad
Chopped fresh kale, ribs removed

Chopped baby spinach

2 apples (I used a Honeycrisp) cored and cut into thin wedges

Juice of half a lemon

Shredded carrots

Thinly sliced celery

Thinly sliced red onion

Chopped, dry roasted almonds

Dried cranberries
Vinaigrette
1/4C white balsamic vinegar

1/4C fresh squeezed orange juice

2t apricot jam

1/2t tamari

2t honey

1/4C EVOO
In a bowl whisk together all vinaigrette ingredients until combined. Set aside.
Place chopped kale in a large bowl. Add 2-4T of the vinaigrette and massage it into the greens with clean hands for 1 minute. Place sliced apples  in a small bowl and squeeze lemon juice over them. Toss to coat to keep them from becoming brown.
Add spinach, apples (drained), carrots, onions and celery. Lightly dress the salad and toss to fully coat. Add almonds and cranberries. Serve immediately. Serves 4.
Challenges:

Elf4Health goes until 12/22. We just started the final month of OneSmallChange Challenge–plenty of time to jump in on the fun!

Going Forward:

Now that I am in, IN, IN! for NYCM, the plan is to focus on weightloss and strength for the remainder of the year. I will begin to ramp up mileage in January, moving toward the Flying Pig Skyline Chili 3-way challenge followed by the Soldier Field 10-miler in May. Oh yeah, December is birthday month, how could I forget? Wheeeee!
How was your November? What are you looking forward to this month?