Before I get to the recipe, a few randoms:
It's gotten so nice here (35) for today anyway, I think I may be able to do today's hill workout without a jacket.

 Caveman's sister's wedding is tomorrow. It's been about 5 years since we've had a wedding in the family.
 Surprise! My 5 by the 5th race for the month was done on the mill. If there was a treadmill Olympics for old hags I swear I'd be a contender. Because I was so preoccupied with the cupcakes with Indian flair they were pulling out of the oven on Cupcake Wars, I passed the 5 mile mark without noting the time or taking the coveted treadmill display pic or sweaty selfie. My bad.

I went on a blog field trip yesterday. It was a really fun evening. If you follow me on

Instagram

you know what I was doing. We cooked like fiends. And ate too. More on that and recipes too, soon. In the meantime I'll leave you with this one. When I go to an Italian restaurant I love to get Chicken Marsala. Then it occurred to me: Why do I never make it at home? So I did. And everyone loves it. Of course my version has a healthy twist, but you already knew that, right? The only thing I do not love about Chicken Marsala is the way it's breaded. So I did away with the flour breading and used almond meal instead.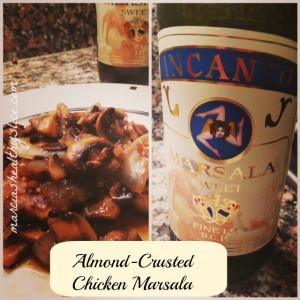 Chicken Marsala
2 boneless, skinless chicken breasts, halved and pounded flat
8oz. button mushrooms sliced, or if you want to be fancy go with another kind
1/4C almond meal
2T Olive oil
2T Butter
1/4C stock of your choice. I used beef because it's what I had. It was fine.
1/4C Cooking sherry
1/2C Marsala wine
Salt, pepper, oregano
In a shallow dish, season the almond meal with salt, pepper and oregano to taste. Coat chicken breasts in the almond meal.
In a large skillet heat up olive oil and cook chicken until lightly browned, turning carefully once.
Remove from pan and cover with foil to keep warm.
Add butter to pan. Add mushrooms and saute for 5 minutes or so. Add sherry, stock and wine. Cook and allow to reduce until it's a sauce-like consistency. Pour over the chicken and enjoy!
What's fun for you this weekend? What do you order at an Italian restaurant?