With many fall races on the horizon, there's a whole lotta tired, beat up feet out there. I swear all I can think about post-run some days (besides food) is a good foot rub….sadly nobody around here ever volunteers…what's up with that? Oh well there are other things to keep tired runner's feet happy: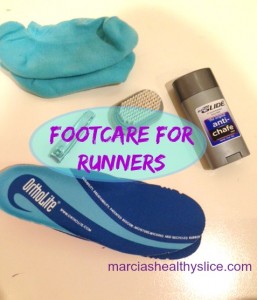 Socks: There are a variety of good options out there. The main thing to look for is synthetic vs. cotton. Synthetic fibers will wick sweat away to help prevent blisters. I'm a Balega girl myself, but, like I said, lots of great brands to pick from.
Shoes: If you're just starting out, you MUST head to a running store to be fitted for a proper pair of running shoes. Get fitted later in the day when your feet are swollen for the best fit and be sure to wear the socks and any insoles you plan to run in. Also know that running shoes wear out before they look like they're worn out so keep track of the mileage you're putting on them (running and otherwise) and be sure to switch them out to avoid injury.
Insoles: A good pair of insoles can ease the discomfort of pressure spots on the bottom of your feet as well as bone spurs, bunions, plantar fasciitis and callouses. Many running shoes already come with a good set of insoles but you may want to add your own. My Mizunos come with OrthoLite Insoles already inside. How lucky am I? More on insoles and a chance to win some in a second.
Blister Prevention: Personally I'm a fan of BodyGlide on my feet to keep hot spots away. But there are a variety of other lubricants, powders and tapes out there to try.
Toenail Care: Toenails should be kept trimmed straight across. If in doubt, err on the longer side to avoid the nail becoming ingrown.
Callous Care: Callouses are your feet's way of toughening up to handle the miles you're putting on them. Sexy as they may be, you may want to keep them in check with a pumice stone or emery board after your shower. I like to finish off a pumice session with some cooling foot gel. See a doc if you develop very large callouses.
Athlete's Foot Avoidance: The dark, sweaty confines of a running shoe is a prime breeding ground for foot fungus. Avoid contracting it in the first place by wearing flip flops in locker rooms and showers and wearing socks when you go through airport security. Letting your shoes air out completely between runs is also helpful. Rotating between a couple of pairs is a good idea.
Now back to the insoles: Recently I had the opportunity to test out a pair of OrthoLite insoles like the ones shown above. Turns out they're already in my Mizunos so they've been keeping my feet happy and painfree for years. Their patented anti-microbial, open-cell foam construction has a high level of breathability and wicks sweat away to resist fungus, odor and bacteria. They fit all athletic and outdoor shoes and boots. If your shoes don't already have OrthoLite Insoles and you'd like to try them, they're $19.99 on the OrthoLite website. Or you can win some here:
WIN IT! Three lucky readers will win a pair of OrthoLite Insoles.
a Rafflecopter giveaway