Just like grief or relationship loss, marathon taper has its own special phases and stages. You've done the work. The proverbial hay is in the barn. But somehow, cutting back mileage during the final weeks of marathon training plays tricks on many of us. Let's take a little Kubler Ross-esque look at the stages of taper:
1. Denial: Marathon? What marathon? Seems like it'll never get here. I wish I could've just run Chicago last week and got this whole thing over with. Whose idea was this anyway?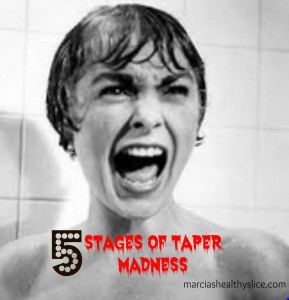 2. Anger: Dammit I think my knee hurts. And the top my my foot is rubbing. Pretty sure my toenail's digging in. Why is everyone around me sick? Don't you dare cough in my direction. Can somebody just roll me in bubble wrap until race day please?
3. Bargaining: If my knee behaves on race day, I will sacrifice my firstborn and an enormous cookie cake to the running gods. Oh and I promise never to skip foam rolling again.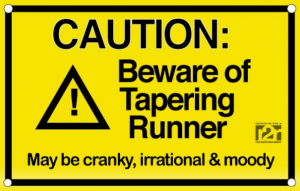 4. Depression: 3 miles? Are you kidding me? I'll barely break a sweat. Maybe I'll just wear my yoga pants for that. I'm sure my endurance has fizzled away.  Plus I have nothing to wear to the marathon. When did my running wardrobe become a collection of old rags? Can't I just sit here and eat? Why am I doing this again?
5. Acceptance: Big inhale. Big exhale. I don't HAVE to do this, I GET to do this. Hey is that cookie cake?
Have you experienced any of these stages? I'm linking up with Erika, Patty, and April today for Tuesdays on the Run. My giveaway ends tonight! Are you in?