Not too long ago as I lolled around on Pinterest, cuz you know, I've got nothing better to do, I came upon a brownie recipe like none I'd ever seen before. They had the perfect food porn name: Slutty Brownies. What, I wondered, would make a brownie slutty?
Easy?
Delicious?
Decadent?
The actual recipe involves cookie mix, brownie mix and oreos. Yes all of those in one not-so-innocent brownie.
Like the Lululemon capris I admired at the race last weekend, the ones with the oh-so-tiny, flirty ruffle in the seam near the calf, these slutty brownies became my obsession. Who would make these and why? Are they that spectacularly delicious? What kind of blood sugar spike could I expect?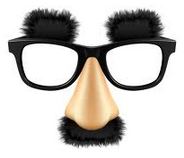 Curiosity got the better of me and before I knew it, a cartload of slutty ingredients was gliding along the checkout belt at Super Tarjay. There may have been a disguise involved.
I couldn't do cookie mix and brownie mix though. I'm way too much of a snob. Plus why stop at third base? I was going all the way with the classic tollhouse cookie dough and my favorite brownie recipe. Maybe this version should be called High-Class Hooker Brownies.
1. Make Tollhouse Cookie dough just as you would for cookies, but press it into a 13×9″ pan.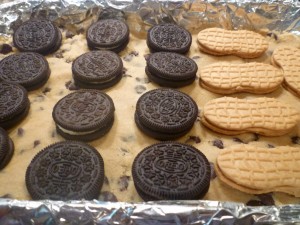 2. On top of the dough, layer Double Stuff Oreos. Personally I couldn't resist being a little nutty in addition to slutty and did part of the pan in Nutter Butters. Oy.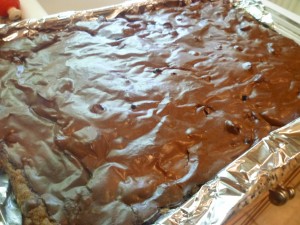 3. Brownie batter goes on top of the cookie layer and the whole thing bakes for 55 minutes.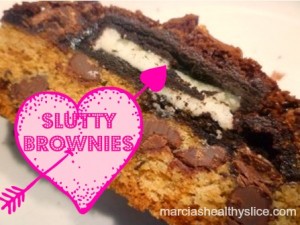 You end up with a full-figured concoction that is far over the top. Looks delicious no?
And they are delicious, in a gorge-til-you-burst kind of way. Each of the components is divine unto itself. But when melded together, in my opinion, there's simply too much going on. Maybe it's just me, but something about the brownie and Oreo brought out an odd banana-esque flavor in the cookie part.
The Caveman shunned them completely.
Thing 1 had one and dissed them.
Thing 2 picked out the Oreo and left the rest.
Me? I can handle about a 1″ cube with some strong black coffee to counter the sweetness before slipping into a sugar coma. Even my Olympic-caliber sweet tooth finds these to be too much.
Morsel, I mean moral, of the story: Simple things are enough. There is a point on the happiness spectrum where more is not better.  Sometimes more is less and less is more. Now I'm off to ponder whether simple capris without that irresistible ruffle are enough as well.
Have you made slutty brownies? Do you own Lulu capris?