Subtitle: Thelma and Louise's Half Marathon Adventure
I got to Denver Friday, a smidge late thanks to the usual American Airlines shenanigans. When they announced the plane was undergoing 'maintenance' and they wouldn't know if it would go until the time it was supposed to leave, my RnR heavy medal (for 2 RnR's in 1 year) flashed before my eyes. If I didn't get there in time to retrieve my race packet, I was cooked.
But the airline gods smiled and off we went. Jill, my gracious hostess for the weekend, picked me up and we beelined for the expo.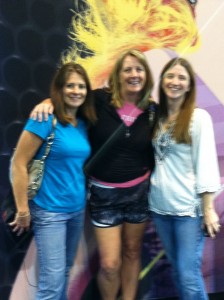 Hooray for meeting Kathy!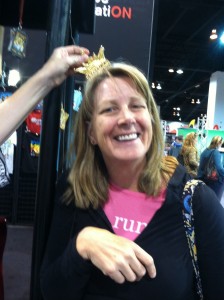 After considerable time plotting how we could heist the highly-coveted triple crown heavy medal for Jill (it had purple sparkles, nuff said), we were off to a cross country meet to watch Jill's son Ryan.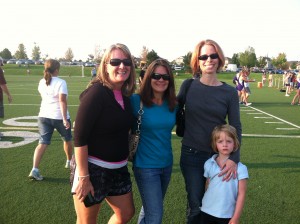 Hooray for meeting Terzah and her adorable twins! Why is everyone taller than me?
Race Day: I was up before my 4:30am alarm. We got there in time to see the RnR bike race go off.
We got in the corral and I started my Garmin. It responded with "Multiple heart rate monitors detected" and refused to start. Dammit, no watch.
Goal A: Don't break anything and have fun.
Goal B: Limit yourself to 6 cuss words and have fun.
Goal C: Have fun.
I felt like we were running easy the first mile but we picked it up a bit in the 2nd to appease my cranky hip that likes a faster pace. It worked: hip was very happy. However my lungs were not.
Of course I immediately needed to pee. I pulled off at the mile 2 potties, realized they were all full and decided to press on, bulging bladder and all.
Hills at mile 3 left me gasping. I was lamenting my inability to get air when  Jill reminded me we were at 6,000 ft. Oh right.
We slowed to a geriatric pace I could manage (barely), bless Jill's heart she stayed with me and we just had fun with it, gabbing and laughing all the way.
By mile 6 I could ignore my bladder no longer, plus the bathrooms with flushing toilets not far off the course in the park were too good to pass up. I peeled off and luxuriated there for too long.
At mile 8 we walked the entire water station looking for Terzah and Kathy, alas we failed to spot them. By mile 9 I finally settled in and started feeling stronger (I use that term lightly). The last of the hills were at mile 11 or so then it was a pleasant(ish) cruise home.
Jill and I blazed the final straightaway, a steep downhill and just when I thought my spleen had surely burst, we were done.
The weather could not have been more perfect: sunny, cool, clear, gentle breeze.
My time was pathetic but not my worst, and probably the most fun half ever, thanks to Jill's company. It's a pretty course, but net uphill + limited oxygen = no picnic.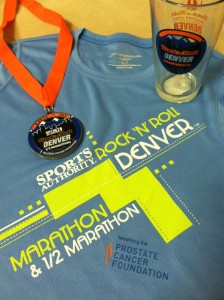 Like all RnR shirts, this one is meh. The medal is good, I'm slowly making peace with the usual crapola ribbon, although I do love the orange. I bought the Kombucha glass at the expo to add to my collection.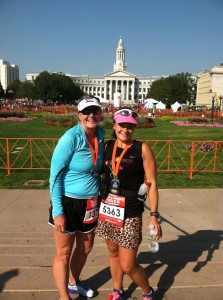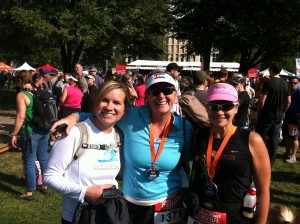 Tara met us after the race and, although I far from earned any cupcakes, that's exactly where we went: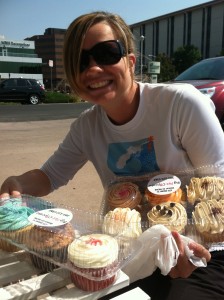 Jill and I are no slouches when it comes to handling our cupcakes. But this girl put us to shame.
This post is already too long. Stay tuned for the rest of our weekend adventure.
Did you race this weekend?